Shoniqua Shandai Talks Meagan Good Friendship Origin Story
The Story Behind Shoniqua Shandai and Meagan Good's Friendship Before Harlem Is Heartwarming!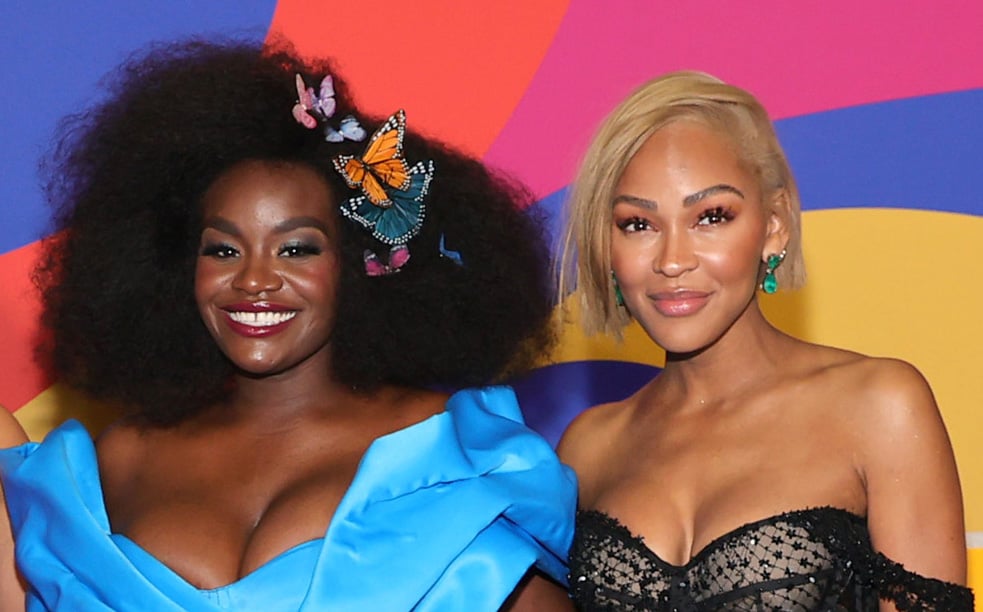 Shoniqua Shandai and Meagan Good play best friends Angie and Camille on Harlem, but their bond goes beyond the script. The duo began their friendship in 2015 — although they probably didn't predict at the time that it would become this solid. POPSUGAR recently caught up with Shoniqua at the Amazon Prime Video show's premiere in Harlem, where she gave us the scoop on her sisterhood with Meagan, whom she described as the "most kind person" she's ever met in her "entire life."
"[Meagan] is really the kindest heart I ever met."
Shoniqua recalled the day where it all started, telling POPSUGAR, "In 2015, my friend was on set with [Meagan], and he knows how much I love her. She gave him a video saying, 'Hello, Shoniqua. I can't wait to meet you, I wish you were here, we are going to work together.' 2015." Meagan's famous last words allowed viewers to see their friendship unfold on screen for Harlem and off screen when the cameras weren't rolling. "She didn't have to do that," Shoniqua said. "She could have just said, 'Tell her I said hi' . . . She's been in the industry for so long." Naturally, after hearing that story, I was a bit misty-eyed in the same way you get when a couple tell you how they first met. The actor added, "[Meagan] is really the kindest heart I ever met."
Turns out, Meagan and Shoniqua's first time meeting was also noteworthy! "The first time she met me, we hugged in the bathroom, and she hugged me with such fierceness that I thought maybe she was mistaken for someone she recognised because that has happened to me before," Shoniqua said, explaining that Idris Elba once hugged her thinking she "was a wardrobe stylist that he had worked with before."
Outside of hangouts at Harlem press events, you'll see Shoniqua and Meagan's bond on social media. Fresh off the success of Harlem, their professional relationship is also going another step further. The Think Like a Man star is directing a music video for Shoniqua's upcoming R&B single, "Something About You." As Meagan previously told POPSUGAR, "Me and Shoniqua got on the phone and talked about her music single and how I'm going to direct the video. I'm looking at her mood board now and putting together what it's going to be." Cheers to more Shoniqua and Meagan moments!