Jameela Jamil and Meghan Markle Talk Feminism on Archetypes
Jameela Jamil Tells Meghan Markle She "Can't Believe" the Bullying She's Been Through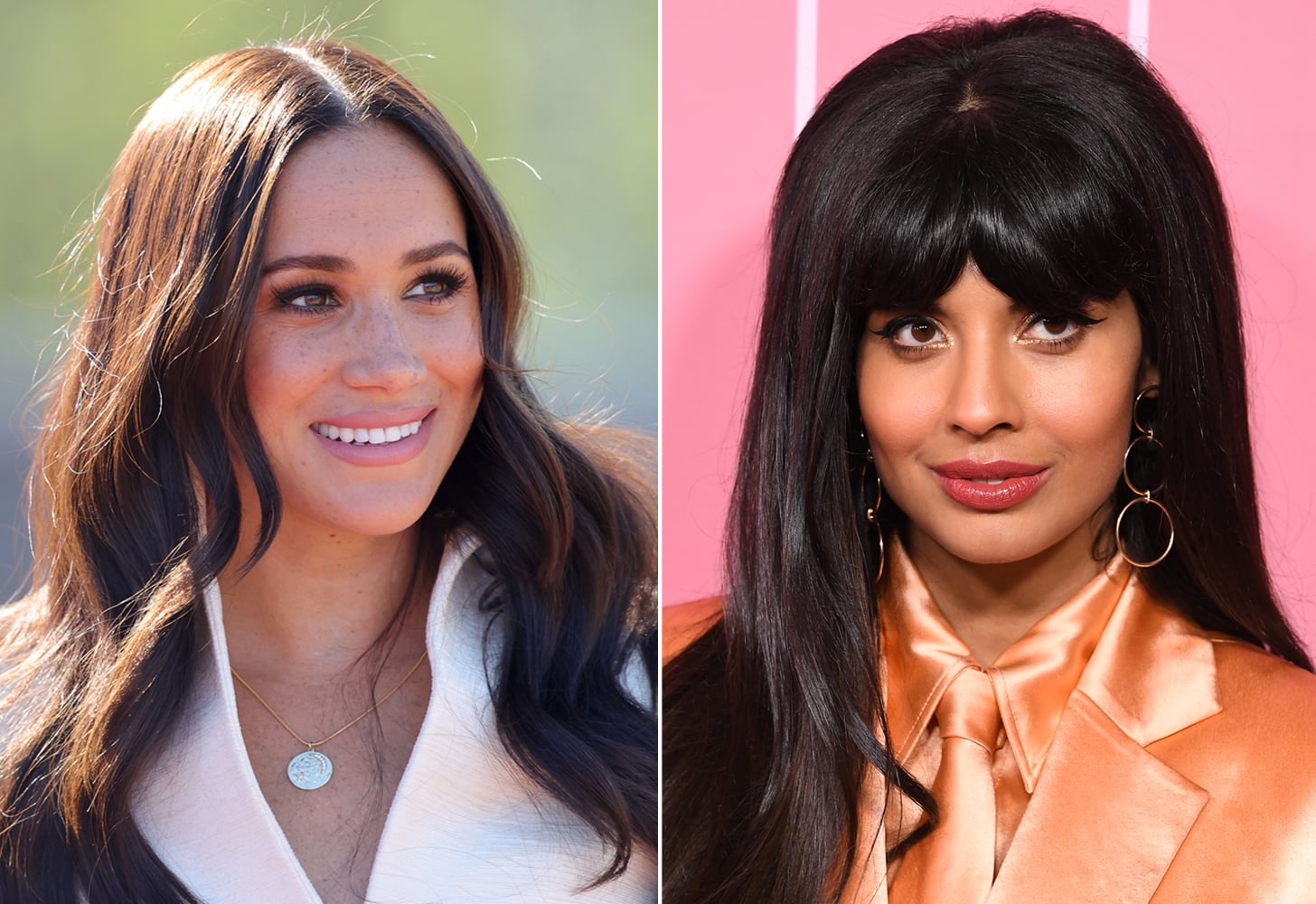 Jameela Jamil and Meghan Markle have both dealt with intense bullying and harassment online but have chosen to continue speaking out against it. The pair united on the 15 Nov. episode of Markle's "Archetypes" podcast, where they discussed everything from activism and mental health to online bullying and their shared belief in a better world.
In the episode, Jamil said she feels for the Duchess of Sussex and what she's had to suffer through from online harassment. "It's an unfathomable amount of sh*t that you take, Meghan. I can't believe it," she said. "I fought back on your behalf for years before I'd ever met you . . . I'm so sorry you've had to withstand it. It has highlighted for us the intense unkindness, bigotry, and misogyny of our media. And I think and I hope and I feel faith that the tides are changing because so many of us are fighting back."
Jamil also thanked Markle for supporting her and other women in private. "People don't know that you frequently reach out to women who are having a very, very hard time," she added. "You reach out to us. You don't do it publicly."
During the podcast, the two bonded over their supportive partners as well — Jamil's being James Blake, and Markle's, of course, being Prince Harry. "He understands me, and he's just an incredible human, an incredible friend. And I don't think I could have withstood all of this without him. And I know you have a very similar dynamic with Harry," Jamil said. "When the four of us met that one time, it was a really sweet dynamic, with two very sort of similar relationships. It was very nice for me to see that you have that in your home."
Jamil and Markle also examined the word "b*tch" and the way it's often used to control women. "Well isn't that a convenient villain? An assertive woman in a position of power being called the B-word," Markle said. "It becomes a way to take their power away and keep them in their place."
Jamil has long protested the media's promotion of diet culture and other things that damage women's minds and bodies. "I think it's important that we all remember that we control the market, the market doesn't control us," she told POPSUGAR in 2020. "We have the right to make people, brands, and corporations famous or not. If we all collectively stop following people who alienate us, stopped buying from companies that don't represent us, and stopped following or giving our 'likes' and sending our algorithms to people who don't make us feel included, then we take away their power."
The second half of Markle's podcast featured Iranian actor and activist Shohreh Aghdashloo, who spoke about the murder of Mahsa Amini by Iran's morality police and the protests that broke out across Iran. Like Jamil, Aghdashloo criticised the public's tendency to critique women-led movements.
"The consequences and the stakes are so incredibly high," Aghdashloo said of the women's rights movement burgeoning in Iran. She then called for the listeners to do "whatever we can do to keep a spotlight on what's happening, so all this sacrifice and all this courage isn't in vain — so that this activism is applauded as opposed to seeing it as an act of like, oh gosh, what are these women doing now?" she added. "Know what these women are doing now is what needs to be done."