Kevin Jonas Talks About Jonas Brothers Music, Tour, and More
Kevin Jonas Teases the Jonas Brothers' Next Music Era: "This Is Only the Beginning"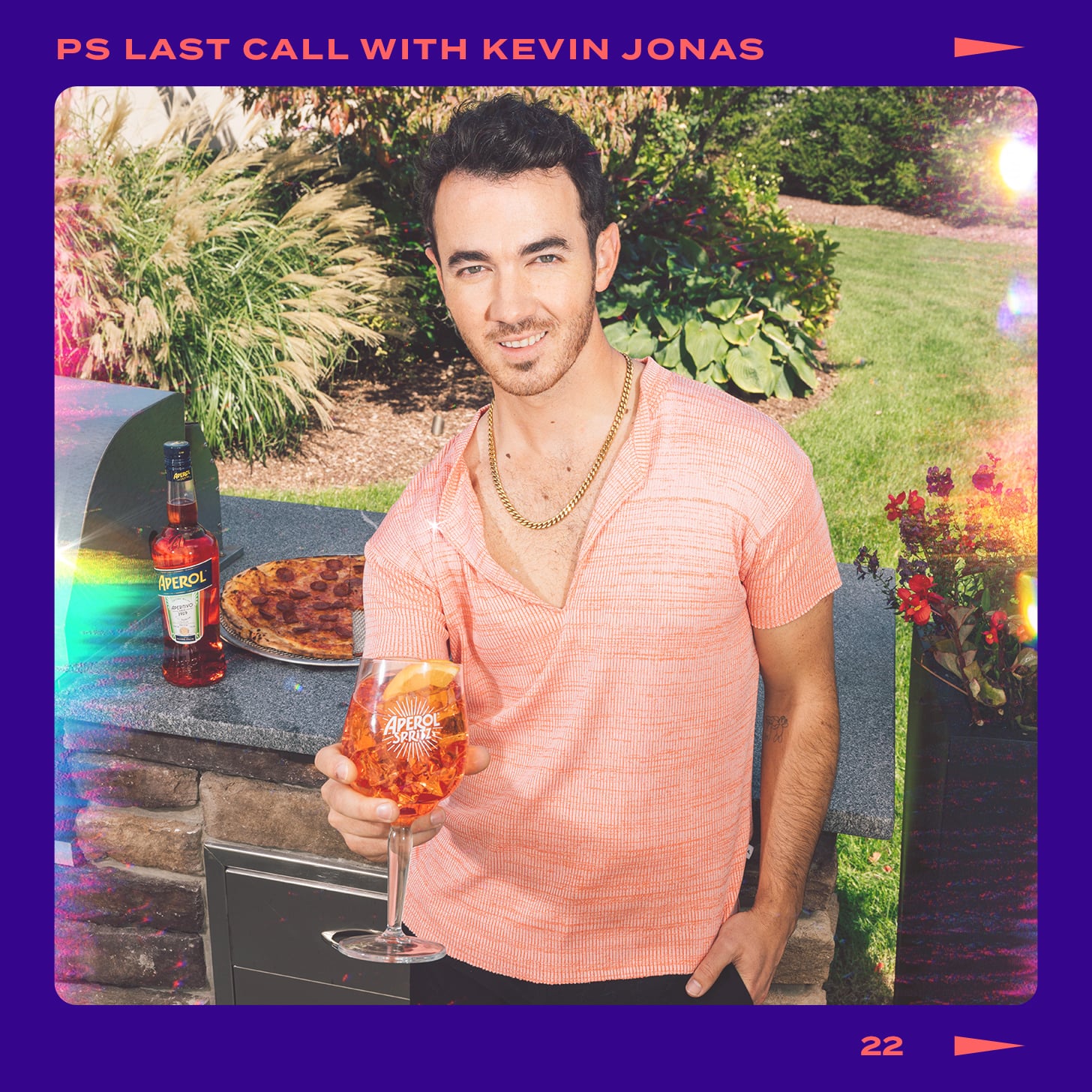 In our Q&A series Last Call, we get down to the bottom of every last thing with some of our favourite celebs — from the last time they were starstruck to the last song they listened to. This week, Kevin Jonas takes our call.
It's been a whirlwind past few years for the Jonas Brothers, and they don't plan on slowing down anytime soon. After getting the band back together in 2019, Kevin, Joe, and Nick have been busy making music, releasing documentaries, and working on new projects like their upcoming Netflix special. Of course, what fans have loved most is getting to see the brothers back on stage together during their Remember This tour, which officially wrapped on 27 Oct. "This tour has been really special," Kevin told POPSUGAR while promoting his partnership with Aperol Spritz to celebrate National Pizza Month. "We all have been away from each other a tremendous amount. Now, we're at the point where we've spent a little bit too much time together, so that's the reverse," he joked. "I'm really blessed that our fans came out and were excited and were ready to have a good time."
While Kevin has loved experiencing that fan energy on stage, he's equally excited to get back home and spend time with his family, whether that be having pizza nights together or relaxing with a glass of Aperol. "I was first introduced to Aperol Spritz by my brothers, but when my wife and I went to Italy and enjoyed them sitting outside at the cafes in the afternoon, I was locked in," Kevin said. "It's great at home, at the studio, out with friends, you name it. And pairing an Aperol Spritz with pizza . . . what could be better? It's a match made in Italian heaven." He continued that he's especially looking forward to relaxing with family ahead of the holidays. "It's just more about spending some time at home and being present," he said. "That is something I am seriously looking forward to. I'm looking forward to it so I can help [my wife] Danielle."
"This is just one little step towards the next thing for us to continue as the Jonas Brothers."
That being said, Kevin teased the Jonas Brothers still have plenty in store. "This is only the beginning," he said. "This is just one little step towards the next thing for us to continue as the Jonas Brothers." In addition to their Netflix special and the upcoming Jingle Ball tour, Kevin said they've already started working on their sixth album, which was previously teased last year. "We had a project, and some songs have been released, [but] the time of the world [last year] just didn't feel right for us to release another album. But we've all lived a little bit of life again and have some stories we need to get off our chest. I think we will probably jump back into writing and probably work towards another body of work that has a very specific messaging across the board, kind of like Happiness Begins. It was a very specific focal point, and I think we know what that focal point is already. I won't say or talk about it, but we know, based on what we're thinking already, where we want to go, and I am prepared to go to work to get those songs right."
Amid new Jonas Brothers music, including their recent single "Who's in Your Head?," there have also been some wild theories going around about a possible Taylor Swift collaboration, which fittingly has been linked to some pizza Easter eggs. While Kevin stayed coy about those theories, it sounds like he would be down to work with Taylor if the opportunity came about. When asked if there's a specific rerecorded song he'd want to collab with Taylor on, Kevin admitted "there's too many" to choose. "She's extremely prolific and does what she does. Taylor's career speaks for itself in a way. It would be great to do anything, maybe something new. It'd be hard not to say one of the classics, but there's always something new." We might not get an official confirmation on those collab rumours anytime soon, but the good news is that we have plenty of Jonas Brothers projects to look forward to in the near future. Read the rest of Kevin's Last Call interview below.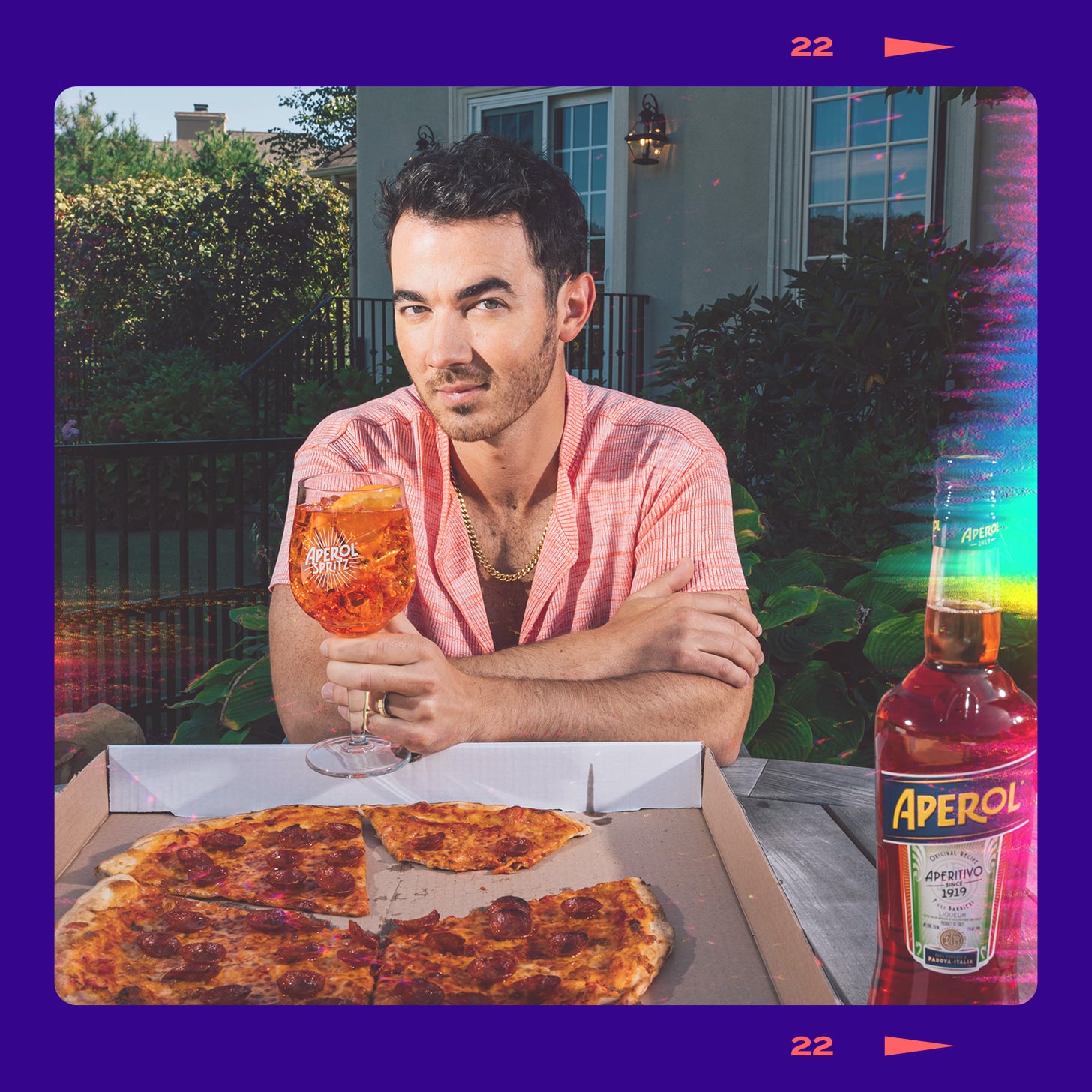 Last time you had a pizza party with your family?
I had pizza after we got off stage in Phoenix. There was pizza on the bus immediately after, so I had pizza. I don't know if you call that a pizza party, but my daughter is actually having a pizza party right now with her friends. It is her birthday, so she is having a little pizza party with her neighbourhood friends today. Sadly, I'm not there, but I'm going to make up for it when I get home and we're going to throw a throwdown for her.
Last fun thing you did with your brothers off stage?
We golf a lot. It's a really beautiful way to clear your mind. We've really fallen in love with the sport. It's great to have a little competition, but at the same time, there's no better opponent than yourself. I find myself fighting the urge to get angry all the time on the golf course, but it's a good way to start to control your emotions or train yourself to avoid those big blow-ups.
Last song you listened to?
We listened to Griff a ton yesterday. I listened to most of her stuff. "Black Hole" is just insanely good. All of the work she's doing is amazing. I just got introduced to her more in-depth yesterday, so we were on a deep dive.
Last show you binge-watched?
The Sopranos. I typically try to choose a show on a tour that I haven't seen and start it. In transit and travel and flights and all of that stuff, I stick to one thing to get through it. I had never seen all The Sopranos, so I started from the beginning and went all the way through. It still holds up.
Last piece of advice you received that changed your life?
It actually has to do with golf, which is hilarious, but it was, "You're not that good to be this mad." That made me realise, yeah, you're kind of right, but it applies to a lot of things in life, right? Unless you're a professional in something, there's a level of not letting yourself take things too serious.
Last thing you did for love?
On this tour, we had a more specific COVID bubble, and it was a thing to not travel as much. So I had a morning [where] I had enough time where I could fly home, so I flew home just to spend the morning with the family. When it comes to love, it's just about time spent, and even that little bit of time at home with them when they couldn't join me was a win.
Human connection is a much bigger thing than anything else. There are nights we were on this tour and everyone would be hanging out as a day off, but I couldn't even get home. It was just too far to fly and come back and get everything done. There was once or twice that everyone was together, having dinner or whatever, and I just stayed in my room and I ordered room service and then had dinner with my wife from afar. So even though she was doing stuff, it was just [about] being present, even from a distance.
Last time you were starstruck?
We just did this event [with] the Robin Hood Foundation, and Paul McCartney was there. Anytime you see Paul McCartney, even though I've met him and been able to spend some time with him, it's still Paul McCartney.