Who Is Mae Muller, the UK's Eurovision 2023 Entrant?
Eurovision Star Mae Muller Is Releasing a Debut Album This Year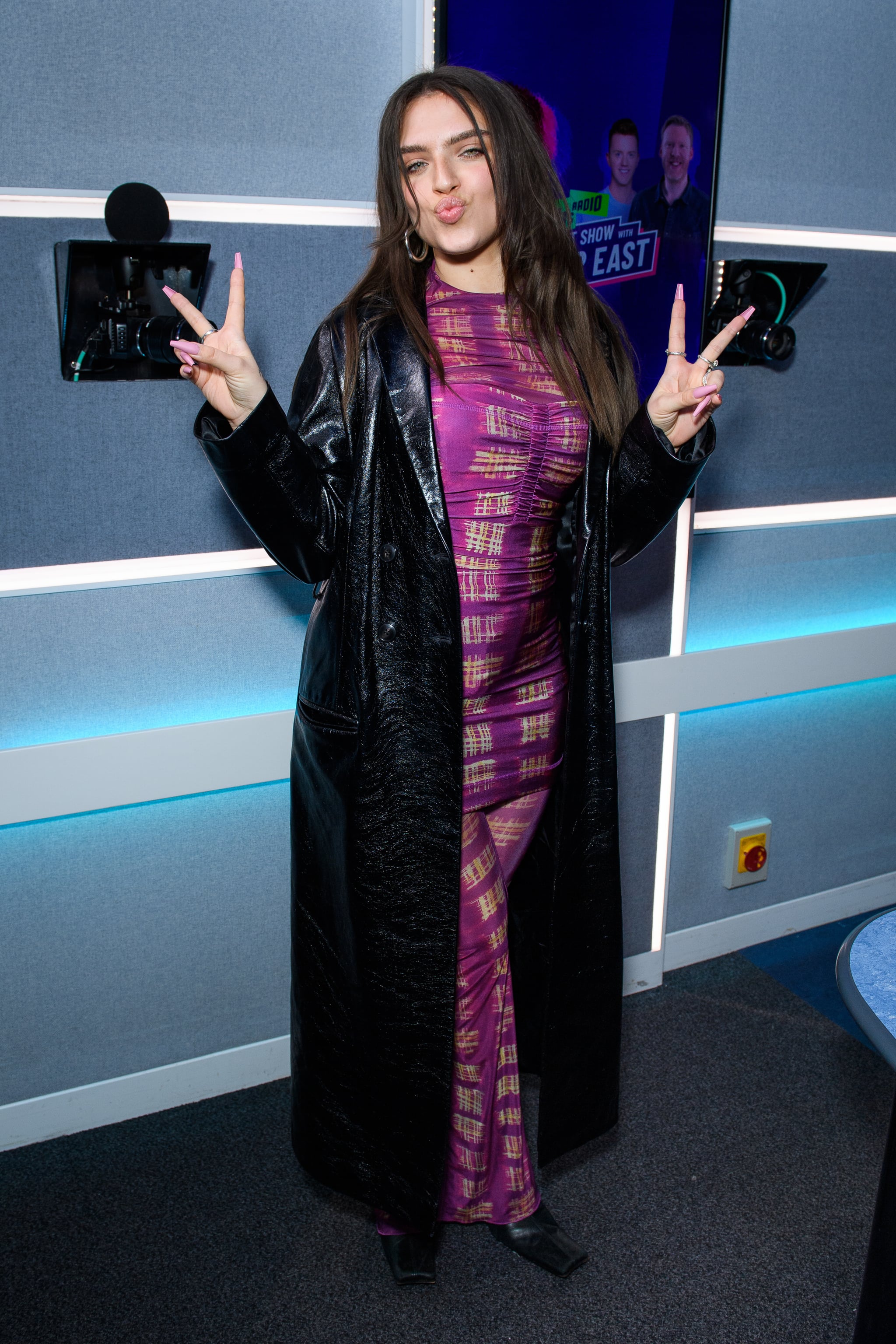 While we've just about recovered from the celebrations and sleepless nights due to the 2023 Eurovision Song Contest, we couldn't possibly look back on the event without feeling proud of Mae Muller. The singer – who appeared on BBC Radio 2 on 9 March to reveal that she would be competing on behalf of the UK with her track, "I Wrote a Song" – ultimately didn't quite bring it home this time around.
However, there's still plenty more opportunities for the rising star to come, including her long-awaited debut album. The 25-year-old took to Instagram on 24 May to announce that her debut album, titled "Sorry I'm Late", will be dropping on 15 September, 2023. Her upcoming release is set to feature 17 tracks, including her Eurovision track, which is the fourth song on the record. "i can't believe i'm even typing these words but it's happening!!!," she began in her announcement post. "every single song on this album means so much to me, i've put my everything in to each and every one over the years and now it will finally be yours this september!"
Following in the footsteps of the UK's most successful Eurovision attempt of this century was no mean feat, but Muller gave it her all. Her song felt distinctly different to Sam Ryder's "Spaceman", which saw the UK awarded second place at last year's Eurovision Song Contest in Turin. Instead of rock influences and a live electric guitar, Muller aimed to win her way into the hearts of Eurovision audiences with a dance pop diss track. "I Wrote a Song" is a fun, catchy tune, in which Muller sings about her response to a cheating ex leaving her. Its rhythmic synth beats create something hypnotic that certainly fit in with the usual eclectic, Europop songs that Eurovision is known for.
While Muller may not be a household name quite yet, she is certainly on her way and is no stranger to the industry. Having been signed to a label since the age of 19, Muller has begun crafting her place in the British pop scene and has cemented herself as one of the most refreshing rising stars in the UK today. In the last few years, she has supported headline artists such as Little Mix and Liam Payne on their respective tours, and the success of her track "Better Days", with Neiked and Polo G, gained her spots on US shows such as "The Voice" and "The Tonight Show with Jimmy Fallon".
If you don't recognise her from those achievements, you may still have seen her without knowing it. The star's first brush with the industry came when she was just nine years old, featuring in the music video for Mika's iconic 00s hit, "Grace Kelly." Whether you are already a fan, or are excited to hear her first album, here's everything you need to know about Mae Muller.
Who Is Mae Muller?
Muller is a British pop singer, hailing from Kentish Town, North London. She grew up in the city with her mum, a costume designer, and was exposed to the music industry through her aunt, a music video director. "I always knew that I wanted to perform, because as a child, I loved being the centre of attention," she told POPSUGAR in 2021. In a recent Private Parts podcast appearance, she elaborated on her childhood, saying "Every Christmas or family thing, I was like, 'I want to put on a show! Everyone sit down, I wanna sing for you!'"
Six years ago, at the age of 19, she was working at a pub when she realised that she felt discontent and wanted to actively pursue a career in music. She refers to that time as a turning point; from then on, she's never looked back.
What Was Mae Muller's Eurovision Song?
Muller's entry for this year's Eurovision Song Contest was the catchy break-up tune, "I Wrote a Song". In the diss track, Muller lists all of the things she could have done in response to discovering an ex was cheating, but instead, she decides to write a song about it. Thematically, it follows the pattern of much of Muller's discography, turning relationship history — both good and bad — into something empowering for women. Musically, it's an upbeat dance number, with strong synth beats, and an electronic sound. It's objectively catchy, and has a hook that will worm its way into people's heads on repeat.
The single and accompanying video were released on 9 March 2023, following the BBC Radio 2 announcement of Muller's representing the UK at Eurovision. On her response to getting the call inviting her to compete, she said, "I don't think it gets much bigger than Eurovision. It's such a part of history as well, so it's a big deal."
While she has expressed a deep love for Sam Ryder and his success at last year's competition, Muller made clear that she intended to do Eurovision in her own way. In the end, she couldn't quite match Ryder's place, but we haven't been able to stop humming her tune since. Watch the video below.
What Are Mae Muller's Other Songs?
Muller has been releasing music over the past five years, starting with her EP "After Hours", which was described at the time by Fword Magazine as being a "collection of empowering anthems about not getting blind-sided by games and f*ckboys."
Her songs include "Jenny", "Therapist", and "I Don't Want Your Money", all of which encompass the blunt, honest, tongue-in-cheek lyrics that define her musical style. Muller has listed her musical influences as artists including The Chicks, Lily Allen, and Florence + The Machine, and cites the reason being their abilities as storytellers: "I remember thinking 'oh my God, this is the best story, or this makes me feel so strongly about this and this,' and so that's what I wanted to do. I just wanted people to hear my songs and really relate to them and to see them and really feel that story," she told POPSUGAR.
However, her breakout hit came in 2021, when she collaborated with Neiked and Polo G on "Better Days". The song had great success internationally, earning Platinum status in the US and Australia, Gold status in New Zealand, and Silver status on home soil. It charted at 32 in the UK Official Top 40, and 23 in the Billboard Top 100. Listen to the song below.
Who Are Mae Muller's Celebrity Fans?
Muller has caught the attention of many big names in the industry since the start of her career. Notably, Little Mix invited her to support them on their LM5 Tour in 2019, alongside the band New Rules. She also impressed US talk show host Jimmy Fallon, who invited her to perform "Better Days" on his show in 2021. As well as Fallon, her performance on "The Voice US" means that Muller has performed for the likes of pop legends Ariana Grande, John Legend, and Kelly Clarkson.
Muller has joined Aitch in the Radio 1 live lounge to perform together, and has supported Liam Payne, who called her "amazing".
Who Is Mae Muller Dating?
It is assumed that Muller is single right now, though she has always preferred to keep her personal life out of the public eye. She has never shared her dating life with the public, either in interviews or via social media.
That being said, romantic relationships, and her history in and out of them is a core part of her music. However, she told POPSUGAR that time on her own has been pivotal in exploring who she is as an artist in the music industry. She said, "When I was growing up, I used to always, always have boyfriends, and I think once I realised that I could exist on my own and be happy, that was such a turning point for me. I think my writing got much better because I wasn't writing with a certain person in mind. Once I started writing for myself and nobody else, it would resonate with other people so much more, because it was a lot more real and genuine."