Prince Harry and Meghan Markle as Beyoncé and JAY-Z Artwork
Meghan Markle and Prince Harry Swag Out Like Beyoncé and JAY-Z in This Sublime Illustration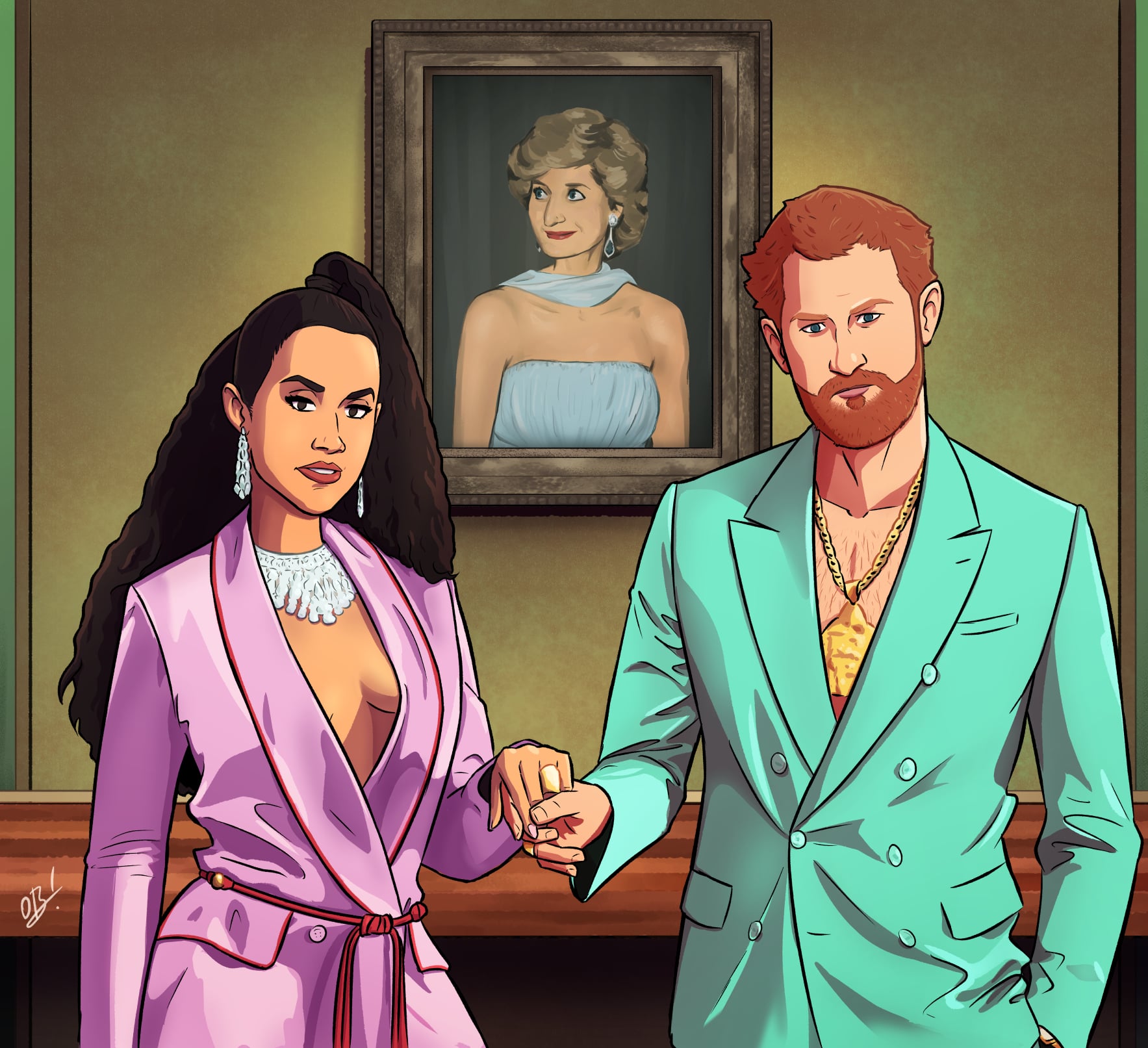 Image Source: Obi Arisukwu
Have you ever stumbled across an Instagram post so glorious, you damn near drop your phone? Well, I just did, and it's worthy of a royal honour. On Jan. 17, LA-based illustrator and cartoonist Obi Arisukwu shared one of his latest works featuring Meghan Markle and Prince Harry. The illustration shows the Duke and Duchess of Sussex assuming the roles of Beyoncé and JAY-Z in the cover art for their 2018 hit "Apesh*t" from their album Everything Is Love. While cartoon Meghan rocks Bey's low-cut pastel blazer, Harry drips swag in blue suiting and a gold chain inspired by JAY-Z's look. In the background, a portrait of Princess Diana hangs proudly. "When Black royalty meets British royalty," Obi captioned the sublime piece. "An ode to Prince Harry and Meghan Markle's decision to rebel due to the toxicity they've experienced in the UK."
Not only is the illustration a reference to Harry and Meghan's recent break from the royal family, but it's also a callback to the couple's connection with Beyoncé and JAY-Z. Back in February, Bey and Jay delivered a tribute to Meghan while accepting their Brit Award for best international group. Shortly after, Beyoncé posted a special shout-out to the duchess on her website, calling her "one of our Melanated Monas." The two queens and their husbands finally met in July at the UK premiere of The Lion King, where Bey and Meghan shared a warm embrace. We have no choice but to support!