Are Taylor Swift and Matty Healy Dating?
Matty Healy Seemingly Pokes Fun at Taylor Swift Dating Rumours: "Will He Ever Address It?"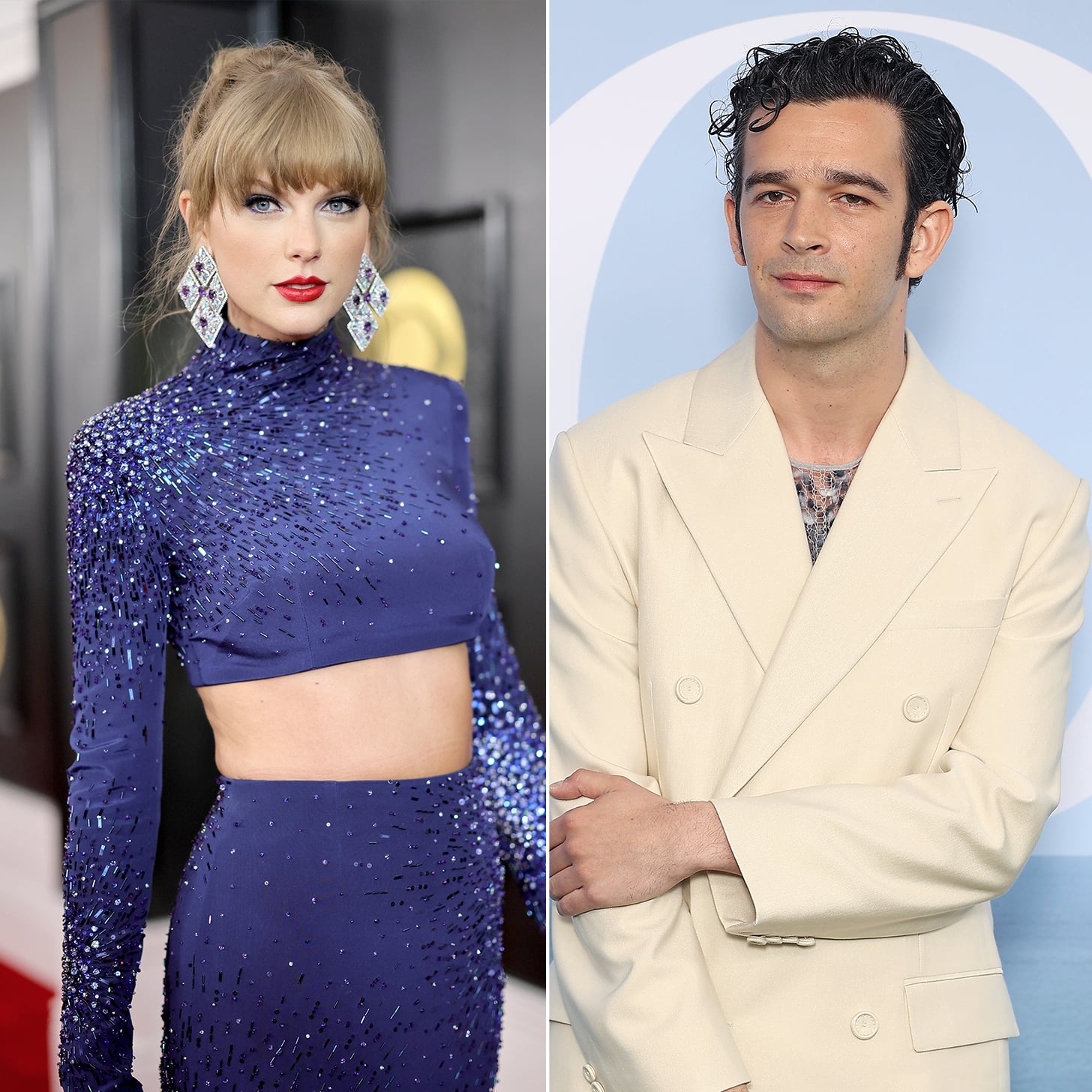 It may be just over a month since reports of Taylor Swift's split from ex Joe Alwyn were made public, but rumours quickly began swirling about the singer's love life. The latest? That she's dating Matty Healy, frontman of The 1975. It's no secret the pair have been friends for years, but the internet is going wild with news they have taken their relationship to the next level.
Most recently, Healy poked fun at the speculation while performing with his band during BBC Radio 1's Big Weekend in Dundee, Scotland, on 27 May. "Is it all a bit? Is it sincere? Will he ever address it?" Healy said to the crowd, adding, "All of these questions and more will be ignored in the next hour. Ladies and gentleman, this is The 1975."
The rumours reached a fever pitch on 25 May when People reported that a source saw the pair kissing at the exclusive venue Zero Bond in NYC while reportedly hanging with celeb friends Margaret Qualley, Jack Antonoff, and Zoë Kravitz. (Reps for Swift did not immediately respond to POPSUGAR's request for comment, while reps for Healy could not be reached.) Earlier, on 11 May, buzz about the burgeoning couple emerged when a Swiftie posted a photo on Twitter of the artists together at a restaurant with their mutual friend Antonoff. According to the fan, a friend's dad spotted them and snapped the pic. They did not give details about where the sighting occurred, though Swift was set to perform three shows on her Eras Tour in Philadelphia that weekend.
Healy has been a staple at Swift's Eras tour shows. A weekend earlier, on 5 May, Healy was spotted at Swift's Nashville show. In videos and photos shared online, Healy can be seen hanging out with a few other people in what appears to be a gated-off, VIP section of the stadium. Fans also shared videos of him dancing to "Shake It Off" on Twitter. It's also worth noting that Healy's close friend, Phoebe Bridgers, joined Swift on stage.
Bridgers was back again for the 6 May show (also in Nashville), but this time Healy joined her onstage for her set, according to People. Since the two are frequent collaborators, it wasn't unusual to see them join forces in the opening, but with romance rumours between The 1975 lead singer and Swift swirling, it was interesting to see him take to the stage during her show.
News of Swift and Healy's rumoured relationship first broke on the front page of The Sun, which revealed on 4 May that the pair have allegedly begun dating. "She and Matty are madly in love. It's super-early days, but it feels right. They first dated, very briefly, almost ten years ago but timings just didn't work out," the source told The Sun. Swift was indeed spotted wearing a The 1975 band tshirt back in 2014.
Years later, Healy would open up about his brief connection with Swift and the ensuing wave of speculation and how it made him certain he would never date Swift. "I feel like I'm not very good at relationships," Matty told Q Magazine (via NME) in March 2016, adding that he was afraid of just becoming "Taylor Swift's boyfriend." "The reason I mention that is because if I had [properly] gone out with Taylor Swift the first thing, I would've [thought was] 'F*cking hell I am NOT being Taylor Swift's boyfriend,'" he said, admitting, "That's also a man thing, a de-masculinating, emasculating thing."
That May, Healy would walk back those comments slightly in a string of tweets (as per Yahoo). "I had fears of being 'somebody's boyfriend' (remember this is all speculation as we never dated!) before even being recognized for my music or presence as a person in my own right," he wrote, continuing, "I was being HONEST about all the thoughts, feelings, and situations that come along when people ASSUME you are dating the most famous woman on the planet. I am telling you from experience it's an all-consuming whirlwind and something that for me elicited a lot of self-exploration."
Healy went on to praise Swift's character, writing, "I have said on countless occasions that I found her to be one of the most gracious, hard working, creatively gifted, and beautiful women that I have had the pleasure to meet. I personally have a lot of respect and admiration for her."
Despite what the most recent sources are saying, Healy confirmed the pair never dated, concluding, "I didn't even date Taylor, but the media's incessant and brutal obsession with her has meant that even a guy who DIDN'T DATE HER has been so battered by their never-ending questions that he's inevitably said something that can be lifted and moulded into something that resembles 'shade.' It's really sad."
Since then, Swift has been linked with Harry Styles, Calvin Harris, and Tom Hiddleston, before settling down with British actor, Joe Alwyn. The couple were together for six years and lived in London, before splitting this year. "Taylor and Joe actually split up back in February, so there was absolutely no crossover. Both Matty and Taylor have been touring over the past few weeks, so it's been a lot of FaceTiming and texting but she cannot wait to see him again. But as two international megastars, they understand the pressures of one another's jobs better than anyone, and are incredibly supportive of their respective careers," the source continued. Healy also reportedly split from FKA Twigs last year.
Fans of The 1975 went wild just a few weeks ago when Swift made a surprise appearance during the first night of the band's At Their Very Best tour at London's 02 Arena in January. She performed a cover of "The City" and her hit track, "Anti-Hero". After the show, Swift met Healy's mum, "Loose Women"'s Denise Welch, who excitedly posted the photo of the pair hugging on Instagram, so if the rumours are true, she has already ticked the meet-the-family box.
But is this rumored romance the real deal, or, well, just rumors? It certainly seems they're more than friends, but only Swift and Healy themselves can put an end to the speculation.