Antoni Porowski's Favourite Moment From Queer Eye Season 2
The Queer Eye Season 2 Episode That Left the Fab Five Crying Into Their Happy Meals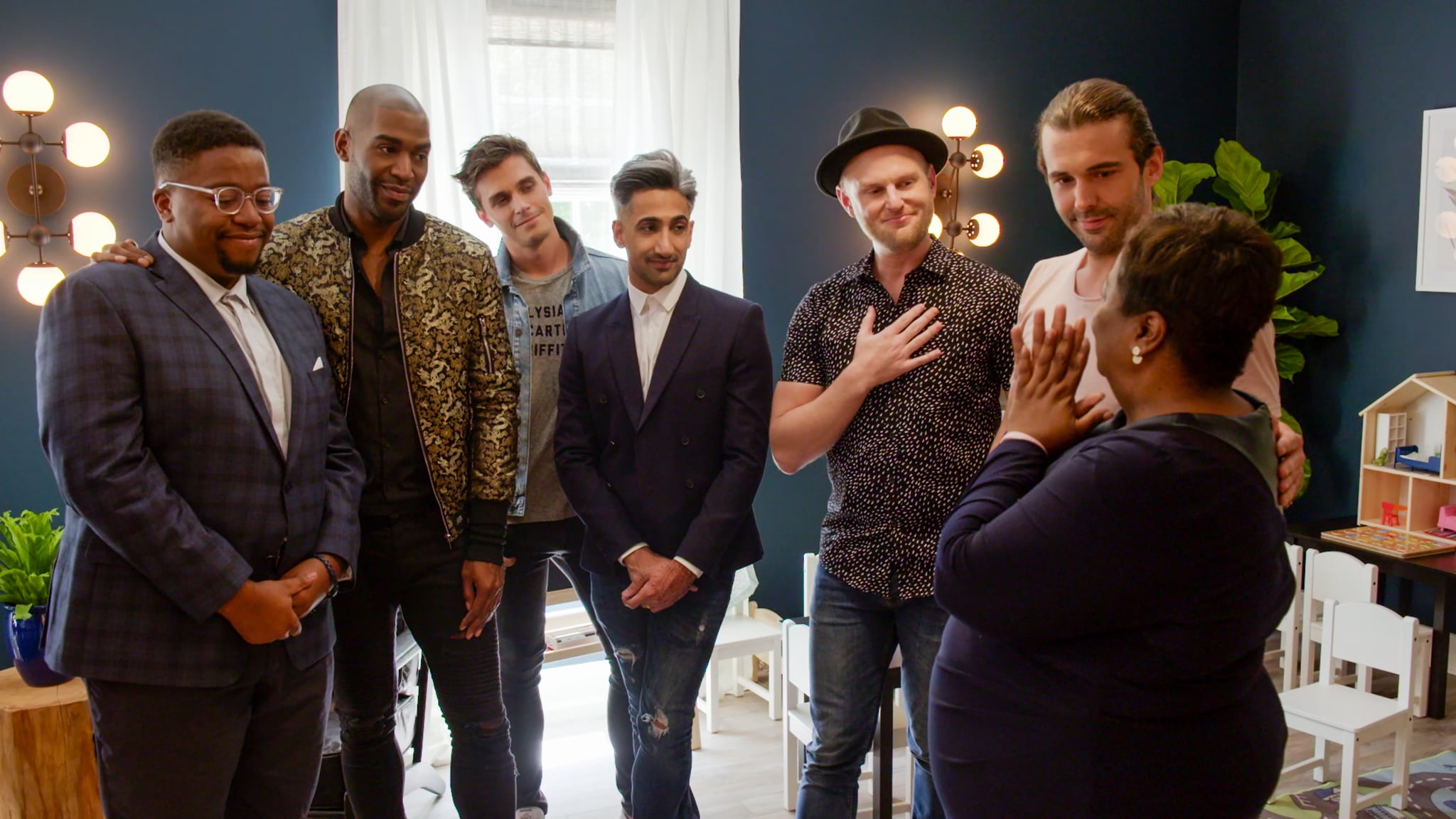 After two emotional seasons, Queer Eye has become known for making both its viewers and hosts involuntarily sob. While different moments resonate with each member of the so-called Fab Five, Antoni Porowski recently shared the season two episode that definitively guttered them all. (Yes, it's the episode about Tammye.)
In the season two premiere, "God Bless Gay," the Netflix show's Bobby Berk, Karamo Brown, Tan France, Jonathan Van Ness, and Porowski help Tammye renovate her local community centre in preparation for an annual homecoming event. Along the way, they counsel and make over the mother and cancer survivor in the heartwarming way they often do, and in return, Tammye radiates positivity and imparts her life-changing wisdom. It was such a special episode in fact, that it was actually filmed as the season finale.
"Tammye's episode was actually filmed as the last one. Originally, it was going to be the last episode to air of the season," Porowski told POPSUGAR in a recent interview. "It was such a fricking emotional rollercoaster — as you can see from my snot-crying throughout the episode." After realising the impact of the episode, it was decided that it would instead open the season. "It was the one episode where we weren't sitting down and watching her accomplish her mission. It was more of a 'she's teaching us' episode."
Though the cast was "relieved and excited" to wrap the season and get back to their respective families, the emotional experience of filming Tammye's episode made them want to share one last meal together . . . at McDonald's. "We stopped by McDonald's and we all fully binged," Porowski said. "I had three cheeseburgers, a Big Mac, a six-piece chicken tender, a McFlurry, the Oreo one, and — oh, yeah — and I had a chicken Snack Wrap, the one that has mayo and iceberg lettuce."
After their McDonald's feast, Porowski said the Fab Five drove around listening to Rihanna and Britney Spears. "It was amazing," he said. "Yes, we were brought together through artificial circumstances, chemistry-testing, and Netflix, but we're all friends for life and we all consider ourselves brothers."