Ariana Grande "Fake Smile" Lyrics
Dig Into the Bittersweet Lyrics of Ariana Grande's "Fake Smile"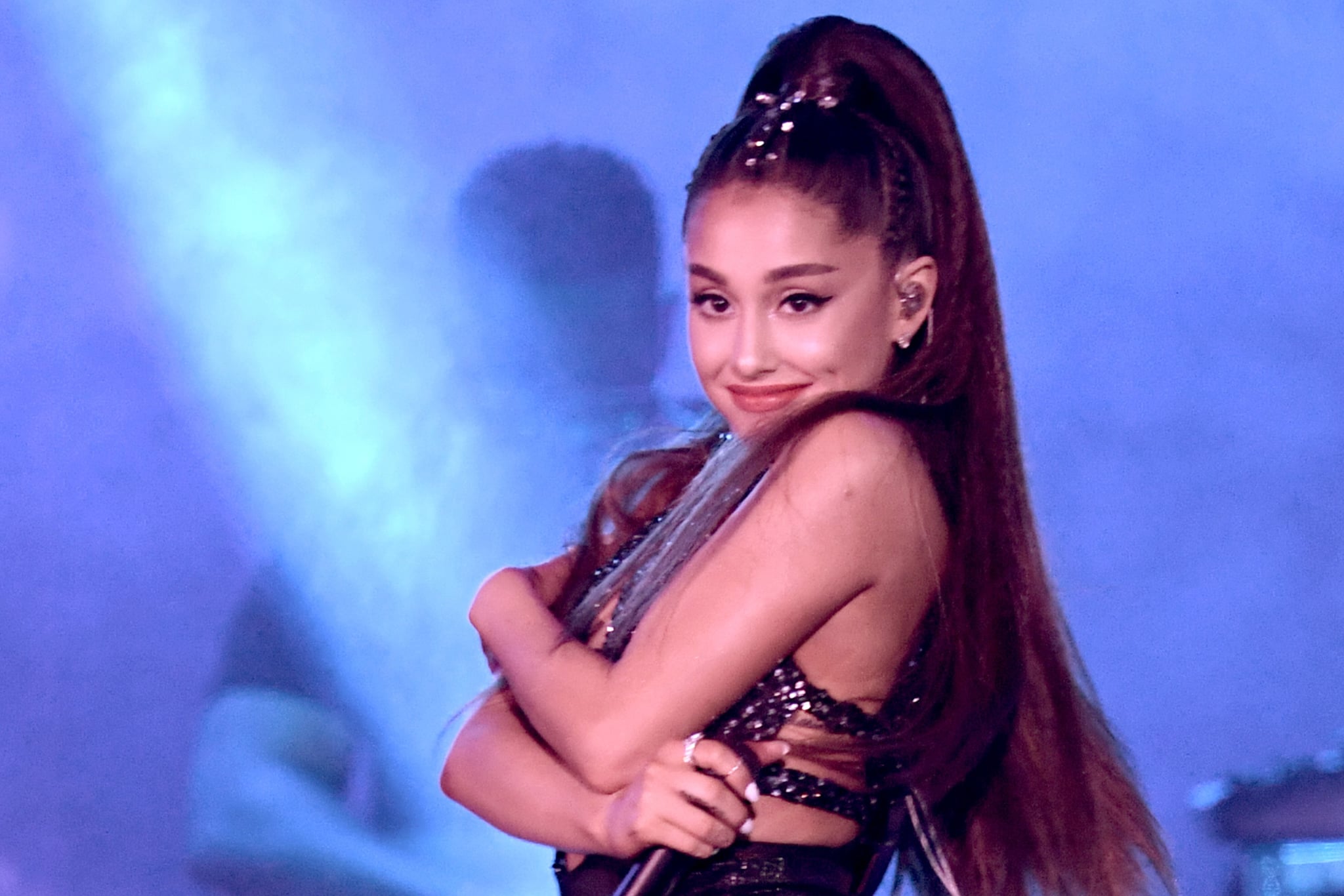 We all know that the celeb life is a big tradeoff: fame and fortune in exchange for living under constant, ofter unfair scrutiny. In her latest song, "Fake Smile," Ariana Grande tackles the dark, exhausting side of being a superstar with bittersweet honesty. Grande does not hold back at all in calling out how draining the expectations can be. The first verse portrays her as a pretty "normal" person who's tired of the social obligations of fame:
"Another night, another party, sayin' hi to everybody / I'm sorry, it's time to leave, I gotta leave now / Got somewhere I gotta be now, I'm starving." The repetition of "another" really makes it clear how tiring and repetitive this life is, and the line "I'm starving" just switches into "normal person" mode; it's easy to imagine her ditching this celeb party to go grab a burger at the nearest drive-through!
It's a bittersweet reflection, too, not just negativity. Grande comments, "I'm happy for the love and all of the above / If I'm being honest, I done been through way too much." In the span of just these two lines, the lyrics really get to the heart of the song: it's not that she isn't grateful for the good parts, but that she's just been through a lot and it's tiring to keep putting up a facade. That's exactly what the chorus confirms:
"I can't fake another smile / I can't fake like I'm alright / Woo, ah (Woo, ah) / And I won't say I'm feeling fine / After what I been through, I can't lie / Woo, ah (Woo, ah) / F*** a fake smile, smile / F*** a fake smile, fake smile"
After the 2018 that Grande had, it's no wonder that she would be over "faking another smile." Let's recap:
After going through all of this — all in full view of the public, too — it's no wonder that Grande would write a song about not wanting to put on a front anymore. Check out the full text of the lyrics below:
After laughter comes tears
After laughter comes tears

Another night, another party, sayin' hi to everybody
I'm sorry, it's time to leave, I gotta leave now
Got somewhere I gotta be now, I'm starving
Can somebody walk me to my car?
If I go alone, I'm not gon' make it very far
I'm happy for the love and all of the above
If I'm being honest, I done been through way too much

I can't fake another smile

I can't fake like I'm alright

Woo, ah (Woo, ah)

And I won't say I'm feeling fine

After what I been through, I can't lie

Woo, ah (Woo, ah)

F*** a fake smile, smile

F*** a fake smile, fake smile

I read the things they write about me

Hear what they're sayin' on the TV, it's crazy

It's gettin' hard for them to shock me

But every now and then, it's shocking, don't blame me

I know it's the life that I chose

But baby, I'm grateful,
I want you to know
I'm happy for the love and all of the above

If I'm being honest, I done been through way too much

I can't fake another smile

I can't fake like I'm alright

Woo, ah (Woo, ah)

And I won't say I'm feeling fine

After what I been through, I can't lie

Woo, ah (Woo, ah)

F*** a fake smile, smile

F*** a fake smile, fake smile

If I'm hurt, I ain't gon' lie about it
Arms crossed with the attitude, lips pouted
If I'm mad, I ain't gon' lie about it
Neck roll with the attitude, yuh
If I'm hurt, I ain't gon' lie about it
Arms crossed with the attitude, lips pouted
If I'm mad, I ain't gon' lie about it
Neck roll with the attitude, yuh

I can't fake another smile (And I can't fake)

I can't fake like I'm alright (No smile)

Woo, ah (Woo, ah) (Ooh)

And I won't say I'm feeling fine (I'm feeling fine)

After what I been through, I can't lie

Woo, ah (Woo, ah)

F*** a fake smile, smile

F*** a fake smile, fake smile (Yeah)