Bachelorette Contestant Lincoln Adim Convicted of Assault
ABC Responds After Casting a Sex Offender on Becca Kufrin's Season of The Bachelorette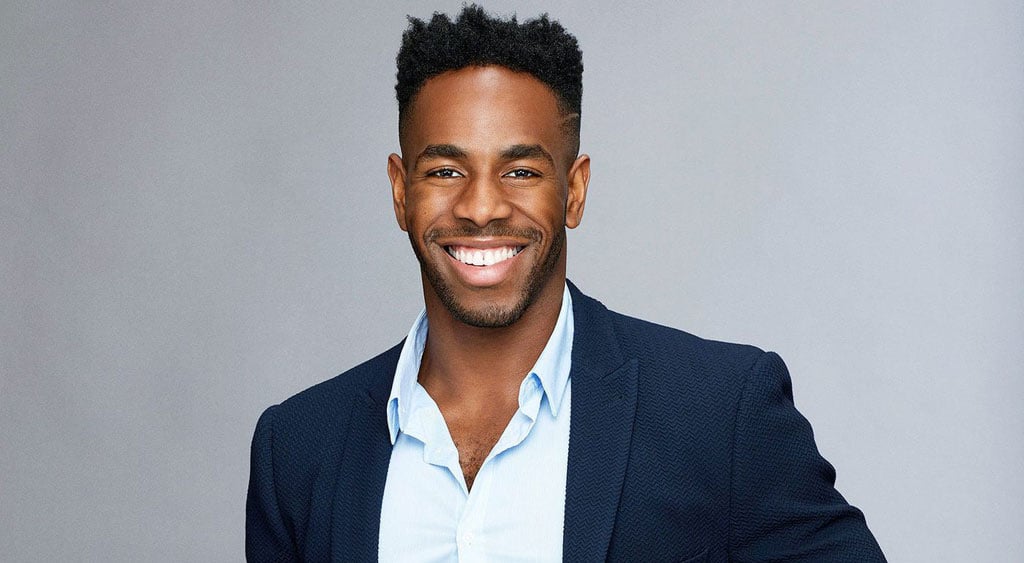 Another day, another contestant on The Bachelorette who makes us wonder what the background checks at ABC are like, or if they even exist at all.
It was revealed on June 13 that Lincoln Adim, a contestant on the current season of ABC's reality show starring Becca Kufin, was convicted of indecent assault and battery in May and is expected to register as a sex offender by law. A week before the 14th season's May 28 premiere date, Lincoln was found guilty of assaulting and groping a woman while on a harbor cruise ship back in 2016, according to the Suffolk County District Attorney's office in Massachusetts.
The extremely disturbing news was first broken by Reality Steve's Stephen Carbone. He teamed up with former Bachelor contestant Ashley Spivey to bring the 26-year-old suitor's conviction to light, since clearly ABC didn't bother warning Becca of his past behaviour (something tells me her dream man isn't a convicted sex offender). After inquiring about Lincoln, they received a response from Jake Wark, the Press Secretary for the Suffolk County District Attorney's Office in Massachusetts:
"Mr. Adim was convicted on May 21, 2018 of indecent assault and battery for groping and assaulting an adult female on a harbor cruise ship early on May 30, 2016. He was sentenced to one year in a house of correction, with that term suspended for a two-year probationary period. The judge ordered him to stay away from the victim and attend three Alcoholics Anonymous meetings per week during those two years. If he complies with the judge's orders, he will not have to serve out his term, but if he fails to comply with those orders or re-offends, he could be ordered to serve out the year behind bars."
Ashley also spoke out about the incident on Twitter, writing that she was "honestly horrified that Lincoln, who was charged with indecent assault and battery, was allowed to go on the show" and that she couldn't understand "how a serious crime like this was missed during background checks."
It took me exactly 1 hour to do the proper research and contact the proper authorities to find this information. pic.twitter.com/K5emjuV5YK

— Ashley Spivey (@AshleySpivey) June 13, 2018
The series wrapped filming in mid-May, and as of the third episode, Lincoln has yet to be eliminated from Becca's season. Warner Bros. has denied having any knowledge of the conviction in a statement to E! News.
"No one on The Bachelorette production had any knowledge about the incident or charges when Lincoln Adim was cast, and he himself denied ever having engaged in or having been charged with any sexual misconduct," the studio said. "We employ a well-respected and highly experienced third party who has done thousands of background checks consistent with industry standards to do a nationwide background check in this case. The report we received did not reference any incident or charge relating to the recent conviction — or any other charges relating to sexual misconduct. We are currently investigating why the report did not contain this information, which we will share when we have it."
This isn't the first controversy this season that's suggested the show's background checks need immense improvement. Shortly after the premiere, Ashley Spivey was sent screenshots of memes from right-wing Instagram accounts that suitor Garrett Yrigoyen had "liked," which included images mocking immigrants, feminists, Parkland high school student David Hogg, and the transgender community. Ashley again complained about the show's choice to ignore giant red flags in the suitors they cast, tweeting, "Can we do a better job of social media deep dives on the dudes that try out for #thebachelorette?"
Clearly ABC and Warner Bros. still haven't gotten the message.