The Bachelorette's Garrett Yrigoyen Instagram Controversy
A Ton of Troubling Social Media Posts From The Bachelorette's Garrett Have Been Uncovered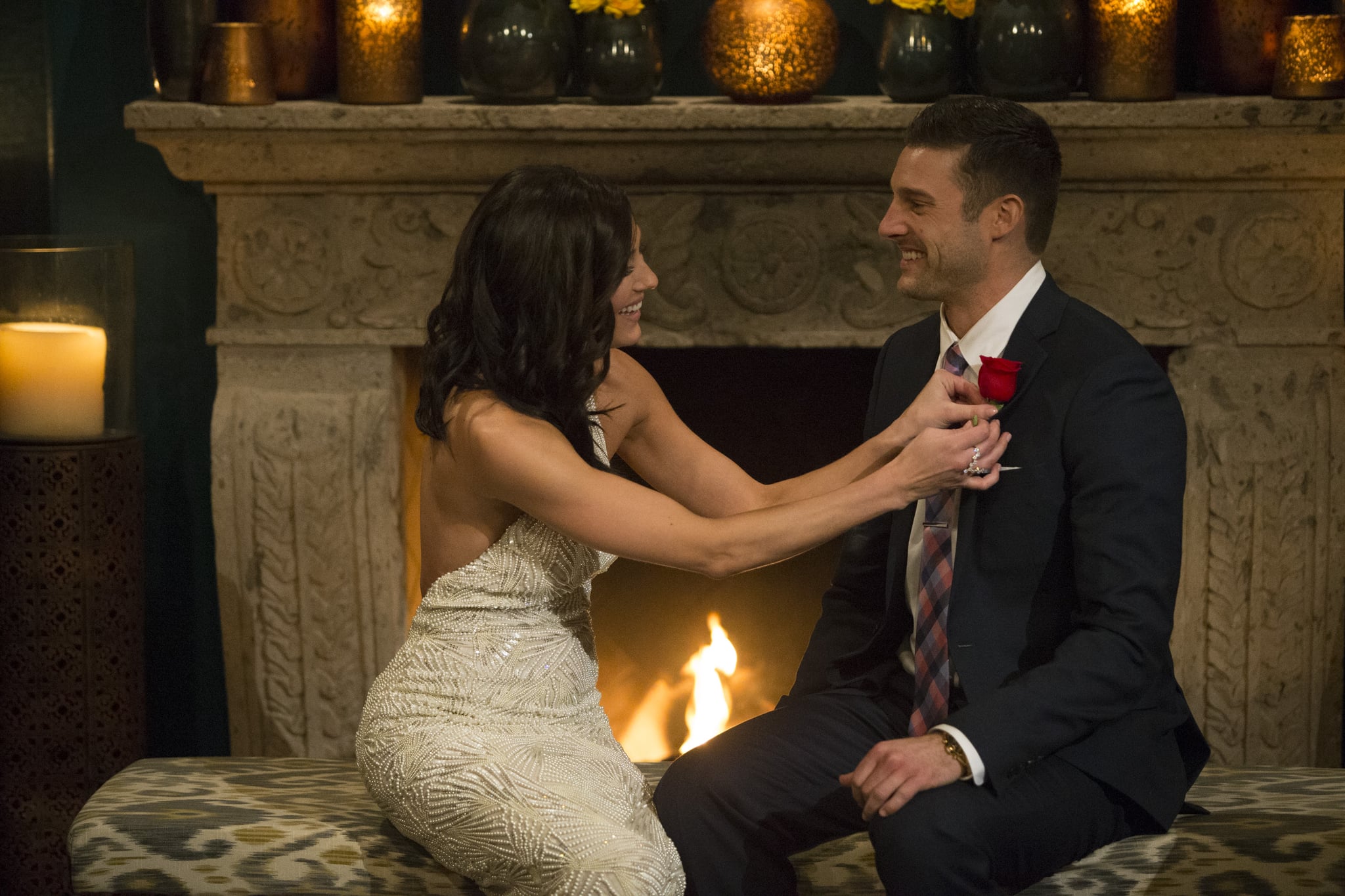 When Becca Kufrin's season of The Bachelorette premiered on Monday night, it didn't take long for a favourite to emerge out of the 28 handsome suitors: Garrett Yrigoyen. The Reno, NV, native planned out an adorably dorky introduction to convince Becca he's serious about their future together — he rolled up to the mansion in a minivan filled with soccer balls to prove he'd be a great dad — and later in the night, he stole her away for a private fishing lesson in the pool. Afterward, Becca told the camera that she was instantly "smitten" with the 29-year-old medical sales representative, which was why she decided to give him her first impression rose. Unfortunately, it looks like the front runner has a troubling history on his social media accounts.
Although Garrett's official Bachelorette bio says he's "a true outdoorsman who loves fly-fishing, hiking, and snow-shoeing," it neglects to include his apparent interest in "liking" photos from right-wing Instagram pages mocking immigrants, feminists, Parkland high school student David Hogg, and transgender people. Screenshots of his "likes" were first made public by former Bachelor contestant Ashley Spivey, who said she was sent the images and didn't take the screenshots herself. "Not sure why I was sent these pics but I'm sure it has to do with me always calling out bull$h*t," she tweeted. "I'm fine being that person."
After Lee's problematic @$$, I truly thought this would be something we paid better attention to.

— Ashley Spivey (@AshleySpivey) May 24, 2018
Garrett's Instagram account has since been made private, and was then deleted, before the anonymous (and also private) Instagram account @imwatchingyuuo posted the screenshots that were sent to Ashley. Reality Steve reports that Garret is back on the app with a new handle, but you can see screenshots of his original "likes" ahead:
May 24, 2018
May 24, 2018
May 24, 2018
HuffPost also found more posts that Garrett's account had "liked," ones that signal his beliefs are far more concerning than simply supporting typical Republican causes. The memes, which were primarily from the Merica Supply Co. Instagram page, ridiculed trans and genderqueer people and also joked about throwing undocumented immigrant children over the proposed border wall (which you can see in the tweets above). Garrett also "liked" a post supporting the debunked theory that Marjory Stoneman Douglas High School student activist David Hogg is a crisis actor, which is exactly the kind of conspiracy theory that leads to harassment of gun violence victims and grieving families.
May 24, 2018
May 24, 2018
May 24, 2018
What makes the situation even more surprising is that Becca has been an ardent supporter of Hillary Clinton and left-wing causes, and rumours have been swirling that Garrett makes it pretty far into the competition. To be fair, Becca wouldn't be allowed to have her phone during filming and therefore wouldn't be able to stalk Garrett's interests on Instagram for herself. But then again, wouldn't a discussion of political beliefs come up over the course of their courtship? We'd like to think so.
Neither ABC or Warner Bros. has commented on the situation, but Garrett's reported new Instagram account has been made public.