Black Panther With 90s Cast
Fans Are Recasting Black Panther With '90s Actors, and Their Choices Are Spot On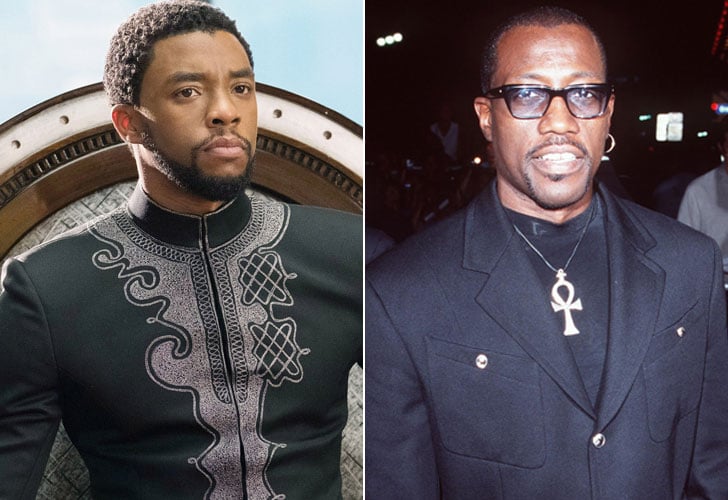 Black Panther is no longer just a movie — it's basically a worldwide phenomenon. Marvel's latest superhero film has not only demolished box office records all over the globe, but it's also already earning 2019 Oscar buzz. This is in no small part due to the incredibly talented cast that brings the story of T'Challa and Wakanda to life. But what if Chadwick Boseman didn't play the titular hero? And Lupita Nyong'o wasn't given the role of Nakia, or Danai Gurira didn't appear as Okoye? It's impossible to imagine. But that's exactly what Twitter has been up to recently, for one pretty entertaining reason.
On April 3, one Twitter user imagined who might be in Black Panther if it had been released in the '90s. In this case they volunteered Chocolate City actor Michael Jai White as fan-favourite M'Baku, the role made popular in the film by Winston Duke.
Wow we actually need this

— de bleck penta (@fivefifths) April 4, 2018
After that the tweets came pouring in, with suggestions for Wesley Snipes to play T'Challa, Tom Hanks to play Agent Ross, Halle Berry to play Nakia, and so, so many more. Check them out below.
Tom Hanks as Special Agent Ross
Eddie Murphy as W'Kabi
Lawerence Fishbourne as Zuri
Isaiah Washington as N'Jobu
Halle Berry as Nakia
Jamie Foxx as Kilmonger
Will Smith as T'Challa
Angela Bassit as Okoye
Jada Pinket as Shuri
Morgan Freeman as T'Chaka
Nichelle Smith as Ramonda https://t.co/pZWLXxQdAN

— Chopped Cheese Papí (@RobCassahnova) April 4, 2018
Wesley Snipes as T'challa, Regina King as Nakia, Jada Pickett as Shuri, Mekhi Phifer as W'kabi, Dawn Lewis as Okoye, Bokeem Woodbine as Killmonger, Paul Giomatti as the white guy, Patti LaBelle as T'challa's mom, https://t.co/oN9eO7r3QD

— ava hoodVernay (@_ebonibee) April 4, 2018
James Earl Jones as Zuri

— de bleck penta (@fivefifths) April 4, 2018
Grace Jones would have been okoye

— jauan jones (@jauan_jones) April 4, 2018
Tatyana Ali as Shuri #90sBlackPanther

— Jerry Rozier (@BostonJerry) April 4, 2018
shuri's crowning tech gear would've been a pair of reebok pumps

— steed malbranque (@earlmanwich) April 4, 2018
Bokeem Woodbine as any of the damn male characters from the hero to the villain to a henchman...90s was a strange time this mofo was in errything #90sBlackPanther pic.twitter.com/2TEy2rqkk2

— Δlt► ₸iməline ℍ Ⱥ Π Ķ ↹ (@hanx3sports) April 4, 2018
And Patrick Swayze as Klaw

— Only Judge Can Judge Me (@TheVoice30) April 4, 2018
Jamie Foxx wouldve played killmonger in the mid 2000s. I can't be the only one that felt him in Michael's performance https://t.co/O3fYpHF8hp

— Jai (@royalswerve) April 4, 2018
Of course, now that Black Panther has been given a '90s makeover, what about the rest of the Marvel Cinematic Universe?
Fun Thread. Let's do 90s Captain America. Who plays Cap, Bucky, Fury, Black Widow and Falcon? https://t.co/al1kziMQwu

— Don Richard (@DonaldRichard) April 4, 2018