Caelynn Miller-Keyes Discussing Her Rape on The Bachelor
Bachelor Fans Applaud Caelynn For Her Honesty About Being Sexually Assaulted in College
The Bachelor took a brief, but meaningful break from focusing on this season's pettiest feud to approach an important subject for all of the women (and men) who tune into the reality dating series week after week: sexual assault.
The episode sees leading man Colton whisking his remaining contestants away to Singapore for exciting dates involving leeches, bungee jumping, and a one-on-one shopping spree. Caelynn Miller-Keyes, a 23-year-old former Miss North Carolina, is the lucky recipient of the latter date, which ends with her and Colton opening up to each other over dinner. For Caelynn, the moment ends up being particularly important, since she chooses to reveal to him that she was raped in 2014 when she was a sophomore attending a fraternity party in college in Virginia.
"They drugged our wine," she tells Colton of her and her friends' experience. "I woke up the next morning completely naked in my bed and had no memory of the night before. I had a small vision of a guy in my bed and I just had this pit in my stomach that something really bad happened last night. My girlfriend called and said three of us were all sexually assaulted."
"It was horrible. It was absolutely horrible."
She goes on to disclose that after she and her two friends passed out, completely incapacitated, in a bed at the party, two men allegedly raped them. "The girlfriend who didn't drink the wine called me and told me that not only did a guy come home and have sex with me, another guy . . . I was passed out on the couch from the drugs and he said, 'Watch what I'm about to do' with all his fraternity brothers around me and he lifted up my dress. They watched and laughed and took photos . . . It was horrible. It was absolutely horrible."
It's a far more poignant moment than many are used to seeing on the show, and has already touched countless fans who have applauded her bravery. Caelynn's story is also sparking an important conversation about the frequent mishandling of rape kits by hospitals and law enforcement, since she tells Colton that the day after she was raped, she reported it to the police, but was turned away from the hospital when she requested a rape kit ("which is illegal," she notes). "The men got away with it, except for one," she says of her attackers. "One did get expelled and the rest got away with it."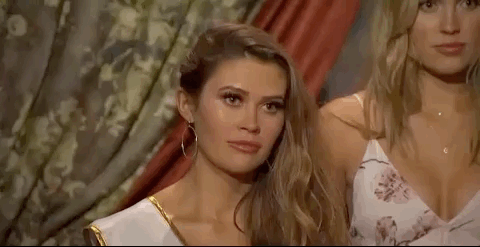 In an interview with People published just before the fourth episode aired, Caelynn said, "My life was flipped upside down. And even though I've moved on, it is something I will struggle with forever." She also elaborated more on her experience with reporting sexual assault to the proper authorities, and why she's chosen to speak out:
"The reporting process is a lot more difficult than people realise. I had no idea what to do. I was completely stranded, I was completely alone. I didn't even think it was possible to be turned away from a hospital. Thankfully, I had a good support system and people went to a second hospital with me and I was able to get a rape kit and speak to authorities and go through that process. But it's a lot more difficult than it seems."
Although many of us might be used to poking fun at The Bachelor, what with its puppies and villains and "v-card" jokes, but Caelynn's frank, raw confession about sexual assault — something that happens to someone in this country roughly every 98 seconds, according to RAINN — was an important, necessary conversation.
"These situations happen when you're safe," Caelynn said to People. "They don't necessarily happen when you're walking down a dark alley. It's when you're comfortable and when you let your guard down." She added, "My focus is on survivors. I want to help other people who are hiding out and feel like their voices are restricted. I really am so much stronger now, in so many ways."
Members of Bachelor Nation, including Colton himself, have since tweeted about how grateful they are to Caelynn for being brave enough to speak out. You can read a few touching reactions to her moment in the episode, ahead.