Ellen Pompeo's Instagrams About Sarah Drew Jessica Capshaw
Ellen Pompeo Pens Tender Goodbye to Grey's Anatomy Costars Sarah Drew and Jessica Capshaw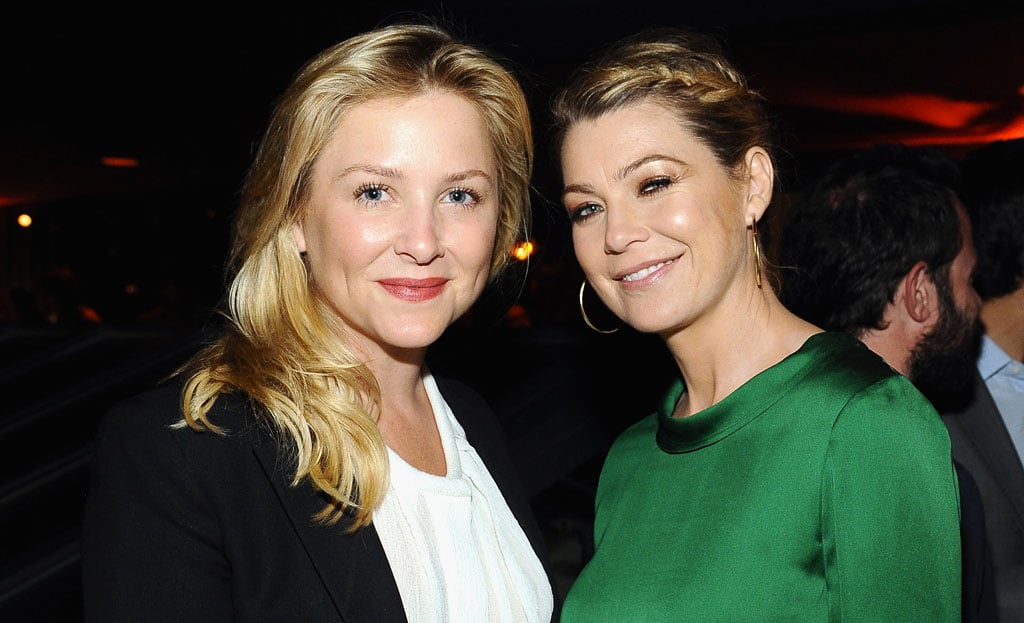 It's been an emotional 24 hours for Shonda Thursday fans. Not only has Scandal tipped its white hat one last time, but now we're getting even closer to April Kepner and Arizona Robbins's goodbye on Grey's Anatomy. It's the end of an era, people.
It was first announced that actors Sarah Drew and Jessica Capshaw, who play April and Arizona, were leaving the medical drama back in March, and now we know the pair have filmed their last scenes. Grey's creator Shonda Rhimes honoured their emotional final day on set with a touching note celebrating "the magic" of their characters, and now longtime costar Ellen Pompeo has done the same.
Having played Meredith Grey beside Drew and Capshaw for nine years and counting, Pompeo dedicated two Instagrams to each of the stars. "What a blessing you are and what a contribution you made to television history," she wrote under a selfie of Capshaw. "Lit that screen up with your glow on the LGBT community... making a difference and making it all look so easy."
As for Drew, Pompeo wrote that she "served up the sugar and spice" during her time on the series, and that it's been a blast. "Your passion and talent for storytelling has touched so many people, provoked thought and Grey's is a better show because of it and you," she finished.
Although we're still unsure of how exactly April and Arizona's storylines will end, we have faith Rhimes has crafted satisfying conclusions for both of them. Maybe April will end up with ex-fiance Matthew? And Arizona will decide to pack up and move across the country with her daughter, Sofia? Pompeo recently hinted that the season 14 finale is "not easy," so at this point we're just hoping they don't get killed off.
Image Source: Getty / Stefanie Keenan