Was There a Food Fight at Doug Kenney's Funeral?
A Futile and Stupid Gesture: Did That Ending Really Happen?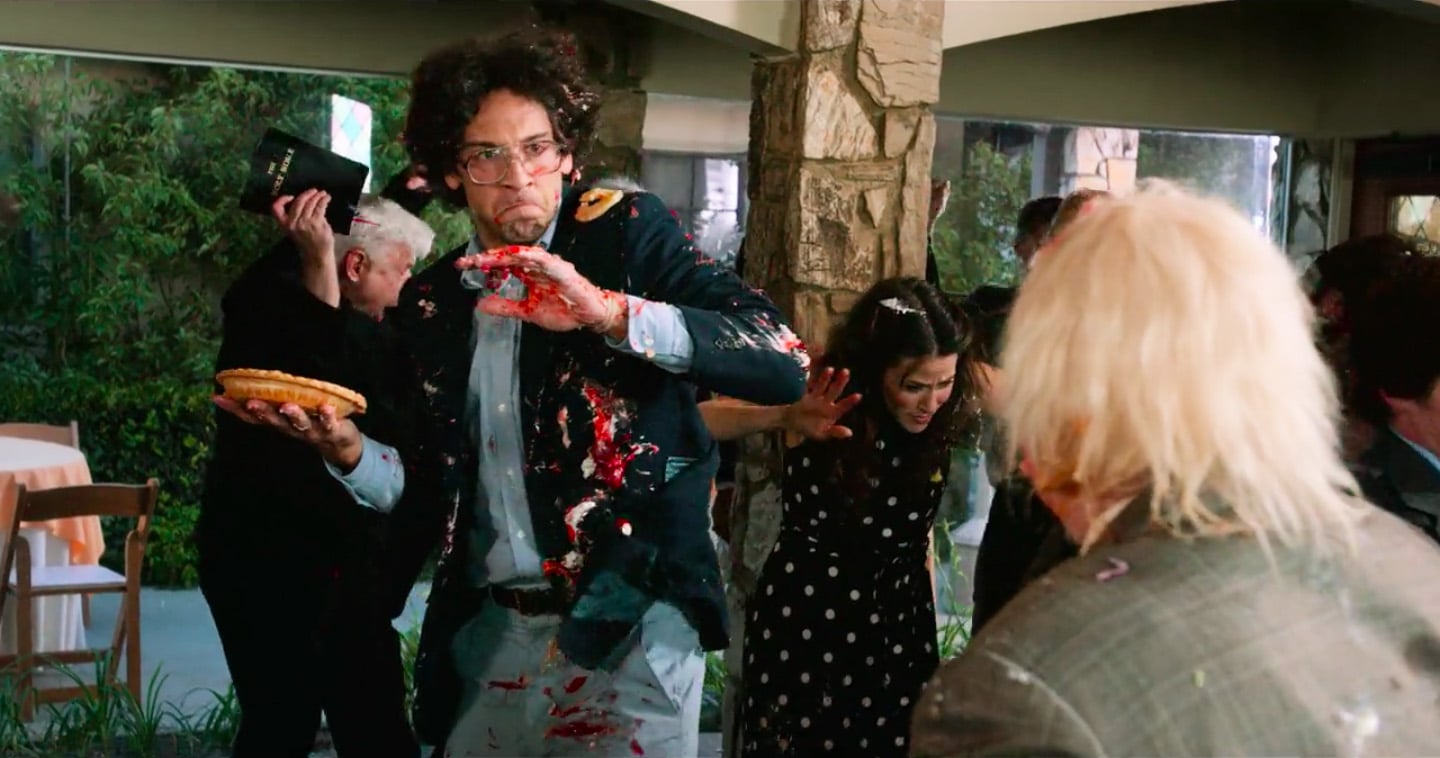 The new Netflix biopic A Futile and Stupid Gesture depicts the triumphs and personal struggles of comedy writer Doug Kenney, the founder of the renowned National Lampoon humor magazine. Comedy fans are likely to be familiar with writer's tragic fate — at the age of 33, Kenney fell off a cliff while vacationing in Hawaii. The movie cuts from a scene of Kenney sitting on a cliff to one of his friend Henry Beard receiving a phone call about his death, making no speculation about how the comedian dies. However, it drops a wild, twist ending that no one saw coming, taking creative liberties in depicting what actually happened at Kenney's funeral.
We're talking about that crazy food fight at the funeral. In a surrealist setup, we see Kenney and an older version of himself watching friends and family pay their respects. Bill Murray notes, "Every funny person in the world is here. And no one's laughing." Kenney agrees and demands that the guests laugh. His friend Henry Beard (played by Domhnall Gleeson) enters the scene. As Beard reaches for food, Kenney tells him that the funeral needs a "futile and stupid gesture." Beard somehow hears him, or at least feels the sentiment. He reaches into a bowl of shrimp cocktail and flings a fistful of food into the crowd. John Belushi then ecstatically screams "FOOD FIGHT!" and the guests proceed to throw food at each other as the parlor song "Beautiful Dreamer" strums in the background.
According to screenwriter Michael Colton, there wasn't really a food fight at the funeral. "We tried to imagine what Doug would feel in that moment, what he would try to say to Henry," Colton said. In addition to paying their respects to the late comedian, the filmmakers behind A Futile and Stupid Gesture seem to be using the food fight as a narrative device. We see, after all, a similar food fight during the opening scene of the movie when Kenney and his friends are at Harvard celebrating the release of Beard and Kenney's parody book Bored of the Rings.
The final scene serves as a moment of closure that respectfully announces the end of the National Lampoon writer's influential life. (It also alludes to Kenney's screwball movie Animal House, in which a food fight occurs.) The symbolic gesture works alongside other storytelling elements that highlight the satirical, goofy nature of the film. For example, we see a fictionalized older Kenney breaking the fourth wall every now and then to remind us that we're watching a movie.
So no, there wasn't really a food fight at Doug Kenney's funeral. The notable scene in A Futile and Stupid Gesture, however, lifts the gravitas of his death in a way that honors his offbeat, irreverent sense of humor.
If you're curious about National Lampoon's and Kenney's legacies, you can check out classics like the National Lampoon movies and Caddyshack (which you can also watch on Netflix).