Grey's Anatomy and DACA
Grey's Anatomy: How the Medical Drama Tackled America's DACA Issues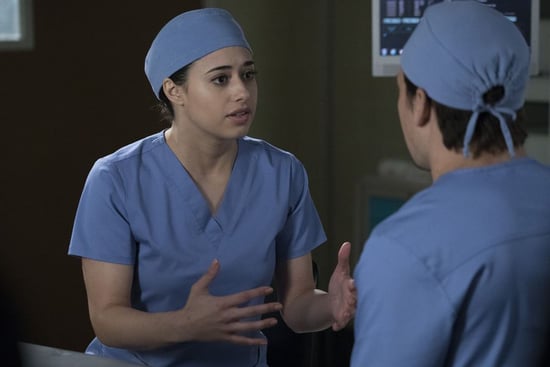 While we've kept a close eye on April and Arizona due to their impending exits from Grey's Anatomy, the show threw us a curveball with a departure from one of the new interns, Sam Bello. Besides making our hearts ache for Sam and DeLuca, the writers also shed light on an important immigration issue: DACA.
Yup, Sam, the bubbly, hypercompetent intern who's been in love with DeLuca, has officially left Grey's. In the latest episode of the medical drama, an ICE officer arrives at Grey Sloan with a request to see her. Sam, who immigrated from El Salvador at age 1, is covered under DACA. Learning about the officer, she immediately freaks out even though she doesn't know what she did wrong. We eventually learn that she's been caught running a red light while going home after a full day of surgeries. Meredith and Maggie help her secure a position at Cristina's medical organisation in Zurich, which allows Sam to voluntarily leave the country without derailing her medical career. By the end of the episode, Sam tearfully says goodbye to DeLuca.
In real life, many DACA recipients are not usually as lucky as Sam. As of the end of the 2017 fiscal year, 850 young people have had their DACA status revoked because of allegations of criminal or gang-related activities. Passed under the Obama administration, DACA stands for Deferred Action For Childhood Arrivals. It provides people who were brought to the United States illegally as children protection from acts like deportation. Besides being able to work in the United States, recipients are issued social security numbers and can apply for driver's licences. However, they need to meet strict guidelines — they must have arrived in America before age 16, be free of any misdemeanours or felonies, and need to be enrolled in or have graduated from school.
The program currently covers about 800,000 people, of whom 91 percent are employed. In September 2017, the Trump administration made the decision to end DACA. In January, a US district judge issued an order that allowed DACA recipients to renew their applications again. However, the government officially stopped accepting new applications in September.
Tapping into this reality, Grey's Anatomy sought help from experts. The writers met with the nonprofit Define American to consult the organisation's media department about its DACA episode, "Beautiful Dreamer." Humanising immigrants through storytelling, Define American helped 23 television and film projects in 2017. While working with the team at Grey's, the organisation provided feedback and fact-checking for "Beautiful Dreamer." Additionally, the show's writers also talked with undocumented American students and representatives from the organisation Pre-Health Dreamers.
This is likely the last time we'll see Sam on Grey's, but we'll see actress Jeanine Mason work on the upcoming television movie reboot of the teen drama Roswell. And we'll certainly see Grey's Anatomy continue giving voice to important stories that do not typically get told on prime-time television.