Grey's Anatomy Season 14 Recap
9 Grey's Anatomy Plot Points That You Can't Forget Over the Summer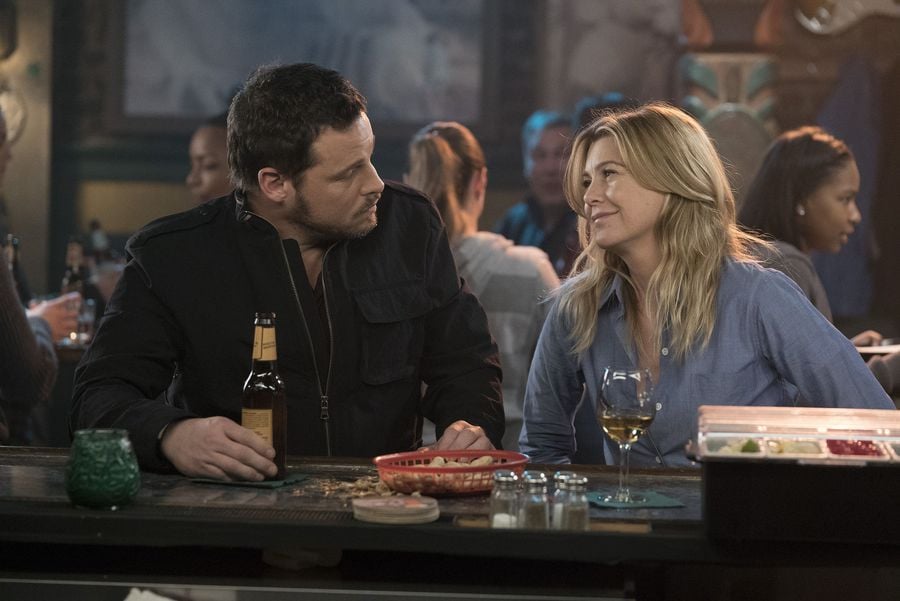 I was sceptical that season 14 of Grey's Anatomy would truly be lighthearted, despite what the cast had been saying. Shonda Rhimes's hit drama, after all, is notorious for bomb scares, plane crashes, and ruthless deaths. Plus, we found out halfway through the season that two beloved cast members would leave the show! But this joyful season surprised us with touching moments like Meredith's Harper Avery win and Jo's heartwarming proposal. Still, the writers introduced major game changers in the finale, so we'll definitely encounter some classic Grey's drama come season 15.
Here are the biggest turning points that you should remember from the least sad Grey's season of all time.
1. Amelia Discovers That She Has a Grapefruit-Sized Brain Tumor
Amelia discovers that she has been walking around with a grapefruit-sized tumor for years. Luckily, Dr. Koracick removes the tumor successfully. After her surgery, Amelia realises that Owen had married her tumor, not her. They amicably break up. But with Grey's being Grey's, they hook up again and now have an unconventional coparenting situation, where Owen takes in a foster baby and Amelia takes in the baby's birth mother.
The finale introduces us to a huge plot twist: Teddy Altman is pregnant. The child is very likely Owen's, so we'll see how this love triangle plays out when Teddy becomes Grey Sloan's interim chief next season.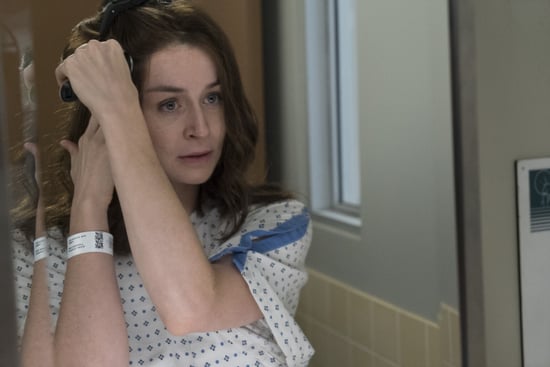 2. Owen's Sister Visits the Hospital . . . and Leaves With Riggs
By the end of season 13, everyone had been rooting for Grey's heroine to enter a semi-functional relationship with the gruff Dr. Nathan Riggs, Owen's sister's former fiancé. After years of being MIA, Megan reappears during the season 13 finale, shattering our hearts into smithereens. Meredith chooses the high road and encourages Nathan to reconcile with Megan. Meredith's abdominal transplant surgery on the veteran goes well, and Megan eventually moves to LA with Nathan and her adopted son.
But this is fine because, after all, Meredith is her own McDreamy. Also, a couple of episodes after Nathan leaves, Mer meets the endlessly charming Dr. Marsh, who we're low-key petitioning to join the Grey's cast permanently!
3. Meredith Wins the Harper Avery
Meredith wins the Harper Avery because of her groundbreaking surgery on Megan Hunt. We totally weren't crying or anything, because it's not like we've rooted for this damn girl over the last fourteen seasons of this show. Okay, jokes aside, this episode is special because it's the 300th episode of Grey's Anatomy. The showrunners pay homage to vintage Grey's Anatomy by drawing parallels between the current interns and Meredith's own cohort back in season one. Plus, we get to see George, Izzie, and Cristina's doppelgangers!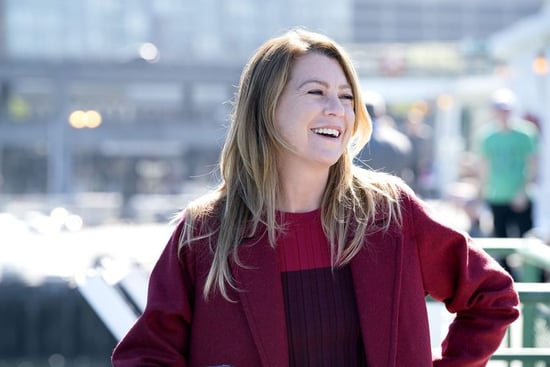 4. We Promptly Learn About the Allegations Against Harper Avery
Enter Marie Cerone, Ellis Grey's former best friend. Marie holds the patent that Meredith needs for her mini-livers project. Meredith later figures out that Marie had visited her with the intention to steal her idea. After Jackson inadvertently waives an NDA, the staff learns that Harper Avery had been accused multiple times of sexual misconduct.
Among the women with NDAs was Marie Cerone. Meredith and Jackson decide to rename Harper Avery's foundation the Catherine Fox Foundation, which would retrain, repay, and rehire all the women mistreated by Harper Avery. Meredith also renames her mother's method the Grey-Cerone Method, but decides to cut things off with Marie.
5. Ben Becomes a Firefighter
If you recall, Ben leads a firefighter crew to rescue Stephanie Edwards in the season 13 finale. realising his passion for firefighting, Ben slowly transitions into the Grey's spinoff Station 19 while making a couple of appearances in Grey's Anatomy.
This season, we mostly get montages of him training for his new job. He does have one rather moving moment this season when Miranda suffers from a heart attack. As Ben discovers his true purpose, so does Miranda. After receiving a fat check from her innovative Trailblazer surgical tool, Miranda decides to take time off to do more surgery and research, temporarily handing off her chief duties to Teddy Altman.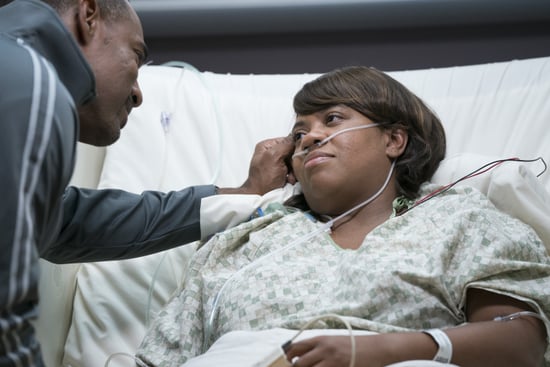 6. April Has a Huge Existential Crisis
April loses her ex-fiancé's wife in surgery. This breaks her faith and leads to her acting out. She drinks copiously, hooks up with an intern, and snaps at her coworkers. We all worried that April's reckless behaviour would eventually lead to a fatal ending, like death or suicide. April, however, eventually finds peace after connecting with a patient who is a rabbi. But that doesn't keep us safe from Grey's writers, who decided to toy with us one more time before Sarah Drew left Grey's Anatomy.
After falling into a river, April miraculously survives with the help of everyone at Grey Sloan. In the season finale, we learn that she's decided to pursue God's work and help the homeless population. In addition to finding a purposeful career path, April marries her ex-fiancé, Matthew, after he proposes to her at Jo and Alex's wedding. Second time's the charm, right?
7. Maggie and Jackson Are an Item
Following some very awkward tension, Maggie and Jackson finally get together. Maggie had been dating a smarmy guy on Tinder named Clive, who turned out to be cheating on his wife. After the Clive fiasco, Jackson kisses her and they seem to be fairly happy . . . for now. Their chemistry has potential, but I'm waiting for things to shake up between them.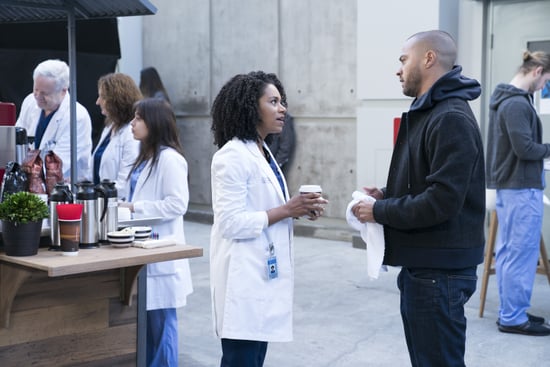 8. Alex and Jo Tie the Knot
Alex and Jo reconcile this season, which culminates in Jo slipping on Alex's ring and telling him that he's her home. But they definitely still had hurdles to jump, specifically encounters with Jo's estranged husband Paul and Alex's ill mother. In true Grey's fashion, Jo and Alex get locked inside a barn during their own wedding after sneaking off for a quickie.
After a disaster of a wedding ceremony, Meredith marries them on a ferry. Their happily-ever-after moment is fleeting, as the couple will face a tough decision next season when Jo must decide between going to Mass Gen for a fellowship or becoming an attending physician at Grey Sloan.
9. Arizona Moves to New York
Like Sarah Drew, Jessica Capshaw also departed from Grey's Anatomy by the end of season 14. In the penultimate episode of this season, we find out that Arizona will leave for New York for the sake of her daughter Sofia. Arizona had planned to return to pediatric surgery, but gets an amazing opportunity to develop a fetal surgery facility with her mentor Dr. Nicole Herman, who agrees to base the project in New York. Given her text exchanges with Callie at Jo and Alex's wedding, we also have a strong feeling that Calzona will reignite in the Big Apple.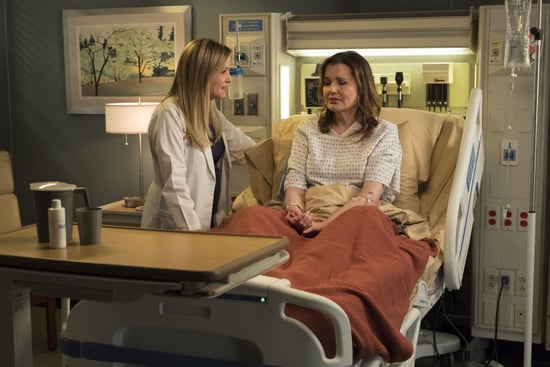 Phew, what a season, right? Although we're slightly scared that the show might end in a few years, we'll be keeping our chins up for season 15.