How Does Arizona Leave Grey's Anatomy?
Grey's Anatomy: Here's What Arizona's Happily-Ever-After Looks Like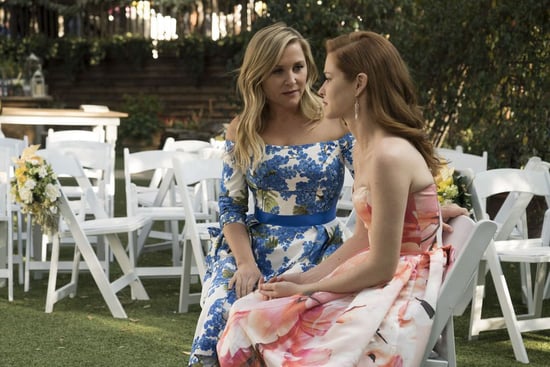 In case you hadn't already heard, Arizona and April officially left Grey's Anatomy, crushing the hearts of fans everywhere. The good news is, the two exit the show without any horrible bus accidents or bomb explosions involved! Watching the season 14 finale, I had to remind myself that I wasn't watching a '90s rom-com. April obviously leaves on a very romantic note, but Arizona also receives the promise of a bright future with Callie. Yup, Calzona is back on.
Here's a little background to the drama that led to Arizona's big move. After Callie decides to move to New York with her then-girlfriend Penny, she goes to court against her ex-wife for custody of Sofia. Arizona wins full custody over their daughter but later agrees to joint custody. Throughout season 14, Sofia struggles with the arrangement. When she returns to Seattle, she's visibly sad and misses Callie. Arizona feels immense guilt and even allows her daughter to skip school. Sofia ends up stealing a bunch of field trip money, which forces Arizona to make the difficult choice to move to New York to be closer to Callie.
Things didn't stay sad for too long. Arizona's mentor Dr. Nicole Herman swings by Grey Sloan for a surprise visit. She offers Arizona an amazing opportunity to start a fetal surgery facility with her and agrees to build it in New York. After that, Arizona shows up one last time on Grey's at Jo and Alex's wedding. Though she doesn't get to see Jo and Alex tie the knot, she witnesses April and Matthew's absurdly sweet impromptu marriage. She confesses to April that she's starting to feel things for Callie, who's also now single.
Drawing from her experience with Matthew, April encourages Arizona to take a leap of faith. It's clear that the feeling is mutual after Callie excitedly texts to Arizona that she can't wait to see her. See, true love is possible! We're 99 percent sure that they'll get back together in New York and have their happily-ever-after.
While Arizona doesn't get a tearful airport farewell scene, she leaves the show unscathed. And that's more than many former Grey's characters can say.