JD McCrary Interview About The Lion King Reboot
The Lion King's JD McCrary Talks Working With Donald Glover and the Moment He Met Beyoncé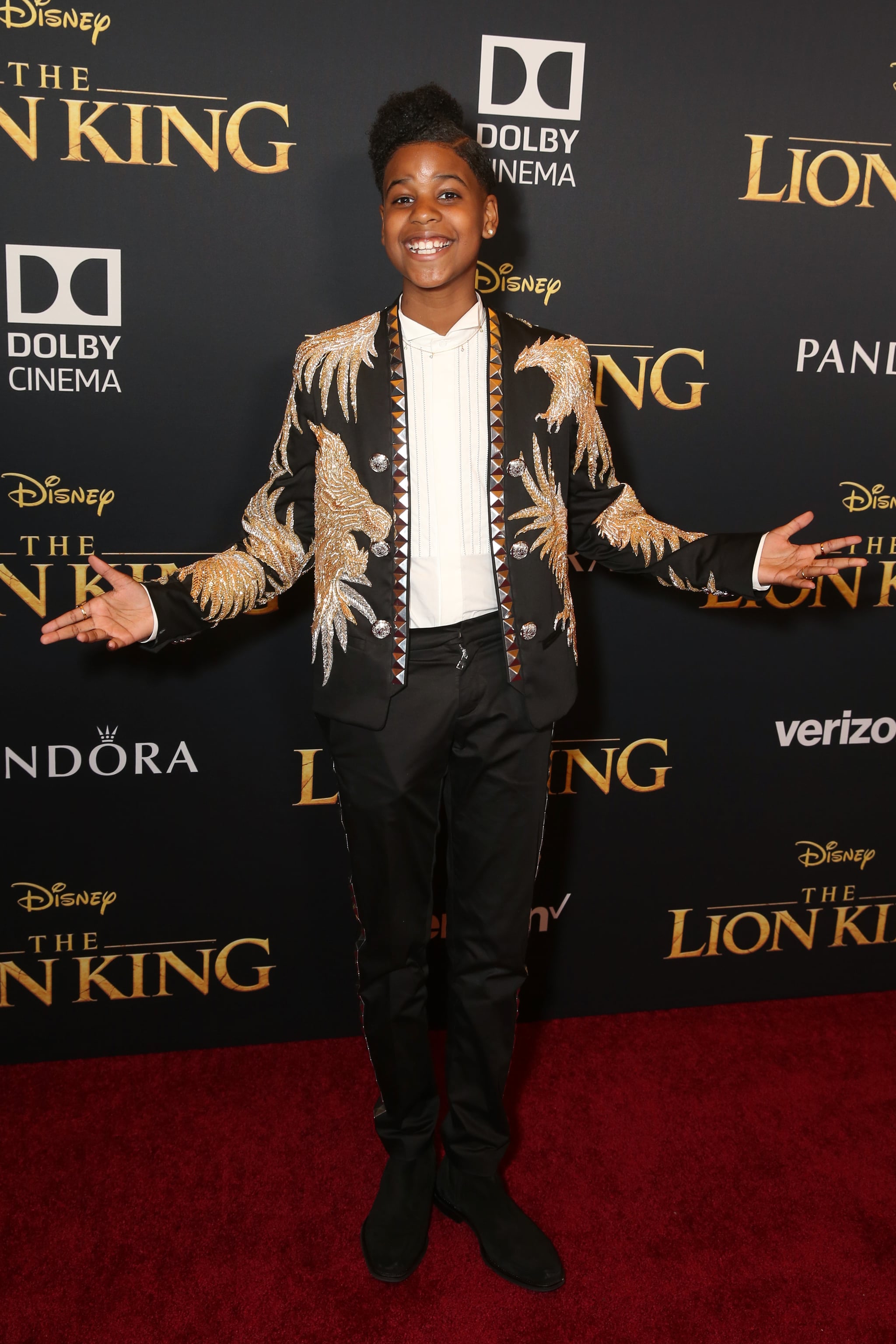 At just 11 years old, singer and actor JD McCrary has accomplished more than your average preteen. The Los Angeles native has sung the National Anthem at an NBA game, performed on The Ellen DeGeneres Show, and has multiple acting credits, with appearances on Disney Channel's K.C. Undercover, Tyler Perry's The Paynes, and the film Little — in which he acted alongside Black-ish star Marsai Martin. But his upcoming role as young Simba in the Jon Favreau-directed reboot of The Lion King is arguably his biggest break yet.
There's no audacious backstory about how McCrary became involved with the film. It was simple: his manager told his mom about the opportunity, and his mom encouraged him to audition for it. After doing a self-tape while in Atlanta, he received two more callbacks before he landed the role. "It was a really great moment for me," he told POPSUGAR over the phone on June 27. "I started to prepare for it by watching the [animated] movie about 10 times. I studied everything about it, I prayed a lot on it, and I felt like I was ready. That's all it really took: prayer and preparation."
Naturally, McCrary relates most to his character Simba. But his favourite character? "Mufasa," he said after a moment of thought. "He reminds me of my dad. My dad teaches me a lot of life lessons, and that's exactly what Mufasa does for Simba." McCrary was also able to learn a lot from members of the cast and crew. Favreau's advice to him was to make the role his own — something the director is familiar with as he's played the comic-inspired character Happy Hogan in multiple Marvel Cinematic Universe films.
McCrary even received a few words of wisdom from Donald Glover, who lends his voice to adult Simba. "He told me to be myself and express myself," McCrary said. "Even if I'm playing someone else, just be me. You can always tell when someone is just being someone else or when they're making it their own while being someone else."
Another big-name celebrity McCrary got to meet through The Lion King is, of course, the Beyoncé. (When I asked about all the cool celebrities he's encountered early on in his career *other than* Beyoncé and Glover, he responded, "Yeah, I met Beyoncé. I just wanna say it because Beyoncé's awesome.") He didn't get to meet the music icon while recording for the movie since she's portraying an adult Nala alongside Glover's Simba. But they finally crossed paths at the Wearable Art Gala in June.
McCrary with Beyoncé and producer Jon Favreau at The Lion King premiere in LA
It was near the end of the night, and McCrary was about to leave the event with his father. Before departing, the actor had one last request. "Hey, dad, can I meet Beyoncé?" he asked. After he got the green light, he began to approach the singer. "I was really nervous — I mean, it's Beyoncé," he said. "She had on a nice dress with a bunch of feathers and stuff. JAY-Z was right there, and so was Blue Ivy and Kelly Rowland — it was crazy."
He then tapped Bey on the shoulder to get her attention, and before he could get a few words out, Beyoncé gave him a warm welcome. "Hi, it's nice to meet you," she said. "You're voice is just beautiful and so blessed!" (At this point in the interview, McCrary's tone changes from reminiscent to pure and utter disbelief.) "In my head, I was like, WHAT?," he said. "And I just went, 'Wow, thank you. Can I have a hug?' And she gave me a hug — Beyoncé! She was so nice."
Although McCrary describes his conversation with Beyoncé as "a really awesome moment in my life," there's even more in store for him. As a follow-up to his recent extended play, Shine, he plans on dropping a new EP after The Lion King hits theatres and hopes to go on tour. He also wants to showcase some of his very own artwork in a gallery. "I like painting things that have meaning," he said. One of the works he's particularly proud of is a painting of a basketball coming out of the Earth and into outer space as it moves toward a hoop placed on top of a planet. And written on the canvas is what he says is one of his life mottoes right now: "Shoot your shot, no matter how far it might be."
Image Source: Getty / Jesse Grant