Love, Simon Cast Interview
The Cast of Love, Simon Dishes on the Scenes That Will Make You Cry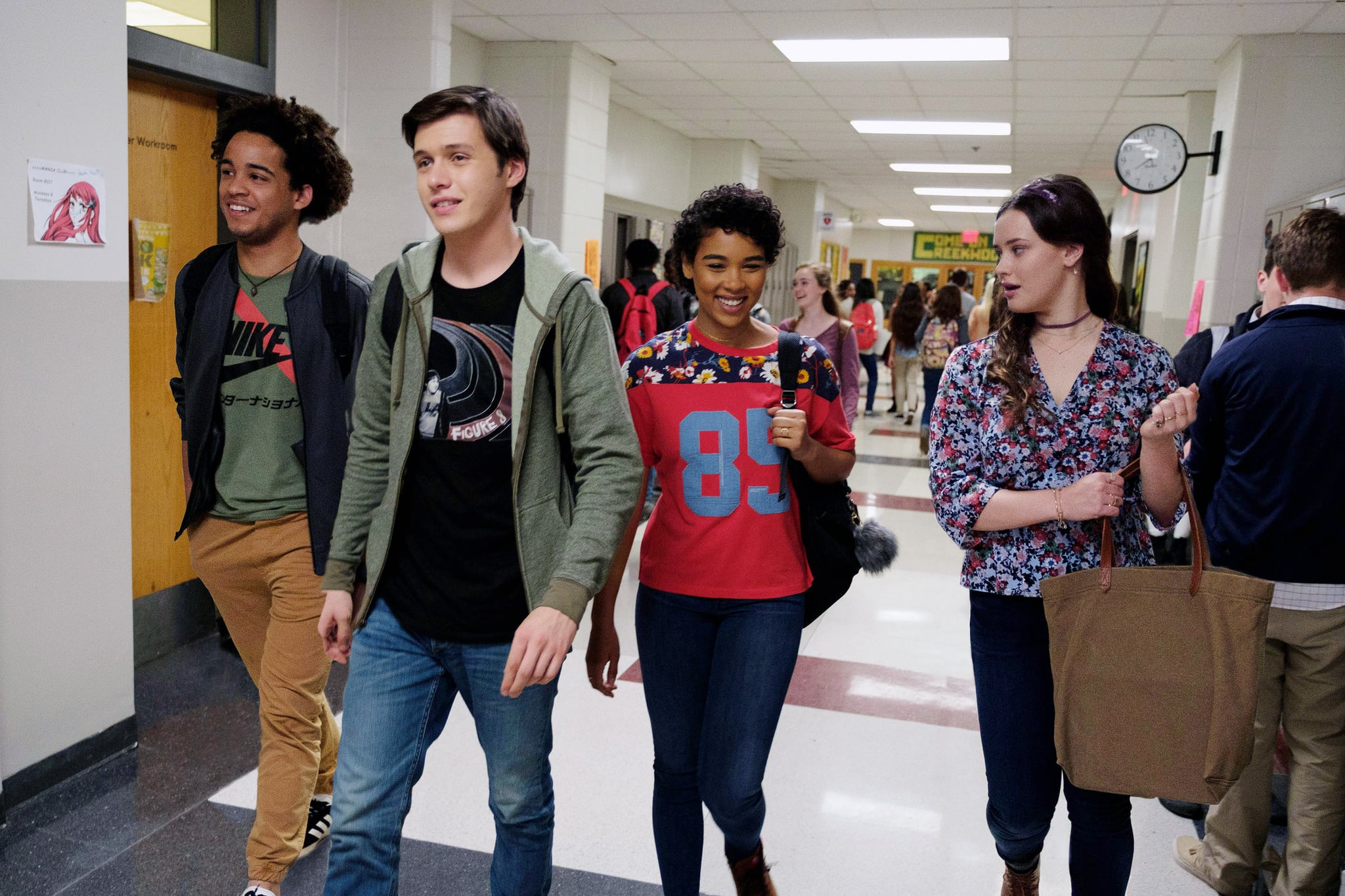 It's here, it's here! Love, Simon has arrived to give us the sweet high school coming-out story that Hollywood has sorely needed for quite some time. The film follows the story of Simon Spier, a high-schooler who's harboring one big secret: he's gay. When another student finds out and threatens to blackmail him, Simon must do everything in his power to keep private life a secret. Don't worry — there are plenty of places to laugh and cry along the way.
Ahead of the release, I sat down with the film's four stars: Nick Robinson, Katherine Langford, Alexandra Shipp, and Jorge Lendeborg Jr. The fearsome foursome dished on Love, Simon's inevitable impact, what's so special about Simon Spier, and of course, the scenes that got them all choked up.
POPSUGAR: Nick, why did you want to take on the role of Simon? What drew you to this character?
Nick Robinson: I think Simon is kind of a fascinating guy in a lot of different ways. He's someone who has has had to live with this secret his whole life. He doesn't want anyone to know that he's gay, so he's built his whole life protecting that idea. And I think it's kind of an interesting character arc, to see what happens when someone's perfectly manicured life gets turned on its head. He all of the sudden has to very quickly readapt in the new circumstances . . . He's been so self-conscious for his whole life, he's been very aware, and he's been suppressing his personality. And so how that manifests itself is interesting. And talking with [director Greg Berlanti] and hearing his vision of the project, and the potential, [that] was also a major reason to sign on.
PS: Alexandra, did you have any sort of "aha" moment during this project, when you really felt how important this film could be?
Alexandra Shipp: There was a moment in the script, for me, when we're all sitting at lunch. One person says, "Oh hey, did you hear there's a closeted gay kid at the school?" and my character just looks up and goes, "Who cares?" And for me, I was like BOOM. Yes. That is what we need to be doing. That is how we need to be approaching this. Who cares? Who cares? It doesn't matter. Are they a good person? Do they lie? Do they cheat? Do they steal? Who they sleep with or who they're attracted to doesn't define them. What defines them is who they are as a human being.
In a movie like this, when you're changing the vernacular, you're changing the conversation, and you're really making it more so about who they are, that's when you really start to change lives and change perspectives.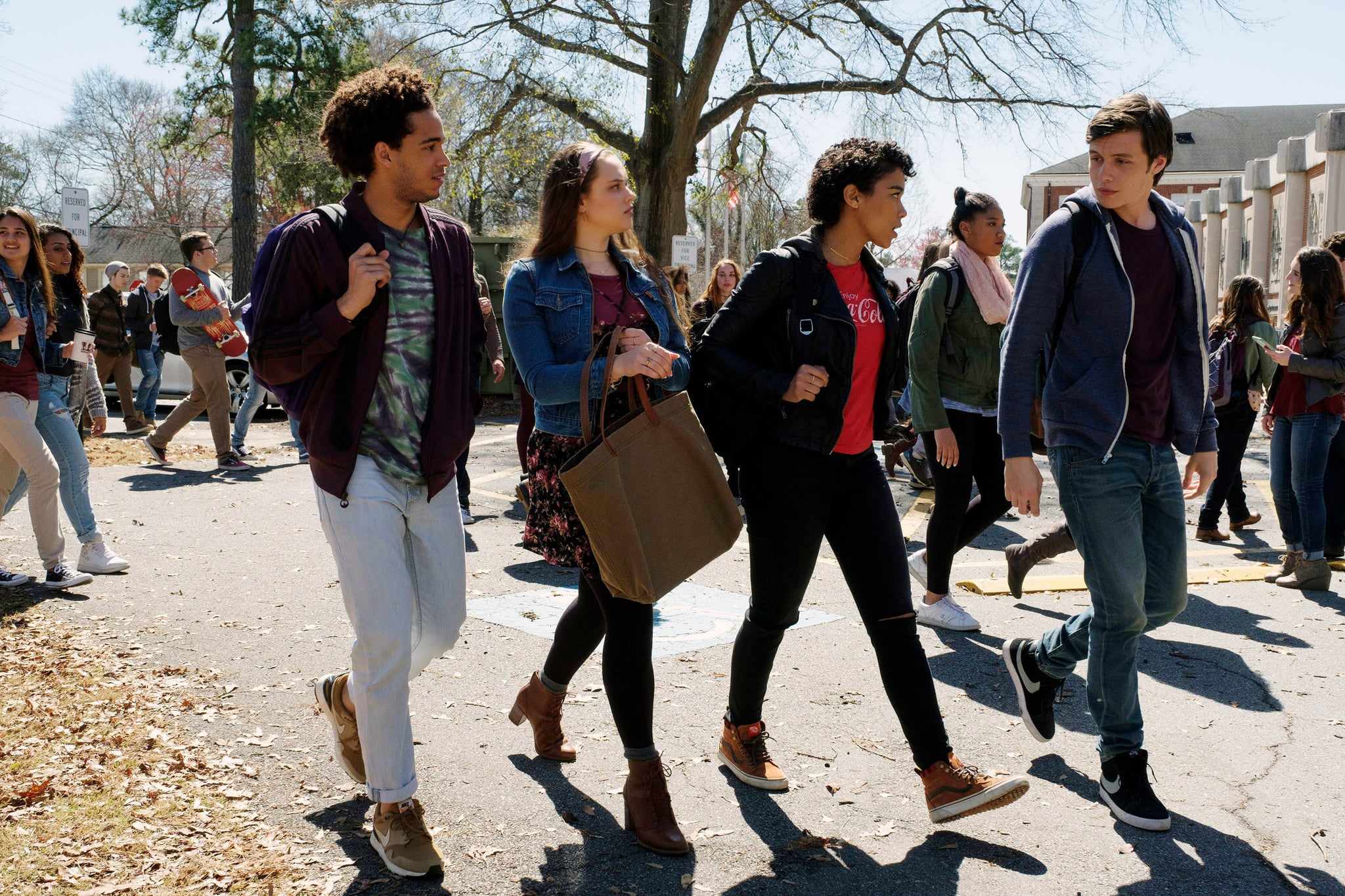 PS: Obviously, this is such an incredible and groundbreaking film. Katherine, what does it mean to be a part of something like this?
Katherine Langford: I'm super proud to be involved in a film like this. Overall, I think the LGBT community is very underrepresented in the media. There have been some great progressions in terms of showing those relationships on TV, but not so much in film. We've had a few great films, like Carol and Call My by Your Name, but this really is the first major studio that is telling a coming-of-age love story about a gay teenage protagonist. And I think, although it's not representative of all LGBTQ people or their stories or experiences, I think it's a good starting point, and hopefully will promote discussion.
PS: And Jorge, what exactly do you think sets this film apart from the ones that came before it?
Jorge Lendeborg Jr.: The central thing about gay movies so far has been the gay aspect. In this film, I feel like it doesn't take a backseat — it's definitely in the film and it's apparent that it's a great factor in the film — but it shows that, like Alex said, it doesn't define you. Love is love. And you find love. As a high school kid, it's a tough thing to try to maneuver with. So, I feel like this is really a good representation of what high school love is like. And I feel like there's a lot of people who might really enjoy this.
PS: All right, and finally, we need to talk about the crying. What part made you the most emotional?
NR: I think the scene between Simon and his mother is really just a beautiful thing. Just the wording of it is really poignant. And it doesn't really matter who you are or what your sexuality is. Just to hear those words is really impactful.
KL: I think that might have been [for] me too.
AS: Mine was definitely when the dad realised how homophobic he had actually been with his words over the last couple of years. And how mortified he was, because I've seen that on people's faces before, and being like, "Oh. But, oh, you're gay? Oh my God, I'm so, so sorry!" You know? But that was so real, because that's his baby, and he was offending his baby. No one wants to do that. I don't know, I just get so emotional like, "I know, Dad. Right? Don't say stuff like that!"
JLJ: Without giving too much away, there were two gay characters that talked about what it felt like in their experience as a person who's finally out in school. Just to see that insight between two people [for] me, as a straight man, to see how tough that is.
Love, Simon hits theatres Match 16.