On My Block Season 1 Finale Reactions
Did On My Block's Finale Turn You Into a Puddle of Emotions, Too?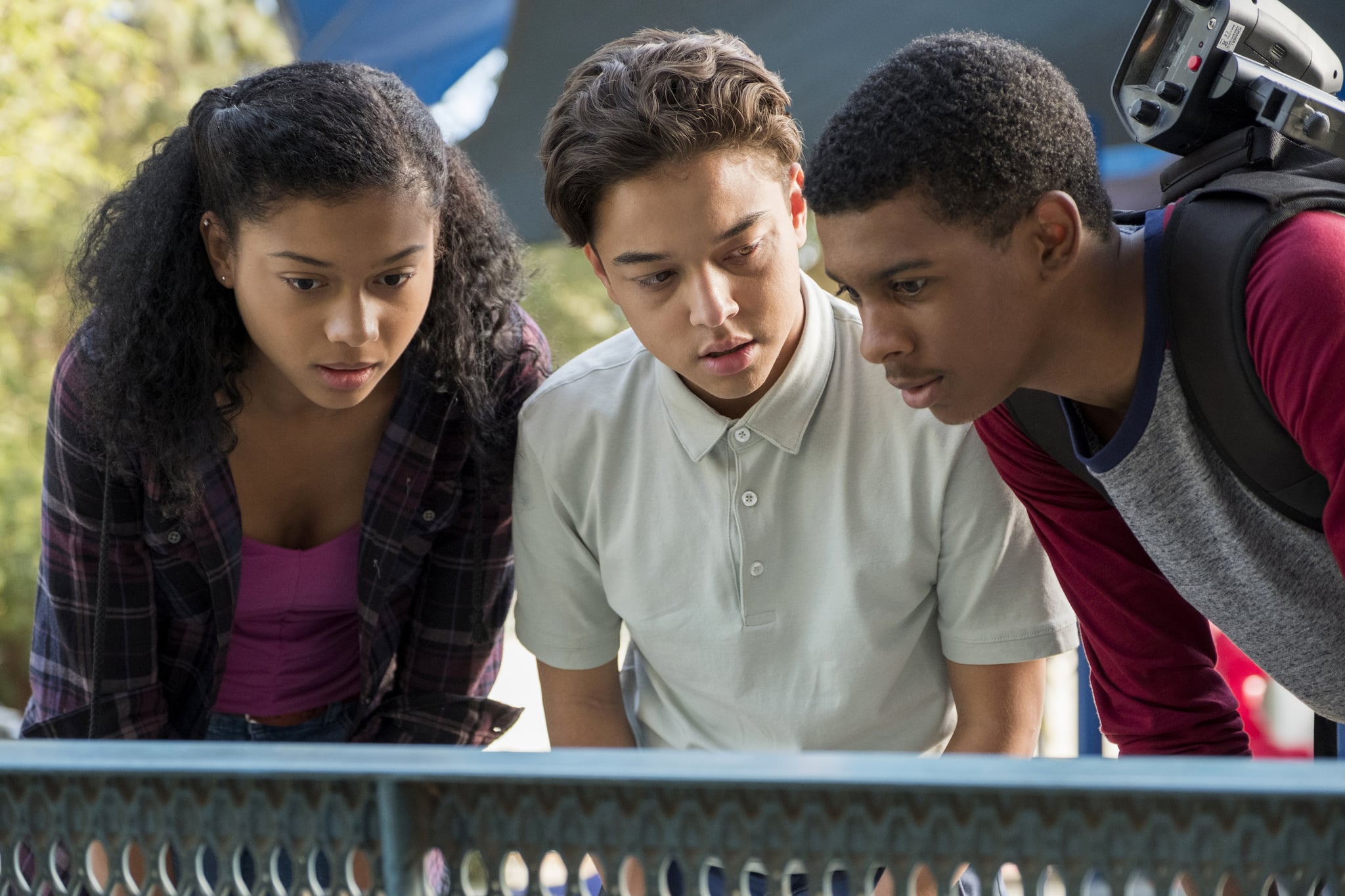 Warning: Big spoilers for the season one finale of On My Block below! BIG!
Guys. Guys. Are you OK? Because after watching the final few minutes of Netflix's On My Block, I am most definitely not OK. Just when I thought season one was going to tie things up in a bow as perfect as the one on a quinceañera dress — Monse and Cesar showing off their relationship, Ruby finally kissing Olivia, Jamal finding the Roller World money — the episode ends with a bang. And not in a good way.
The unexpected conclusion to the excellent, hilarious, and diverse 10-episode season sees both Ruby and Olivia taking bullets meant for Cesar. The newfound lovebirds are shot by the same rival gang member Cesar was tasked with killing by Oscar in the previous episode (Cesar can't bring himself to take a life, and lets the guy go), and the last we see of them they're both gasping for breath as they bleed out on the ground at Olivia's quinceañera.
See what I mean about not being OK? What did we do to deserve this, Netflix?! The moment is downright gutting, and has new fans of the show desperately trying to sort out our emotions as we wait for news of season two (which has yet to be announced). If you're in need of a group therapy session, might I suggest turning to Twitter? Because you're definitely not the only one sobbing over Ruby and Olivia.
JUST SAW THE SEASON FINALE OF #ONMYBLOCK NO ONE TOUCH ME pic.twitter.com/5CxrmhUDHm

— dai is double vaxxed & masked 😷 (@daibyday) March 18, 2018
RUBY MY HEART #OnMyBlock pic.twitter.com/gVoGjeal6n

— sarah ✨ (@iconicsahara) March 18, 2018
Ok @netflix hear me out, you need to renew #onmyblock right now because I need to now what will happen to Ruby and Olivia!!!!! OH MY GOD WHY I LOVE RUBYY!!!

— dani (@miasthermopolis) March 16, 2018
Just binged watch the entire season of #OnMyBlock and I'm hella mad .... why they gotta do my man Ruby like that @OnMyBlockTv @netflix pic.twitter.com/W1YQtHHxRY

— Horchata Mami (@catchmecriss) March 17, 2018
me at 26:13 vs. 26:55 on episode 10 #OnMyBlock pic.twitter.com/z8MOIa3WCQ

— ari | RUBY DESERVED BETTER (@velvetsinclair) March 18, 2018
OKAY SO HOW TF YOU GANNA HAVE US ALL FRUSTRATED AT HOW JAMAL DIDNT FIND THE MONEY AND THEN HAVE IS CRYING AND PANICKING OVER RUBY AND OLIVIA GETTING SHOT AND THEN ALL HAPPY WITH JAMAL RIDING DOWN THE STREET WITH A BAG GULL OF MONEY. EMO ROLLER COASTER #OnMyBlock

— tay. (@tayspurpose1994) March 18, 2018
I shouldn't have binged in all In 2 days. Now I gotta wait a whole year #OnMyBlock pic.twitter.com/pXDPkrz2HS

— amsie| on the block spoilers (@jayquanpark) March 18, 2018
dear @Netflix see what we're not about to do, is disregard a show with great representation and characters and storylines. we NEED a season two of #OnMyBlock we don't want it we NEED it. i rest my case. pic.twitter.com/E7IaYSjrHQ

— poet #onmyblock (@gambinosweet) March 18, 2018
Omgsh so I just watched the last episode of #OnMyBlock. I'm so emotional, I really didn't expect that. @OnMyBlockTv @NetflixUK when's season 2 please?

— Oggs ن is vibranium (@ChanteJae) March 16, 2018
They still had the audacity to set off the fireworks after that #OnMyBlock pic.twitter.com/pWY4T8kQlO

— brianna. (@notevenloaded) March 18, 2018
When Latrell showed up at Olivia's quince I was shazzaming the song playing and I thought Ruby was just seeing things. I'm floored. I stay up til 4am just to cry myself to sleep #OnMyBlock pic.twitter.com/7t8ooMJKB8

— Super Nova☀️ Marie (@badgyalrika) March 17, 2018
I CAN LIST SO MANY GREAT MOMENTS OF THIS SERIES LIKE HOW HILARIOUS JASMINE IS OR THE MARRY, MAKE LOVE, KILL GAME OR ANY TIME RUBY OR JAMAL HAVE ME IN STITCHES BUT WHAT I WILL NOT TOLERATE IS HOW #ONMYBLOCK EPISODE 10 ENDED 😭

— CHA CHA BINGOS ♡ (@CHERRYBOMBALOR) March 16, 2018
If Cesar had killed that dumbass, Olivia and Ruby would have never been shot. Olivia is clearly dead and Ruby will be heartbroken in season 2. #OnMyBlock

— Dami (@DamzelinEssex) March 17, 2018
Me watching for the 5th time #onmyblock hoping what happened at the end of episode 10 did not and my mind is just actin dumb cuz i love ruby. pic.twitter.com/63eoHg2fHb

— Mystic🎖🗻 (@MysticMood14) March 18, 2018
So I really just watched the whole 1st season of #OnMyBlock and man let me tell you it's a good ass show 💯and I really cried at the end 😭 I'm hurt 😩

— roxanne polanco (@creation_teaser) March 17, 2018
Still cant get over what happened in the last episode of #OnMyBlock had to try and rewatch but skipped to the end because i just couldnt believe it. @netflix you better start season 2 right now ;)

— jojo gunther (@colbybroclickba) March 18, 2018
Well...that's a way to end a season...#OnMyBlock pic.twitter.com/BriN4FbueX

— Walks in the Spirit of "Fuck You" (@madphenixrising) March 18, 2018
Why did #OnMyBlock end like that😭😭😭

— nanda (@nanellena) March 16, 2018
The ending episode of #OnMyBlock my boy Ruby ain't deserve that or Olivia. I need to be consoled now pic.twitter.com/Q1BhLbls0I

— Coco Grey (@calminthecut) March 18, 2018
Me When ruby got shot #OnMyBlock pic.twitter.com/lumpaXYV2m

— julie💄 (@yagirljuliiee) March 17, 2018