Roseanne Reboot Interview February 2018
Roseanne Isn't Just Another TV Reboot — It's Going to Ruffle Some Feathers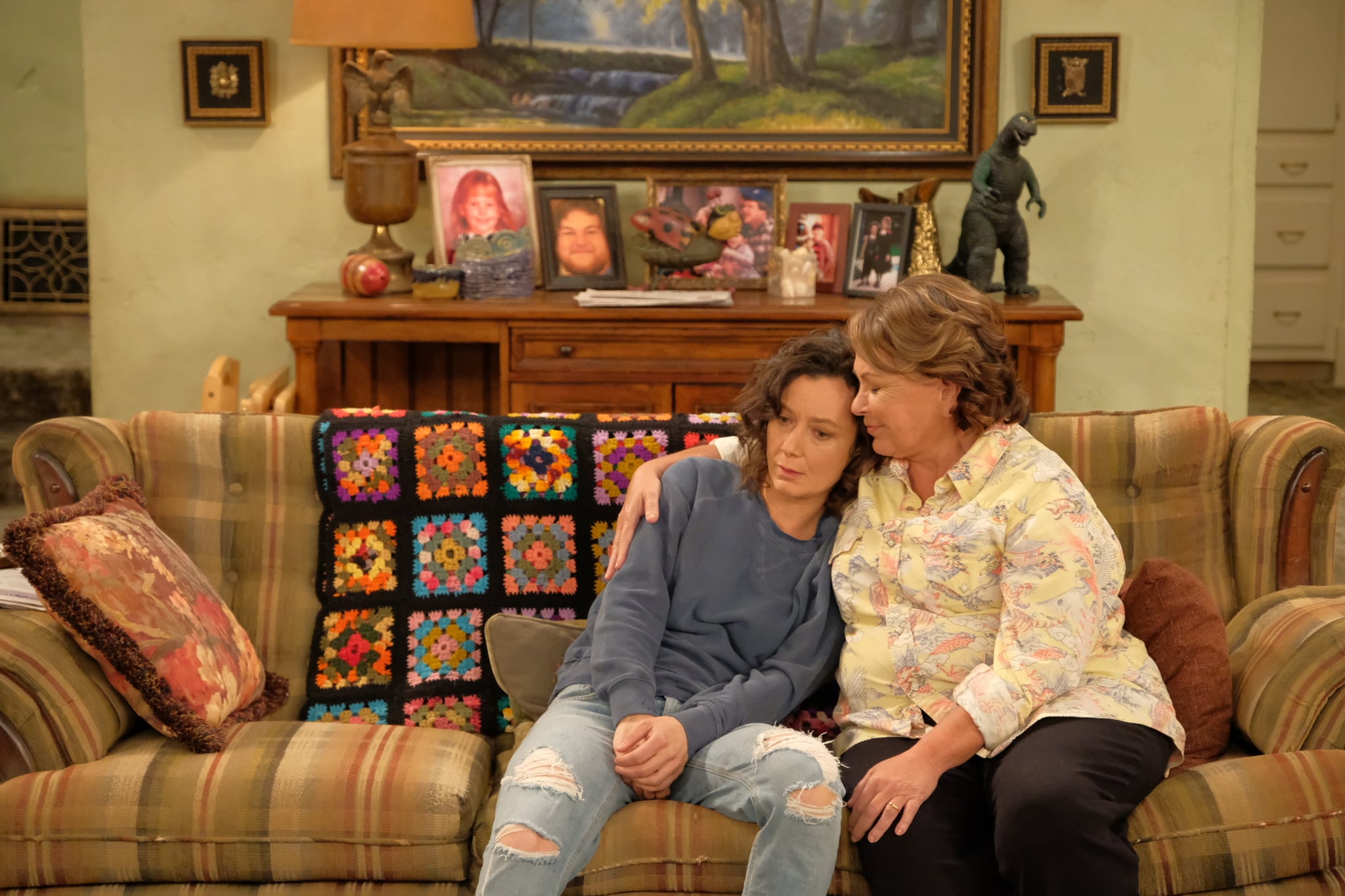 In an age where no TV show or movie is safe from Hollywood's reboot machine, you might be tempted to think that Roseanne is just another desperate move. But if you ask the powerful creative forces behind the show's triumphant return, more than two decades after it first ended, they would disagree. Roseanne is not returning as the same show. Even at the outset, it's clear everything has been updated and refreshed. In the first pictures of the season, we can see that Darlene is divorced, Jackie is a "nasty woman," Dan isn't so dead after all, and both Beckys are back. But that's really just the tip of the iceberg.
Ahead of the March 27 premiere date, Roseanne Barr, co-showrunners Whitney Cummings and Bruce Helford, executive producer Sara Gilbert, and writer Wanda Sykes have all sat down for a new roundtable interview with The Hollywood Reporter. The group discusses the ins and outs of the new episodes. We're getting even more insight into new issues, like Roseanne's grandson who wears dresses and her decision to vote for Donald Trump. We're going over the most interesting moments from the chat.
Roseanne Barr, on why Roseanne is a Trump supporter: "I wanted to do it this way. It's the conversation everybody is having. Families are not speaking to each other. People are still shocked and upset about it. It's the state of our country."
Barr on including a Hillary Clinton slam: I thought everybody was pretty liberal, so I was keepin' an eye on it, making sure that it was evenhanded. But the day we went to shoot [the pilot], I got with the writers, and I'm like, 'You guys have to have a Hillary slam.' 'Cause they were all Trump slams . . . I wanted to represent the country and how divided we are."
Co-showrunner Bruce Helford on if Hillary had won instead: "It might have been different arguments, but it would be the same heat."
Executive producer Sara Gilbert (who also plays Darlene) on Darlene's son: "He's not gender fluid; he just likes to dress in more feminine clothing is where we landed."
Co-showrunner Whitney Cummings on giving Roseanne a black granddaughter: "It's not about her being black. It's not like, 'Here's a black story about the black kid.'"
Helford on championing this kind of diversity: "Not only does there need to be some diversity in this show, but we have to show that everybody is going through the same problems."
Writer Wanda Sykes on the same point: "Part of the division of the country is people have the same problems, but they're arguing it as if they aren't suffering the same thing."
Helford on including other "taboo" topics: "We wanted to make sure that all sides were represented in the show, which seems to be taboo today. We did an episode about a Muslim neighbor . . . Health care was another one . . . We also took on Dan facing the competition from people hiring illegals, and that's not anything anybody really wants to touch."
Cummings on an even more divisive topic: "Another taboo we addressed was the opioid crisis, which is this thing we're seeing in the news, but it's not being tackled on [scripted] TV, certainly not network TV. But what I've always loved about Roseanne is the show's ability to have these incredible dramatic moments in a multicamera sitcom with an audience sitting there, not laughing 'cause an incredible dramatic moment is playing out."