Sterling K. Brown Tweets About Randall and Beth Fight
Never Fear, This Is Us Fans: Randall and Beth Are Going to Be OK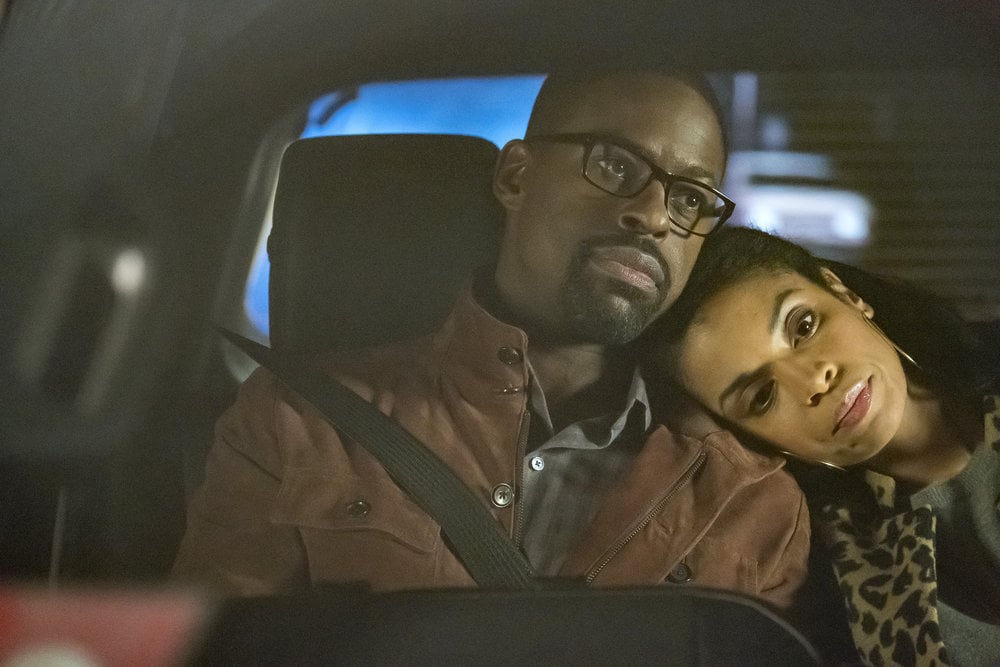 The following contains This Is Us spoilers.
Everyone take a deep breath on the count of three: 1, 2, 3 . . . Good. You probably need a little extra relaxation after the emotional roller coaster of This Is Us's 16th episode. The Big Three took to Vegas for some classic bachelor/bachelorette party fun, but things didn't go as planned. Multiple relationships were tested, but the obvious tension between Randall and Beth especially broke our hearts. After dealing with the stress of Deja's departure in different ways, Randall and Beth engaged in some of the most personal, nasty fighting we've seen from the two of them yet. This is especially heartbreaking considering that most of the time, Randall and Beth are the couple who can do no wrong. Their fighting, paired with the flash forward from this season's Super Bowl episode, had fans asking once again: Will Beth and Randall get divorced?
Well, buckle up, because the answer, according to Sterling K. Brown, is no! The actor took to Twitter last night to ease fans' fears and reassured us all that Randall and Beth (or "R&B" as he so adorably nicknamed them) are here to stay.
Don't you worry about Randall and Beth. They're R&B! 🎶 And they're going to be JUST fine, no matter what. #ThisIsUs

— Sterling K Brown (@SterlingKBrown) February 28, 2018
Hear that, everybody? We're in the clear. Notice that Brown said "no matter what," a comforting promise that not only will Beth and Randall overcome this trial, but they're destined to remain together. While we hate to see this dream couple fight, every marriage has its ups and downs, and it's refreshing to see such realistic depictions of strained communication in a relationship, especially since we know they'll be OK in the end. Perhaps Randall even learned a thing or two about staying together after a fight from his parents, Rebecca and Jack?
While we wait to see how these two patch things up, we're going to keep our eye on Brown's Twitter account for more This Is Us hints and join in with the fans who might need a little extra reassurance:
Promise, Randall? Promise?!!!!!!

— Pamela S.  (@MitPame) February 28, 2018