Timeless Interview With Abigail Spencer March 2018
Timeless Is Bringing Women to the Forefront of Season 2, Because "Education Is Power"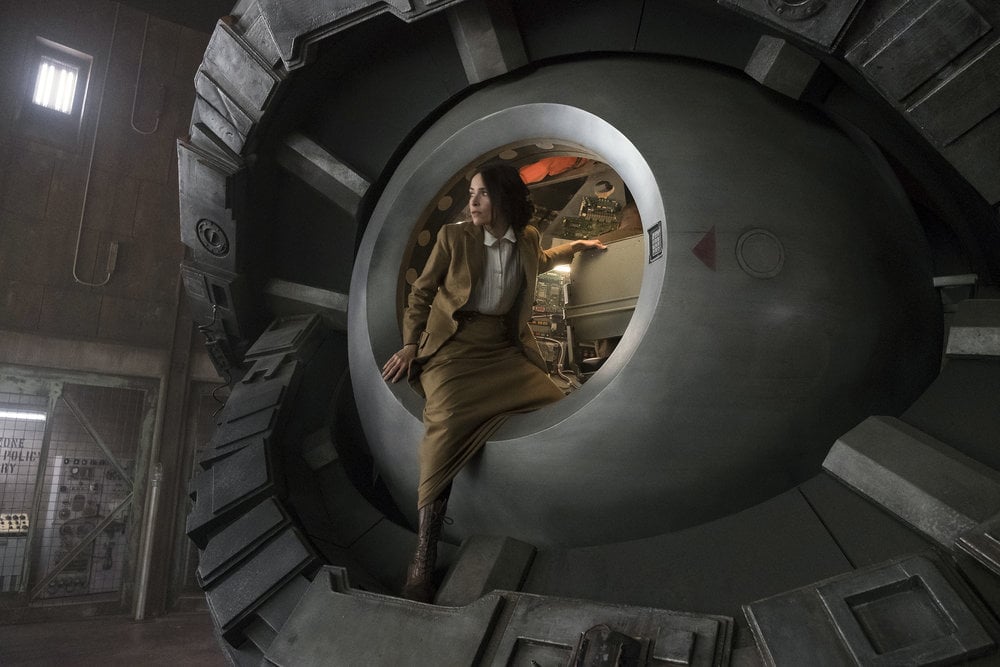 It only took me one episode to get hooked on Timeless. While I was already intrigued by the trailer, the show's pilot fully won me over. As the three main characters — Lucy, Wyatt, and Rufus — travel back in time to stop a man named Garcia Flynn from rewriting history, I quickly fell in love with the complex-yet-relatable characters, the epic twists and turns, and ultimately, the original plot.
Even though the show focuses on time-travel, it completely flips the sci-fi genre on its head by focusing more on American history and the incredible stories and figures that have often been left out of the history books. Like how the Lone Ranger was actually based on a black man named Bass Reeves. Or that Katherine Johnson, an African-American mathematician at NASA, played a crucial role in sending astronauts to the moon during the Apollo 11 mission.
Not only does the show help you understand history, but oftentimes it shows how we as a society can learn from our past mistakes. While each episode takes you on a new adventure, it also inspires you to dig deeper, learn more, and be an active part in changing how history is told today.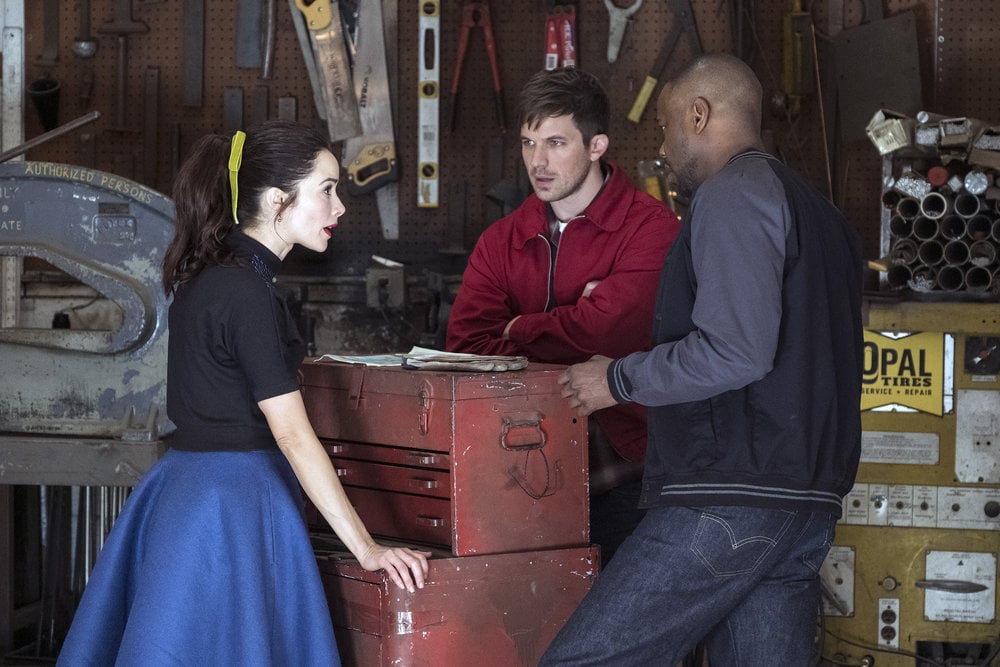 When NBC announced they weren't renewing the show for a second season last May, naturally fans (myself included) were devastated. Not only did they voice their opinions online, but they voiced their opinions to the network. Fortunately the network actually listened, because three days after its cancellation, the show rose from the dead when NBC announced that they were greenlighting Timeless for a second season. Fast forward to present day, and Timeless is getting ready to tell a whole new set of stories that are sure to get fans even more excited.
As the show's creators found out they were returning for a second season last year, they mapped out an incredible storyline that puts women at the forefront. "This season, we only visit women or people of colour," Abigail Spencer, who plays Lucy, tells POPSUGAR. "We don't go back and visit any white men. Not saying that they're aren't some that flitter about in the story, but I thought that was really timely."
"There's a lot to be mirrored from the past to where we are right now.
"There's something happening in the world," Spencer adds. "There's something happening where we need an overcorrection to achieve balance. Because that's really all we're saying is we just need to be more balanced, but we have to be very intentional about the stories that we tell. We're very intentional about this season."
While the focus on women this season feels incredibly relevant with movements like Time's Up and #MeToo, the decision actually happened organically. "The show always tried to focus on the people that the history books might have forgotten or the interesting story that is slightly to the side of the story that you already know," executive producer Marney Hochman explains. "And often, that's women and people of colour because they're not as widely recorded, but very important and true. That really led the decision rather than the desire to tell the stories."
That being said, there is a striking similarity with the stories being told and society today. "Without being too on the nose about it, I think there's a lot to be mirrored from the past to where we are right now," Hochman explains.
Co-showrunner Arika Lisanne Mittman agreed, noting that a lot of the episodes can be metaphors for today. "I think the suffragette episode speaks to that a lot and to the power of collective voices rising," she says. "The power of women coming together to make a point. It's something worth showing younger generations that may not be aware of the struggles that we've had in the past and how we got to where we are today."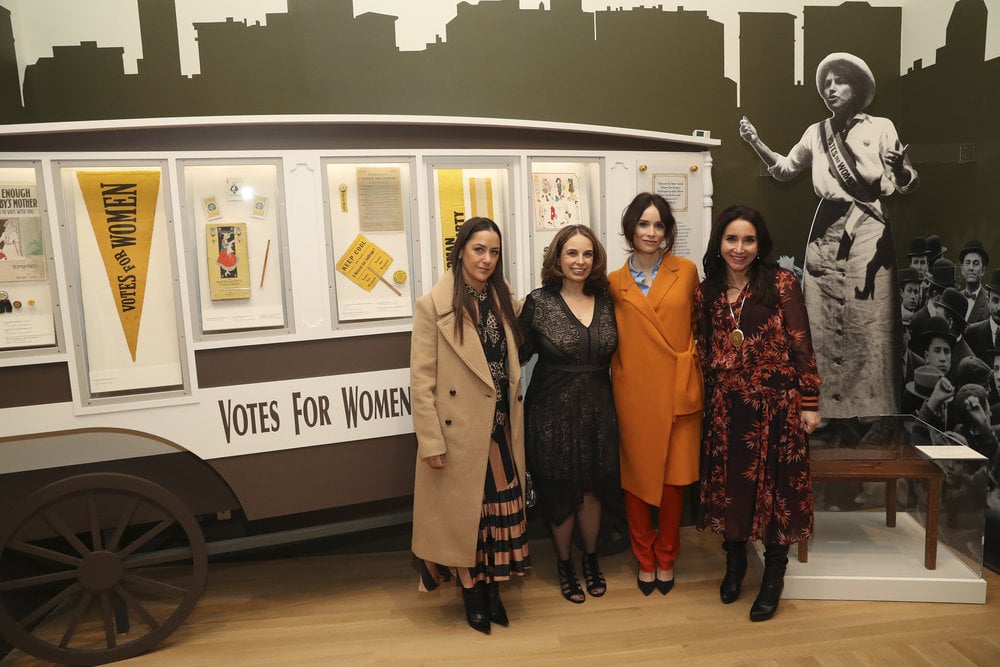 Pictured left to right: costume designer Mari-an Ceo, co-showrunner Arika Lisanne Mittman, Abigail Spencer, and executive producer Marney Hochman at season two premiere event in NYC.
As Spencer so eloquently puts it, "education is power." Not only is the show family-friendly, but it also sparks a conversation. "I'm very aware, since I have a little boy, that children watch the show. And it's like, how nice that a family can sit down and watch a show and nobody is worried about what their kids might see or any kind of influence that would be of any negative capacity," Spencer says. "Really it just conjures conversation about historical moments. It really has for me and my son."
Obviously there's a lot to love about Timeless, but having a woman at the forefront of telling its stories each week is something fans can't get enough of. For Spencer, that hasn't gone unnoticed.
"I'm just excited to be a part of that change," Spencer adds. "Part of taking [on the role of] Lucy was wanting to be an active part of changing the way that we see women on television. I think that this show does it really beautifully and in a really family-friendly and digestible way. And it sparks an interest to just go deeper. I think when you watch Timeless, you're like, 'I'm gonna go look that up.' It's not like, 'Oh I never have to read about that again!' It's like, 'Oh I didn't know about that thing' and so you actually go on your own journey."
Timeless season two premieres on Sunday, March 11, on NBC.