This Is Us Season 3 Finale Recap
Here's Every This Is Us Season 3 Finale Detail That You Need to Remember Before Season 4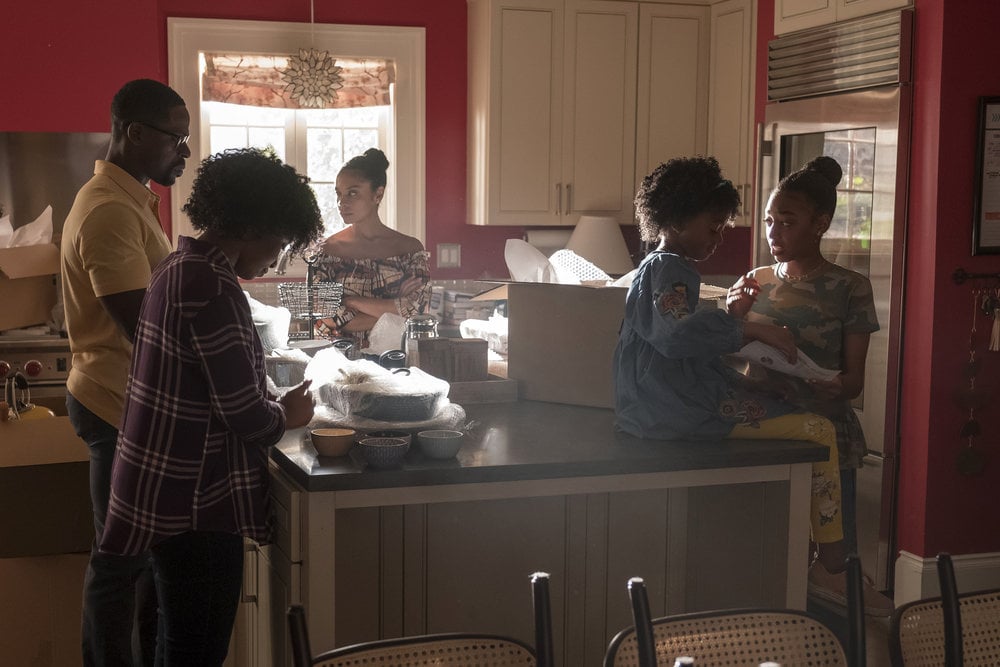 September is just around the corner, and that means it won't be long until the Big Three are back on our TV screens. Season three of This Is Us wasn't easy on the Pearson family, and we're more than ready to see what season four will hold for all our favourites. But first we need to look back at the challenges everyone faced last season, and that includes Randall and Beth's marriage almost falling apart, Kevin's decision that he wants to be a dad one day, and Kate delivering baby Jack before her due date. Add in the season finale dropping a whole bunch of new mysteries on fans via a flash forward to a grim future for Rebecca, and anyone could be forgiven for forgetting all the details.
Don't worry, if you can't quite remember where all the Pearsons ended up, we've got your back. From Kevin's big move to that ominous glimpse into the future, here's everything that went down in This Is Us's season three finale, "Her."
Randall and Beth Find a Solution
After their big fight in the previous episode, Randall and Beth are still stinging from the hurtful truth bombs they dropped on each other. Randall is staying at his office in Philadelphia, while Beth is taking care of the girls. When Randall comes home to take Deja to a debate, he finds out that his eldest daughter is truly following in his footsteps when it comes to serving up big speeches. It turns out she's not on the debate team at all, she just wants to take Randall to one of her old foster homes to remind him of just how lucky he is to have Beth in his life. She tells her adoptive dad about how the couple in that house would use the money they got for fostering kids to buy lottery tickets instead of food and how she once stole a scratch ticket in hopes of winning enough for burgers. "Most people don't win, Randall, but you did," she says. "Once when you got adopted, and again when you met Beth."
Deja's words resonate with Randall, and he calls his campaign manager, Jae-won, to ask what would happen if he gives up his city council seat. It would confirm everyone's fears about voting for an outsider, but it's what he's willing to do if it means preserving his family. However, Beth is concocting a similar plan. She realises she doesn't just want to teach dance classes, she wants to run her own studio, and that's a dream that she can make happen in Philadelphia. When Randall proposes quitting the city council, she counters that they should downsize and move to the city where they can both chase their dreams together. "We don't work when we're apart," Beth tells Randall. "But together, baby, together we set the world on fire." At long last, it seems these two are back on track.
Is Baby Jack OK?
Back in California, baby Jack is breathing on his own, but the nurse warns that he may forget to breathe from time to time. She tells Kate and an eager Rebecca what to do if the baby forgets to breathe, but Kate's getting caught up in feeling inadequate in the face of her mom's note taking. When little Jack does stop breathing for a moment, Kate loses it while Rebecca stays calm, which leads to the younger Pearson lashing out at her mom.
Rebecca is ready to scrap her plans to move to California to help Kate, when Kate shows up at home to tell her mom that she's sorry and she needs her right now even though she's feeling incredibly vulnerable. Kate's afraid she'll never be as good of a mom as Rebecca is, but Rebecca assures her that no one has everything figured out. The mom and daughter end the season in a good place as they prepare to work together to give Jack everything he needs, and in even happier news, the baby gets to come home from the hospital.
What Happens With Kevin and Zoe?
Kevin and Zoe babysit for Randall and Beth while the couple is at work, and seeing Zoe interact with Tess and Annie gives Kevin hope that she might change her mind about wanting to have kids someday. Later, he tells her that his mom didn't always want children either, but she ended up being an amazing mother. However, Zoe knows that she's not going to change her mind. She also wants Kevin to have everything he wants out of life — including being a dad. Sadly, the couple realises they need to go their separate ways, and Kevin decides to move back to California permanently to be close to Kate, Jack, and his mom after his breakup.
What's Up With That Flashback?
The episode's main theme is about just how important Rebecca is to the family, and the flashback drives that point home when it shows Rebecca getting into a car accident when the kids were tweens. It's not a major crash, but she does break her arm, which means she needs to stay in the hospital overnight. Jack takes the kids home, but no one feels quite right without the Pearson matriarch in the house. After a supper of corn sandwiches and ice cream, the Big Three all have nightmares and end up in their parents' room. Jack relents and takes them all back to the hospital to be with Rebecca even though visiting hours are over. As he tells the nurse during one of his big Jack Pearson speeches: the family just doesn't work without Rebecca. Which leads us to . . .
That Pivotal Flash Forward
In the future, Randall, Toby, and Tess arrive at Kevin's fancy home to find Beth waiting for them. She and Randall embrace and kiss, which confirms that they're still together (thank goodness!), while Toby marvels at Kevin's digs. Speaking of Kevin, he's gone out to get food, but even though he's not in the scene, that doesn't mean the show didn't drop a major bombshell about his future. A little boy who appears to be about 10 wanders through the house and tells "Uncle Randall" that his dad went out. That's right, Kevin has a kid in the future. We don't know his name or who his mom is, but it looks like at some point Kev will get his happy ending.
Things are less certain for Kate. Not only is she not in the scene, but no one mentions her whereabouts. Meanwhile, Toby gets a call from a now-grown Jack, who tells his dad that "they're on the way." Kate could be part of the "they're" in question, but for now, This Is Us is keeping Kate's future status a secret.
While they wait for the rest of the family to arrive, Randall goes to see his mom. As we expected, Rebecca isn't in good shape. It's unclear what's wrong with her, but she seems to have trouble remembering who Randall is. Weirdly, that's not the most shocking revelation in the scene. That honour goes to Nicky, who is sitting by Rebecca's side. In the present, Nicky isn't exactly taking to his newfound family, but at some point he's clearly going to reconnect with the Pearsons, and Rebecca in particular. But that leaves plenty of questions for season four to answer from how Nicky ends up by Rebecca's bedside to where is Miguel and what's up with Kate?
The season three finale did serve up a few answers, but it's those mysteries that we all need to keep in mind as we head into season four.