What Is On Becoming a God in Central Florida About?
Why Kirsten Dunst's On Becoming a God in Central Florida Will Be Your New Favourite Show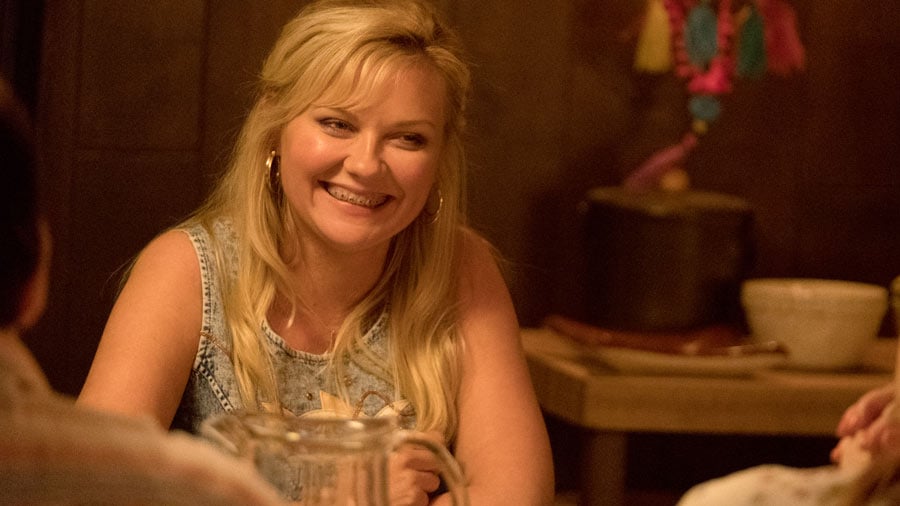 Showtime is about to debut a new dark comedy that almost defies description. On Becoming a God in Central Florida stars Kirsten Dunst as Krystal Stubbs, a young wife and mother living "Orlando-adjacent" in 1992 and how she gets caught up in a multi-level marketing company (read: pyramid scheme) that nearly ruins her life and the lives of practically everyone around her.
The series is at times sad, hilarious, crazy, and surreal — sometimes all within one scene — as Krystal infiltrates FAM (Founders American Merchandise) and tries to take it down from the inside, while at the same time trying to create a better life for herself and her daughter. At the 2019 TCA summer press tour, critics were already talking about Dunst possibly getting an Emmy for her performance of the deeply-flawed but tough, smart, headstrong Krystal.
But in addition to starring on the show, Dunst is also an executive producer and it sounds like that is not simply a title for her. Dunst tells the TCA audience that she has been very involved in getting this show made, which was actually quite a challenge. So, they're all just happy it's finally going to air.
"I have to say, this material was just so special to me. It's been three years now, and we've really had a little bit of a roller coaster of how this show actually got made to now being at Showtime," says Dunst. "We worked hard. There were so many times where I was like 'I don't know if I can do this.' . . . So it was a lot of hard work, but I knew reading that first episode, I was like 'This is one of the best things I've read.'"
Dunst also says that as a new mom, she is very concerned about Krystal's baby daughter because she didn't want that to be something the show simply forgot about, which sometimes happens on TV shows. She also didn't want to miss the opportunity for comedy that a baby can provide.
"It was a totally new world for me."
"Every episode we would get, I'd be like, 'We gotta have that baby in there. We gotta have that baby in there,'" Dunst explains. "I always thought about Raising Arizona and how well they used the baby because you should use it for comedy. Like, we have this baby, but then, you know, there's that other side to it that you're worried about time . . . it's such a big part of Krystal, obviously. And for me having a baby, I had a whole other perspective of babies on set and how to interact and all that stuff. It was a totally new world for me, but also I felt more comfortable."
Showrunner Esta Spalding adds that Dunst was always very concerned about who was watching the baby while Krystal was out and about in each episode. "Kirsten would read the script and say, 'Well, who's watching Destinee then?' And it was like, 'Oh, we were kind of trying to skip over that part," says Spalding, with Dunst adding, "You can't skip over those things."
"It was really good from a story point of view to always have to think 'Where is the baby?'" Spalding concludes.
Dunst also says that she feels more pride for this project than basically anything else she's been involved in and that largely has to do with the work she did behind the scenes. "I actually haven't felt so much pride for something as I have for this, because I feel like it's been such a hard road for all of us," says Dunst. "And I'm like seeing trailers and . . . I almost get a little emotional, because we did it. We did it."
On Becoming a God in Central Florida premieres Sunday, Aug. 25 at 10 p.m. ET/PT on Showtime.