What Did Krystal Do on Arie's Bachelor Season?
A Full Recap of Krystal's Bachelor Drama, Before She Heads to Bachelor in Paradise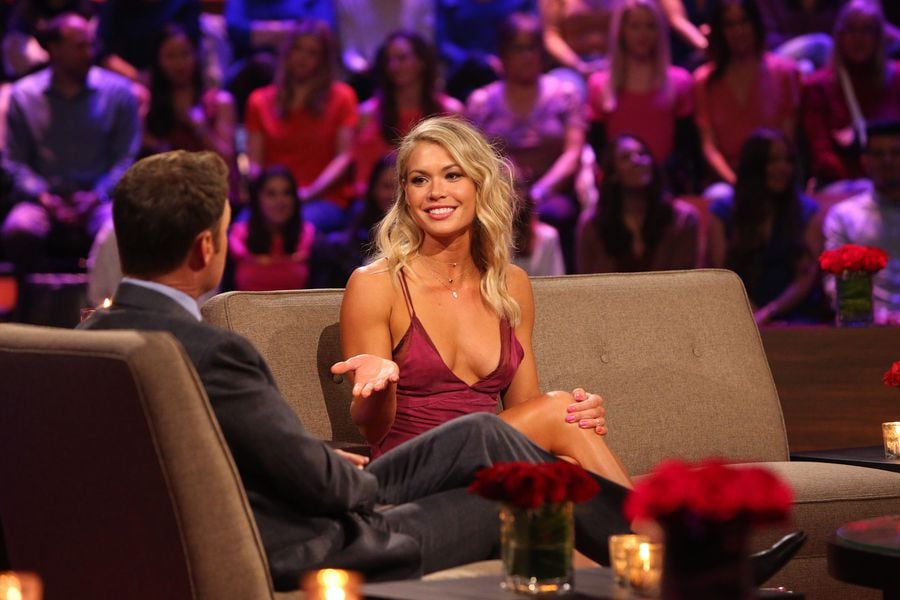 Your favourite glitter-throwing villain is officially making a TV comeback on the The Bachelor's juiciest spinoff show, Bachelor on Paradise. That's right, we're talking about Krystal Nielson, the blonde fitness instructor who quickly made herself an enemy of pretty much every other woman who appeared on Arie Luyendyk's drama-filled season. If you didn't watch, or you simply need a little refresher to remember what went down with Krystal, we've got the full recap for you.
Let's Start From the Beginning
Krystal entered the Bachelor picture early on in the season after she received the second one-on-one date. This date was pretty extraordinary in terms of what we usually see on the show — it involved a private jet that took her and Arie to Scottsdale, Arizona, where Krystal met his parents, siblings, and his pooch. Given that contestants traditionally meet the lead's family only during the finale, this was a huge deal, and Krystal wasn't shy about playing up her special treatment. Naturally, the date created a pretty strong bond between the two from the get-go, and immediately stirred up some jealous feelings in the house.
Bibiana (who is conveniently also on Bachelor in Paradise this year) was especially peeved, and wasn't afraid to confront Krystal. That night, she told Krystal she was fake and that she was essentially hogging Arie to herself without any consideration for the other women. Frustration with her quickly spread through the house like an infection — fuelled by an arguably toxic Krystal — and soon enough many of the other contestants vying for Arie's affection were fed up with both her behaviour and cloying voice.
The Climax
This all comes to a screeching climax in the fifth episode, where Arie himself got fed up with Krystal. On a group bowling date where two teams duke it out for extra time, Arie decided in the end that both teams tried hard enough and deserved to come to the evening afterparty. Krystal, who happened to be on the winning team, was pissed.
She lashed out, calling Arie a liar, and confined herself to her room out of frustration while talking shit about Arie. (Sidebar: we also learned on "The Women Tell All" that she called Arie a "needle d*ck" on the non-aired bus ride home). Arie and Krystal eventually talk it out — Arie being notably frustrated with her behaviour — and she ends up coming to the afterparty anyway. As you might expect, the other women call her out on her hypocritical and juvenile behaviour.
A Juicy Ending . . . and More to Come!
As you might have guessed, Krystal's erratic behaviour and villain infamy makes her the perfect two-on-one date target. She goes head-to-head with Kendall, and is ultimately sent packing by Arie despite that initial attraction and connection the two had previously shared.
Given Krystal's penchant for drama, hilarious "Krystalisms," and tendency to NGAF, we're dying to see what goes down on Bachelor in Paradise. Is there more glitter throwing in store? Will she make out with Jordan or give him a run for his money? How will she feel about Kendall, the woman who Arie chose over her on the two-on-one? Will her "sexy operator" voice be a thing of the past or will we be subjected to more? Does she actually find love?
We'll need at least three buckets of popcorn for this.