What Happens to Cherry in Glow Season 1?
GLOW: Confused About Cherry's Whereabouts? Let's Backtrack to Season 1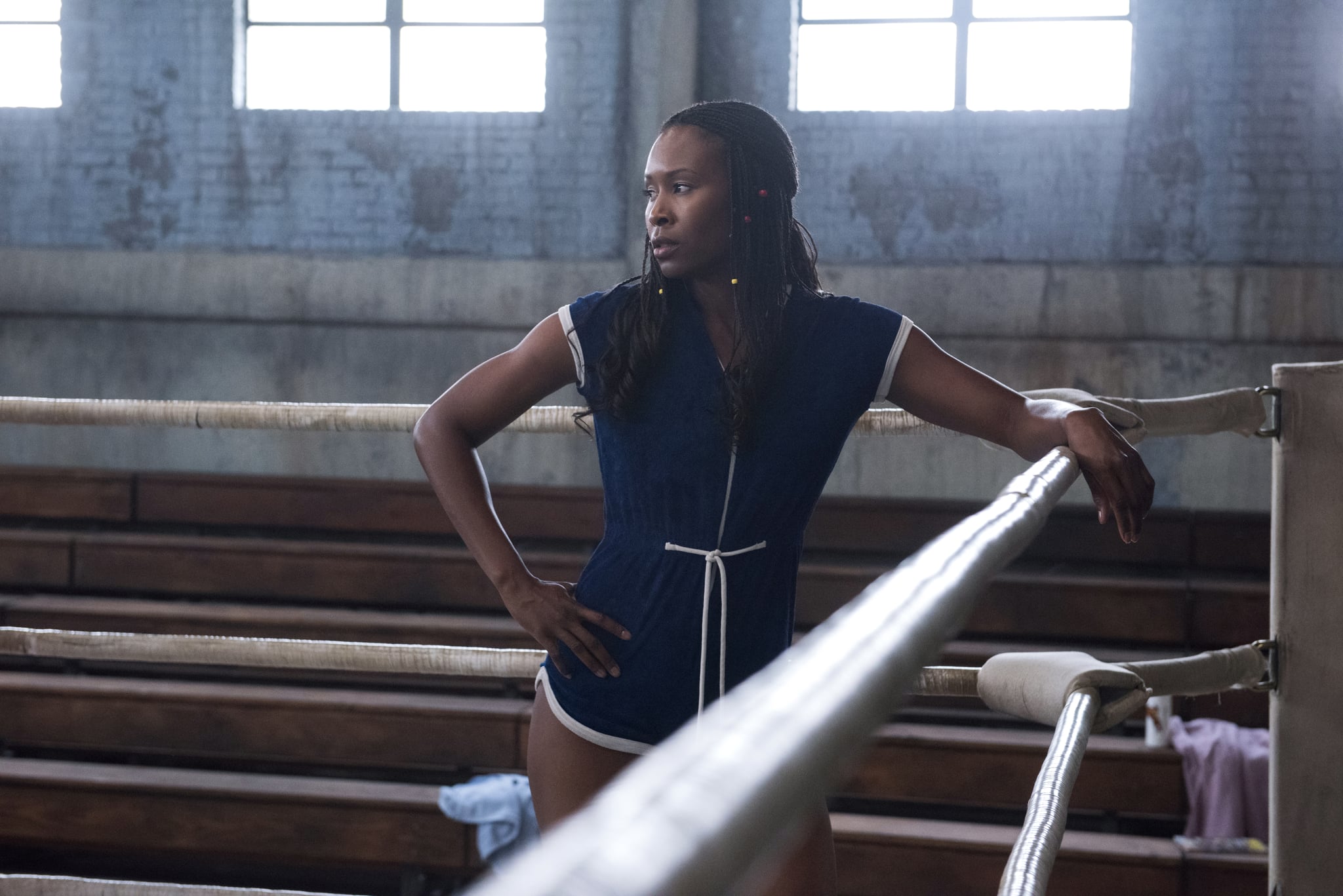 GLOW's first season kicked off with a haze of body slams, neon pinks, and lady wrestler drama. Though Sam, Ruth, and Debbie stole the spotlight on the show, Cherry Bang (Sydelle Noel) was probably one of the most nuanced and underrated characters, whipping the sullen cast into shape with her action stunt knowledge, and standing up for herself when the other girls try to undermine her.
It's been a while since the first season dropped, so when Yolanda shows up to replace Cherry as Junkchain in season two's opening, you might have wrestled with your memory trying to remember what happened to the no-nonsense trainer. Of course, Sam doesn't give us concrete context about the stuntwoman's whereabouts when he introduces Yolanda. But don't worry. We're going to pin down Cherry's arc in season one to give you a quick refresher about what happens to her.
Episode 2: Cherry Trains the Girls
Cherry ends up being Sam's de facto show consultant since she formerly worked on stunts in Blaxploitation movies. The curmudgeonly director knows her. She's worked with him before, even sharing a steamy threesome with him and her husband back in the day. Melrose overhears their conversation about Cherry's past miscarriage, and plays a cruel prank in the ring by simulating one. Learning about the incident, Sam tells the crestfallen stuntwoman that he'll try to double her pay if she becomes a trainer and actress on the show.
Episode 3: Cherry Debuts Junkchain
Cherry's on board, but she demands that Sam puts her in front of the camera. She debuts her persona as Junkchain at the end of the episode.
Episode 7: Justice Is Served
Fast forward to episode seven. There's tension between all of the ladies. Cherry's fed up with the girls, who chafe against her teaching style. She learns that Sam made her husband a referee on the show — they're both ecstatic (and to be honest, the only couple you're rooting for this season). She enters the ring for the first live show with Tammé against Dawn and Stacey. Though the latter pair were supposed to be old ladies, Cherry and Tammé saw how problematic it looks to have two black women against two elderly white women. So they flip the script, have their partners wear white hoods, and serve justice. The crowd goes wild.
Episode 8: There's Money Trouble
The live show goes well, so Cherry's thrilled. But she picks up in a conversation with Carmen at the skating rink that the show might not get made because there are money problems. This information likely plays into her big decision at the end of the season.
Episode 9: The Network Calls the Trainer For an Audition
A talent agent calls Cherry for an audition after a recommendation from Glen, one of the executives on the show's network. It's for a lead role in a cop drama called Chambers & Gold.
Episode 10: Cherry Gets the Role.
As Cherry gets ready for GLOW's pilot episode, Glen tells her that she got the lead part for Chambers & Gold. He also tells her that she has to give Sam and Bash her notice since she can't be on both shows at once. She's torn.
In the first episode of the second season, Cherry's absence implies that she took up the offer for the drama. If you're not caught up with the second season, don't worry. Noel remains part of the main cast in season two, so without revealing too many spoilers, she's still going to be around.
If you're all caught up with the Netflix dramedy, definitely check out the real show that inspired it!