What Happens to Offred in The Handmaid's Tale?
The Handmaid's Tale: Offred Is Either in the Clear or Totally Screwed, but Which Is It?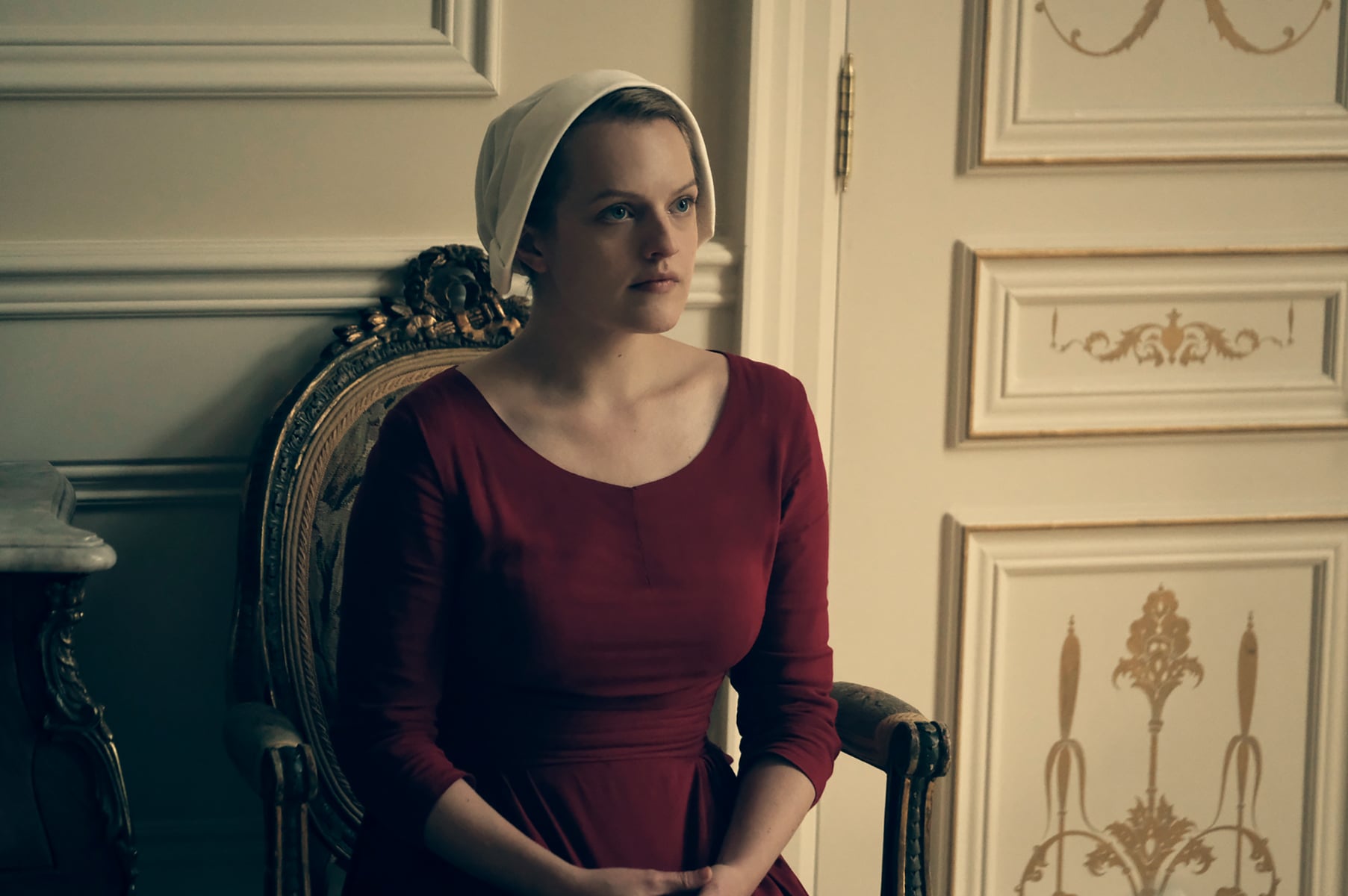 With the April 25 premiere of The Handmaid's Tale season two inching ever closer, we have one thing on our minds: what the heck happens to Offred after she gets into that van? (Warning: spoilers ahead.)
Offred has engaged in an affair with Nick, the chauffeur for the house of the family whom she serves. We've learned enough about Nick's backstory to trust him, and we're about 90 percent certain that he's a good guy. After Offred and Nick have sex secretly, they agree to sleep together again at the request of Serena Joy, the wife of Commander Waterford, because Serena Joy believes her husband may be sterile.
At this point, Offred has thrown in her hat with May Day, Gilead's underground resistance movement. Her activities with the resistance have taken her to, among other places, a secret brothel, where she runs into her best friend Moira, whom she had previously thought dead. Nick has warned Offred on numerous occasions to be careful, and seems to disapprove of her activities at the brothel — whether this is due to jealousy over her time with Commander Waterford or because of her involvement with the resistance, we aren't sure.
At the end of season one, Offred discovers that she is pregnant — presumably with Nick's child. She also receives a note from her husband Luke, another person who until that point she had thought was dead. After all of these events unfold, Offred is whisked away into a mysterious van, presumably by Eyes (essentially the secret police of Gilead, who are charged with enforcing its rules and deploying dissenters to "The Colonies," which are thought to be death camps of sorts).
We have no idea who is behind the van scene — has Nick secured Offred a way out of Gilead? Has Luke found a way to send for her? Or is she being captured by the Eyes?
Now let's examine Offred's situation from the perspective of Margaret Atwood's 1985 novel. Most of the events leading up to season one's finale align with the events in the book, with some liberties being taken for the sake of drama and storytelling. For example, Nick and Offred's relationship isn't as close in the book as it is in the show — they do have sex at the request of Serena Joy, but the passionate affair they partake in only happens on the show. Factors of drama aside, the book and first season end essentially the same way: Offred is taken away by potentially malevolent people, but there is slight hope that maybe the van isn't actually driven by Eyes, thanks to Offred's connections.
While the events leading up to the van's arrival in the books don't give us much clarity on what happens to Offred, we can take some hints from the book's epilogue.
In the epilogue of the book, researchers at a university are presenting a collection of recorded tapes, more than 200 years after the ending of the book. The setting is a symposium on "Gileadean studies" — essentially, a history class about the Republic of Gilead. They have found a collection of recordings at a safe house in Maine, near the Canadian border, and while the person who recorded the tapes never states her name, she is clearly a handmaid in the house of an important commander.
It is Offred narrating the tapes, which is presumably why readers of the book are treated to her rich internal dialogue — The Handmaid's Tale is literally a "handmaid's tale," with Offred's recorded diary of sorts being broadcast for students to hear. The fact that the recordings were found at a safehouse in Maine is a good sign for Offred — it suggests that sometime after the van picked her up, she either escapes or is dropped off in a safe place.
Of course, the location of these tapes doesn't completely prove that Offred makes it out OK. Someone else could have found the tapes in her room (another handmaid, perhaps?) and escaped to safety, carrying them along. We'll have to wait and see what season two reveals of Offred's fate. Since the season will be venturing into completely new territory (Atwood herself never wrote a conclusive ending to Offred's story), the story's writers have undoubtedly created a lot of plot twists and turns for us to enjoy along the way.