Who Is Angelo Roefaro From the Fyre Festival?
Meet Angelo Roefaro, the Press Secretary Caught Up in the Fyre Festival Fiasco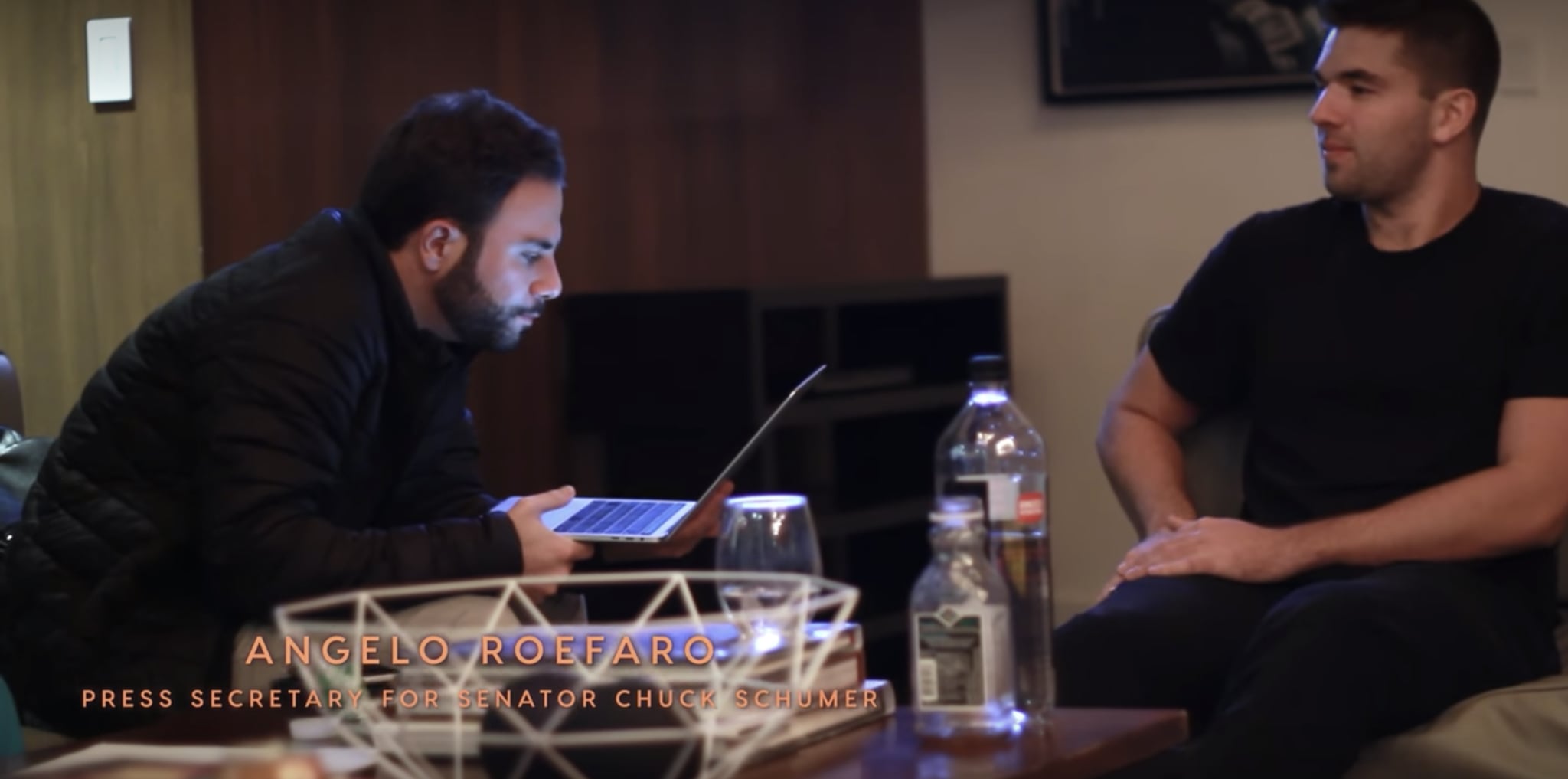 Thanks to a pair of brand-new documentaries (one available on Netflix, the other now streaming on Hulu) focussed on the disastrous story of 2017's infamous Fyre Festival, we're talking about the influencer scam all over again. We're also talking more about Billy McFarland, the founder of Fyre Media and the organiser of the failed festival. McFarland is currently serving a six-year sentence in federal prison for fraud (both those related to the festival and subsequent, unrelated counts). After the release of the documentaries, however, people took notice of a background figure in one scene, referred to as "Angelo." As it turned out, "Angelo" is actually a press secretary for a high-ranking politician.
Angelo, seen in the background of a scene at McFarland's penthouse hotel room, is Angelo Roefaro, currently the press secretary for Senate Minority Leader Chuck Schumer (a Democrat from New York). In Netflix's Fyre: The Greatest Party That Never Happened, Roefero is seen sitting on a couch, with his laptop, in McFarland's penthouse suite. The narration from a witness identifies him only as "Angelo," before speculating that he might have helped McFarland with press work at some point.
"There's a guy named Angelo and I don't know if it was Billy's PR guy, but I know that this guy was very connected," the witness says. On camera, Roefaro's voice is barely audible.
"Just try and keep me out of your stuff, because . . . I'm not saying anything," Roefaro says, according to the subtitles. The documentary's graphics also identify his professional affiliations with Senator Schumer. In response, McFarland laughs.
"We're not saying anything bad. You can talk. You can give me advice," McFarland says. The documentary does not show whether the conversation continued or, if it did, what the content of their conversation was from that point on.
When WBIX 950, a Utica, NY, radio station, interviewed Roefaro in January, he explained that he had been "friends" with McFarland, but that was it: "We were friends. I met him at a networking event and we got along. That night [shown in the documentary], as a result of a TV show or movie being filmed in his apartment, he had a very nice complimentary penthouse hotel room near my own apartment and invited me over to check it out." He went on to clarify that he didn't know anyone else in the room, just McFarland.
The New York Post also reported that Roefaro denied any connection to the Fyre Festival: "Absolutely not," he replied when asked about the documentary's implications that he had used his connections and PR knowledge to help McFarland try to avoid jail time (at the time, McFarland was out on bail after the initial round of sentencing). As far as publicly available information can tell, there is no evidence that Roefaro was officially connected with McFarland or with Fyre Festival in any capacity. According to WBIX 950, he began working for Senator Schumer in 2011 in a lower-level position before being named as his press secretary. Roefaro's involvement may have been tangential or nonexistent, but his brief appearance in the documentary and his high-profile job have certainly drawn plenty of attention in the aftermath of the movie's debut.