Who Is Gemma Teller Visiting in Prison in Mayans MC?
Mayans MC: Who Was Gemma Visiting in Prison — and What Will That Mean For the Show?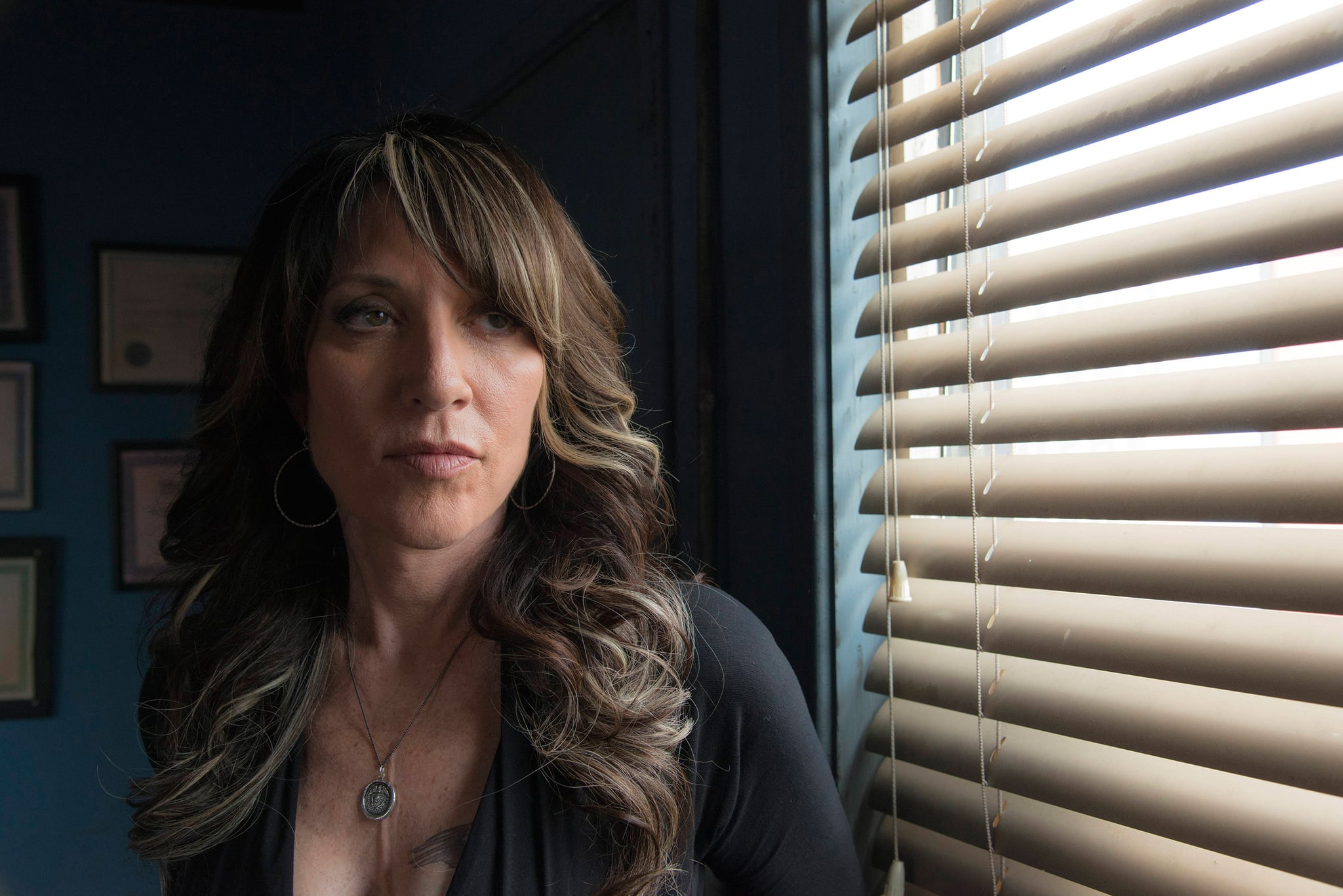 Warning: spoilers for Mayans MC ahead!
Sons of Anarchy fans didn't have to wait long to see a familiar face pop up in the new spinoff series, Mayans MC. Minutes into the premiere, Gemma Teller (Katey Sagal) makes a blink-and-you'd-miss-it appearance during a flashback scene, and her cameo could have some exciting implications for the series. Wondering what, exactly, was going on during that moment — and whether that opens the door for more SOA crossover? Check out our full breakdown below, then see how fans are reacting to Mayans MC.
When Does Gemma Make a Cameo?
Mayans MC takes place in a post-Jax world, meaning several of the main characters from SOA have already passed. A flashback prison scene with EZ brings us back eight years, though, and that's when Gemma appears in all her Gemma glory.
What Happens During Gemma's Scene?
EZ is in prison, where this then-girlfriend, Emily, shows up to share some news. He tells her he doesn't want to stay together because he's facing several years in jail and it feels cruel to let her hold out hope for their future. Upset, Emily abruptly walks out, but not before dropping sonogram photos on the table. When EZ realises what's going on, he jumps up to follow her, attacking the prison guards when they try to stop him.
Oh, and who just so happens to be in the room, waiting to visit an inmate herself? Gemma. That begs the question: who is Gemma there to visit? Well, her presence (plus the eight-years-ago timeline) means the scene takes place in Stockton State Prison, because at that time, multiple SOA characters are in prison — including Clay and Jax. It's most likely that Gemma is visiting those two, but Tig, Juice, and Bobby are also in prison at that point.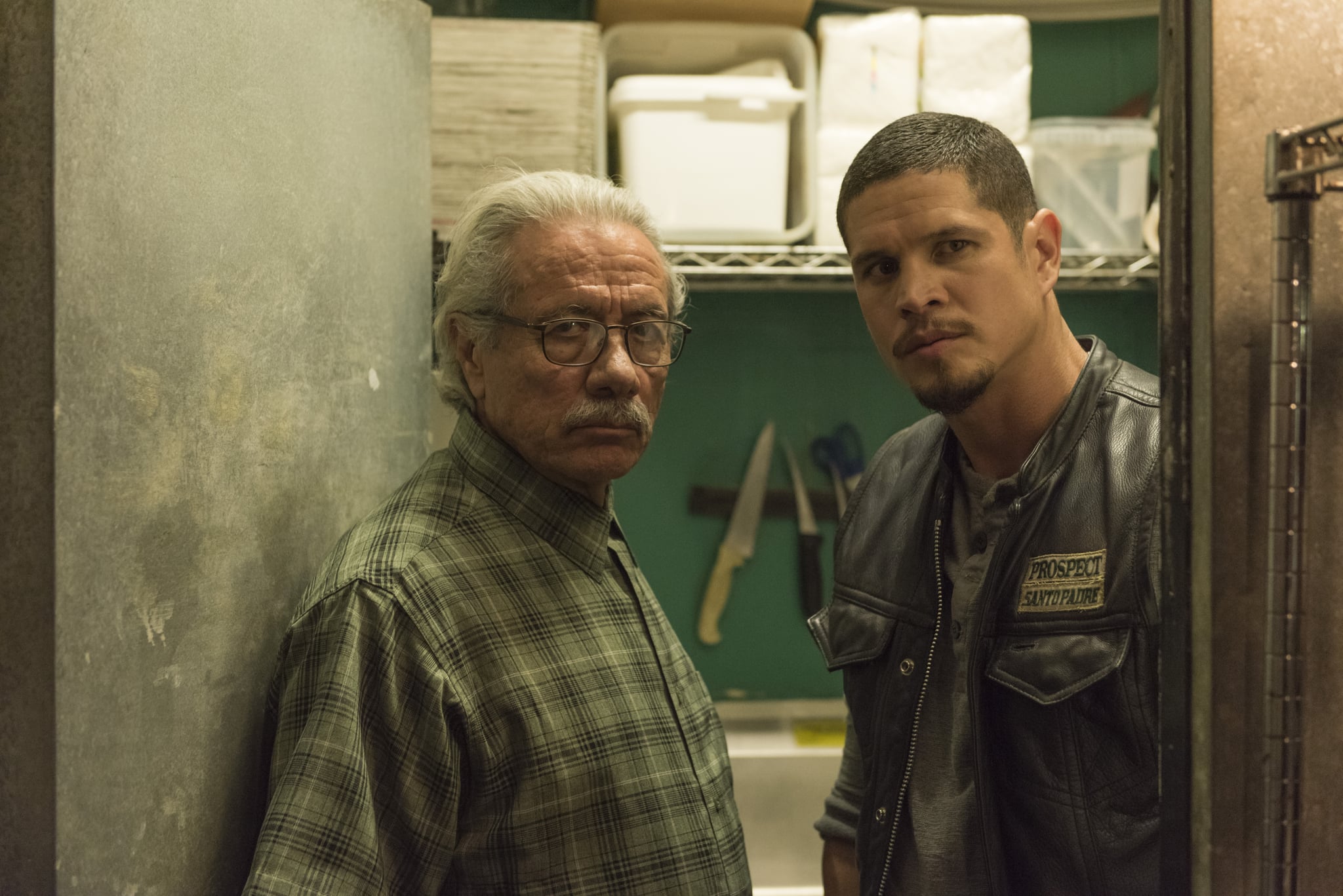 Will Other SOA Characters Be on Mayans MC?
Creator Kurt Sutter has been fairly candid about the crossover potential between SOA and Mayans MC. When Sutter discussed Sagal's cameo in the premiere, he told reporters at the Television Critics press tour that the scene is "a way of letting us know that he's in Stockton where the two worlds will collide, at least in memory."
Does Gemma's appearance in the premiere mean we might see more Sons of Anarchy characters in flashback scenes — possibly in prison with EZ? Perhaps. I'm not going to hold my breath for a Charlie Hunnam appearance, though, as he's been pretty honest about closing that special chapter of his life.
The actor recently spoke with Entertainment Tonight about how much he respects Sons of Anarchy and his character, saying, "I have his cut and, you know, people have been to my house and asked if they could try it on and I [say], 'No one will ever put that cut on again' and 'We've got to respect that dude. He's not with us anymore.' So I would never bring him back from the dead for something like that. It was seven years of my life. He sort of became sacred to me."