Who Plays Darlene on Roseanne?
Wow, Sarah Gilbert Has Been Crazy-Busy Since Roseanne Ended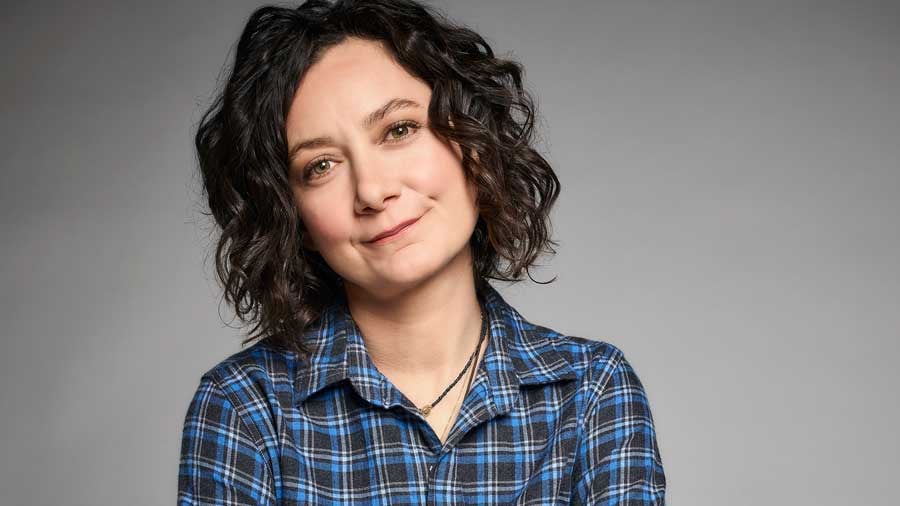 Roseanne returned to the air on Tuesday with two back-to-back episodes titled "Twenty Years to Life" and "Dress to Impress," both of which were strong offerings — it really feels as though the show didn't miss a step in the 20 years since it went off the air.
For those of you who are either new to Roseanne or were perhaps wondering how it's possible that middle Conner child Darlene looks almost exactly the same two decades later, the actress playing her is in fact Sara Gilbert from the original cast. Gilbert basically broke into show business on Roseanne, which began its original run when she was just 13 years old — but what a breakout role. The show was heralded with both big ratings and critical acclaim and earned Gilbert two Primetime Emmy Award nominations.
After Roseanne went off the air in 1997, Gilbert was a bit quiet on the acting scene for a while, appearing in smaller roles in the films High Fidelity and Riding in Cars with Boys and TV show 24. Then in 2004, she landed a recurring role on ER, which she followed up with a recurring role on her Roseanne costar Johnny Galecki's hit sitcom The Big Bang Theory.
Since 2010, she has been one of the five co-hosts of CBS daytime show The Talk, which she also created and executive produces. And the Roseanne revival is largely due to Gilbert staging a mini reunion with TV dad John Goodman on her talk show. It went so well and got such a positive response that it snowballed into a revival that features the entire original cast.
But never one to be too "idle," Gilbert is pulling triple duty on TV this Spring. In addition to Roseanne and The Talk, she is also appearing in a recurring role on Living Biblically, the new CBS sitcom executive produced by Galecki. Gilbert and Galecki famously are very good friends offscreen; he will be making an appearance in one Roseanne episode this Spring as Darlene's estranged husband David Healy.
While the two did date briefly at one time, Gilbert has been married to Linda Perry (yes, the lead singer of 4 Non Blondes) since 2014, giving birth to their daughter in 2015; she also has two children from her previous relationship with Allison Adler. And fun fact: Gilbert's older half sister is Melissa Gilbert of Little House on the Prairie fame.