Who Plays Domino in Deadpool 2?
Everything You Need to Know About Deadpool 2's Badass Domino, Actress Zazie Beetz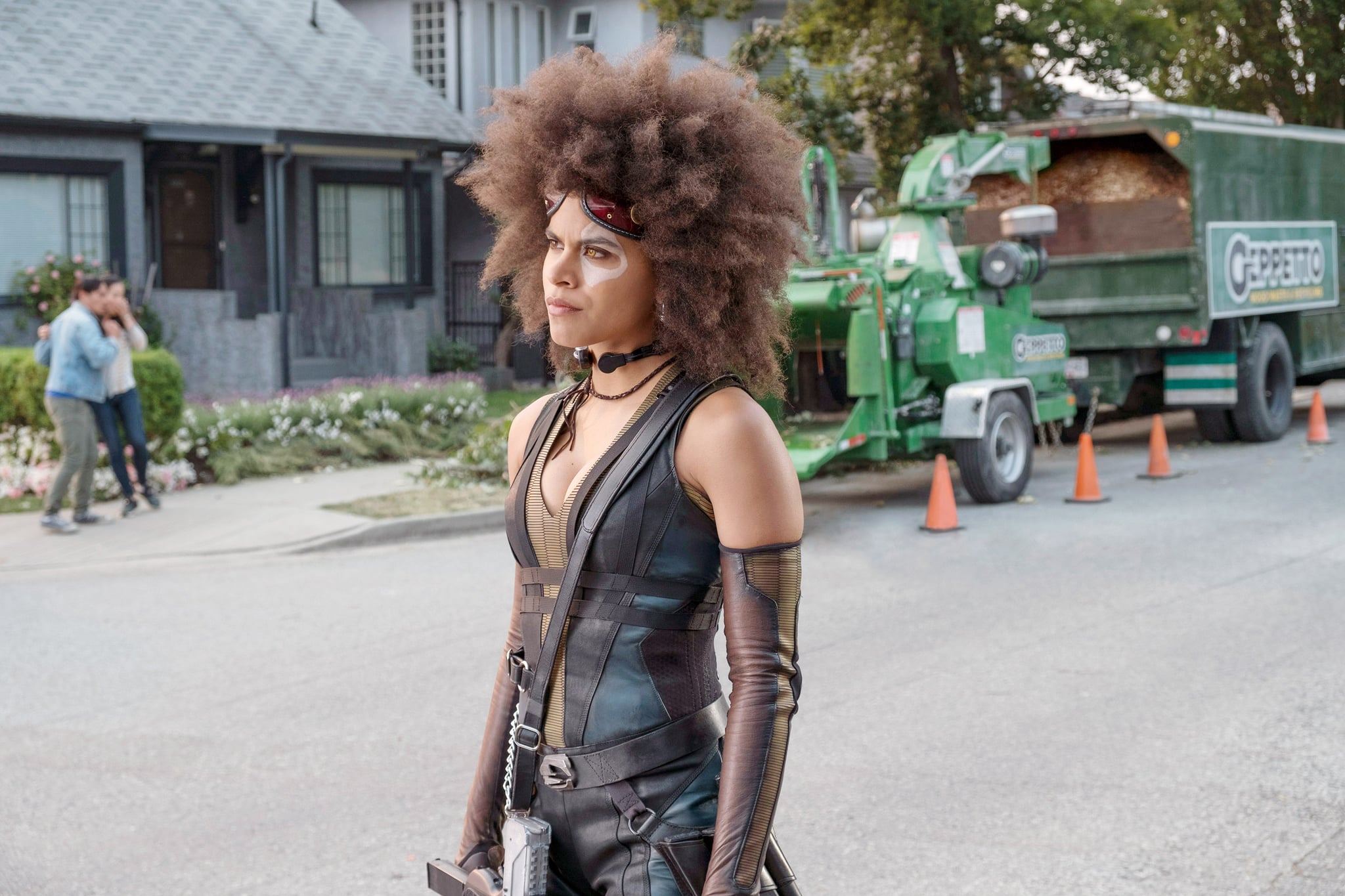 Image Source: Everett Collection

Armed with luck (literally), amazing hair (seriously), and a birthmark on her left eye, antihero Domino was destined to be Deadpool 2's scene stealer. While it might seem like Domino's character suddenly crashed through a window and into our hearts, actress Zazie Beetz — who portrays the quick-witted badass — has been quietly dominating Hollywood for some time now. From her give-no-sh*ts character Van on Atlanta to her role in Netflix's Easy, the 26-year-old has an effortlessly cool demeanor we'd want in our friend group. Here are some fun facts about the actress stopping crime on screen and stealing our hearts IRL.

She was born in Germany.
Beetz's father is from East Germany and her mother is a black New Yorker. The actress was born in Germany and lived between there and the US up until preschool. Most of her father's family, including her grandparents, still reside in Germany. Beetz speaks German fluently, which came in handy for a season two episode of Atlanta in which Van, who is also half-German, takes Earn (Donald Glover) to a Fastnacht celebration as an attempt to share her German roots with him. In an interview with Seth Meyers, Beetz described how one of the show's producers had no idea she spoke German and assumed Beetz had studied the language for the episode. "He was like 'Wow, she really worked a lot for it,' and um, I didn't," Beetz teased.
She talks openly about rocking her natural hair.
Beetz is no stranger to candid conversations about cultural appropriation and societal beauty pressures, especially when it comes to black hair. She's previously teamed up with Elle for hair braiding tutorials, and she even incorporated her own hair routine (which includes a detangling and stretching ritual) into Atlanta. Her hair was also what lured in Atlanta creator and star Donald Glover and Deadpool 2 director David Leitch, who insisted Beetz keep her hair natural in the movie.
During a conversation with Allure, Beetz talked about crying the first time she saw black models rock their natural hair on the Victoria's Secret Fashion Show runway. "I had no idea where it was coming from," she explained. "But it was this recognition, that this mainstream corporate entity acknowledged that this was also something desirable and sexy."
She struggles with anxiety.
In an essay she penned for Glamour, Beetz writes about her lifelong battle with anxiety and fear of failure. In it, she describes situations where she's felt overwhelmed and explains how she tries to push her fears and concerns aside and keep going. While Beetz makes sure to keep herself motivated, she's also a believer of taking things easy when she can. In one Instagram post, she described her need for "should-less" days — days where one does things they want to do as opposed to things they "should" be doing.
Her name is French, but with German pronunciation.
During an appearance on Jimmy Kimmel Live, Beetz explained the French origin behind her name. Her father borrowed it from the French movie Zazie dans le Metro, which was an adaption of the book by the same name. Instead of pronouncing it like "Za-zee" which is how the name is enunciated in French, her family calls her by the German pronunciation, "Zah-ze," emphasizing on the "Za." Beetz jokingly told Kimmel her name is a blessing and a curse.
She hadn't seen Deadpool prior to being involved with the movie.
If you haven't noticed by now, Beetz is comfortable opening up and telling it how it is. So when asked whether she had seen Deadpool before being considered for the role of Domino, Beetz had no trouble saying she hadn't. We have a feeling Domino would appreciate Beetz's realness.