Who Plays El Lazo on Westworld?
Westworld: Heck Yeah, You Recognized El Lazo!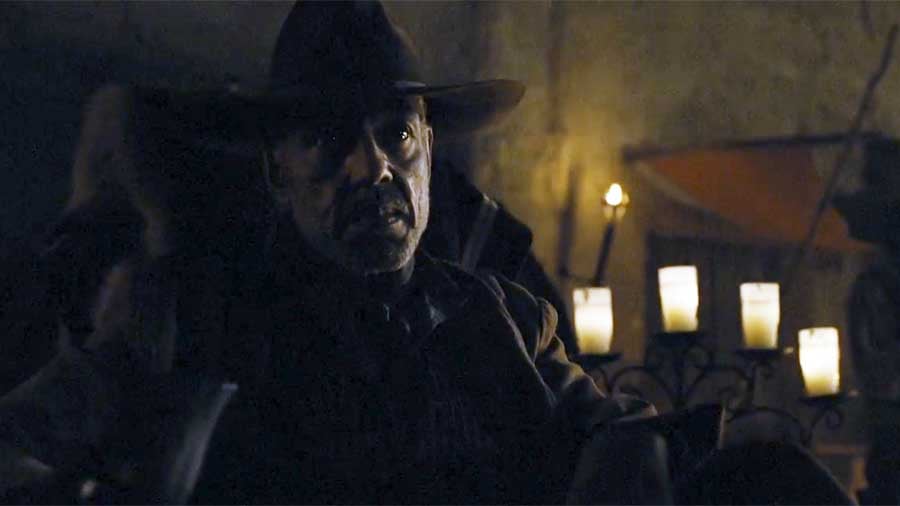 On Westworld season two, the Man in Black is going on a very interesting journey. Not only has he been given another game to play, another puzzle to solve — this one designed by Robert Ford, not Arnold Weber — but we also found out in episode two, titled "Reunion," that when he was a younger man and a new investor in the park, he designed some kind of weapon. He now wants to find this weapon, which he calls his "greatest mistake," and destroy it.
Along the way, he picks up his old pal Lawrence and they head to Pariah, which looks a bit different from the last time we saw it. There the Man in Black and Lawrence encounter somewhat of an old friend — El Lazo. But he's too looks a bit different from the last time we saw him. This time he's played by Breaking Bad's Gus Fring himself, Giancarlo Esposito, a delightful cameo that Westworld somehow managed to keep completely under the radar.
For three seasons, Esposito played the dastardly head of a methamphetamine drug ring on the award-winning drama Breaking Bad. He was nominated for a Critics' Choice Award and a Primetime Emmy for his role. He has also reprised the role on the spinoff prequel series Better Call Saul.
While Fring is definitely Esposito's most recognisable role, he has also had recurring roles on Homicide: Life on the Street, Revolution, Once Upon a Time and The Get Down. He also narrates the Netflix show Dear White People.
Unfortunately, this is most likely the last we've seen of Esposito on Westworld. El Lazo tells the Man in Black that the Man in Black must make this journey alone and then has all of his men kill themselves before turning the Man in Black's gun on himself. So it looks like El Lazo's part in this season is probably over.
But in case you were confused about the Man in Black telling Lawrence that Lawrence used to be El Lazo, that's right — back when William was having his park adventure with Dolores, "Lawrence" was actually the outlaw known as El Lazo. So the original El Lazo was actually played by the actor Clifton Collins Jr. The park must have re-cast the role with a new host (or hosts) over the years.