Who Is Rita Moreno?
Rita Moreno Is an Actual Icon, So Of Course You Know Her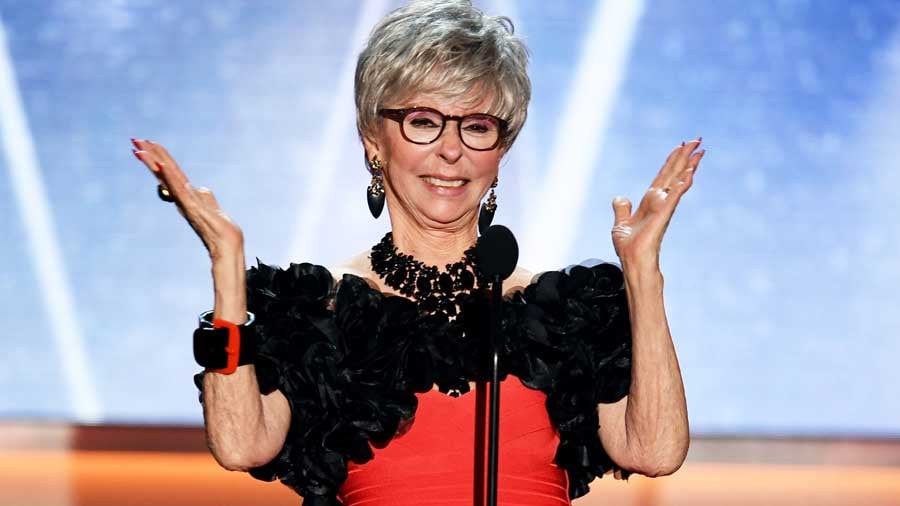 Morgan Freeman was given the lifetime achievement award at the Screen Actors Guild Awards on Sunday. The person who introduced him was a lovely 86-year-old woman who has been friends with Freeman for decades, going back to when they appeared together on the 1970s children's TV series The Electric Company. That woman in the bright red dress is none other than Rita Moreno . . . and here's where you know her from.
THIS is how you welcome Rita Moreno to the room! Related: Watch #OneDayAtATime!!!! pic.twitter.com/SIZWuIA0xc

— Jarett Wieselman (@JarettSays) January 22, 2018
Most recently, Moreno has been starring on the Netflix comedy One Day at a Time. She plays Lydia Riera, mother to Justina Machado's Penelope Riera Alvarez. Moreno has garnered much acclaim for her colorful portrayal, which she says comes very naturally to her.
"There is a lot of me in her. I am a very positive and optimistic person," Moreno told The Hollywood Reporter last year. "I have enormous reserves of energy, which never ceases to amaze everyone here on set. But there is a big trap in that we have to be careful with Lydia's character, because she is so big and dramatic. We have to be careful we don't run into caricature. There's a very fine line."
But One Day at a Time is just the latest in a string of roles and achievements that would make any actor jealous.
Moreno began acting in the 1950s, really breaking through in the 1952 classic Singin' in the Rain. But it was the 1961 screen adaptation of West Side Story that truly put the Puerto Rican actress on the map. Moreno played Anita Palacio, girlfriend to Sharks leader Bernardo, a role that earned her the best supporting actress Oscar.
After winning an Oscar, Moreno eventually went all out and add "EGOT winner" to her resume. In 1972, she won a Grammy for The Electric Company soundtrack; she earned a Tony in 1975 for The Ritz; and then in 1977 she won an Emmy or a three-episode guest arc on The Rockford Files, making her (at the time) just the third person to have won all four major awards. (The list has since expanded.)
In recent years, in addition to One Day at a Time, Moreno has had memorable arcs on Oz, Law & Order: Criminal Intent and Jane the Virgin. When Moreno was a 2015 Kennedy Center honoree, Jane the Virgin star Gina Rodriguez gave her introductory speech.
Off the screen, Moreno was also one of the hottest stars in Hollywood. At various times, she was involved with Marlon Brandon, Dennis Hopper, and Elvis Presley before marrying manager Leonard Gordon, with whom she has one daughter; Gordon passed away in 2010.
At 86 years old, she's still just as awesome as ever, even stopping Morgan Freeman's lifetime achievement award speech to tell him to tip his hat up so we could all see him better. And she was the perfect choice to introduce Freeman, as he was the person who introduced Moreno when she received the lifetime achievement award in 2014.