Why Toby Is on the A Team on Pretty Little Liars
Pretty Little Liars: Why You Shouldn't Be Surprised Toby Is on the A Team
A couple of the Pretty Little Liars, Troian Bellisario and Shay Mitchell, came to the TCA today with a notable member of the A team — Keegan Allen, who plays Toby — and Toby's A affiliation was the hot topic of the panel. The actors and executive producers addressed the bombshell of the current season and what the repercussions will be, but most importantly, one of the showrunners told us why Toby's being on the A team shouldn't have been such a shock. Read on for that and other fun tidbits from the Pretty Little Liars panel.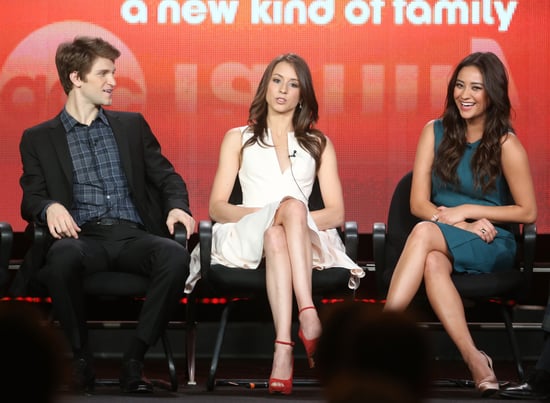 Don't worry, you weren't the only one who was shocked about the revelation that Toby is part of the A team, but executive producer Oliver Goldstick says it shouldn't have been so surprising. Goldstick said he had to remind the actors that Toby's "had an ax to grind" since season one, and that he still had a lot of anger toward the girls. "His darkness isn't coming out of nowhere," he said, and this is like coming full circle for the character.
Now that we know Toby's secret, exec producer Marlene King says Toby's relationship with Spencer will be a core storyline of the season. "It's a mind-blowing storyline we had a lot of fun with," she said. And Allen agreed, saying, "You will watch it and be so shocked and surprised." Not just in regard to his relationship with Spencer but also the other girls. Indeed; Troian Bellisario said that "Toby means so much to Spencer; he truly is the love of her life at this point." But it'll be hard for Emily too. Shay Mitchell added that "it will be harder for Emily because they have had that special connection" since season one.
Now that a supposedly good character has been revealed as being part of the A team, could any of the core liars be in on it, too? The actors would definitely like to be. Bellisario said, "We've all been kind of begging that since season one. . . . It's so much fun to be the villain, especially on our show, because there are so many directions they think of." Mitchell is also on board and has started "coming up with reasons for why they could be on the A team."
There are some fun film homages coming up, and King said that she directed an upcoming Misery-themed episode, while the season finale will pay homage to North by Northwest — another Hitchcock reference, if you're keeping score.