Why Can't Award Shows Get Hip-Hop 50 Tributes Right?
What Will It Take For Award Shows to Get Hip-Hop 50 Tributes Right?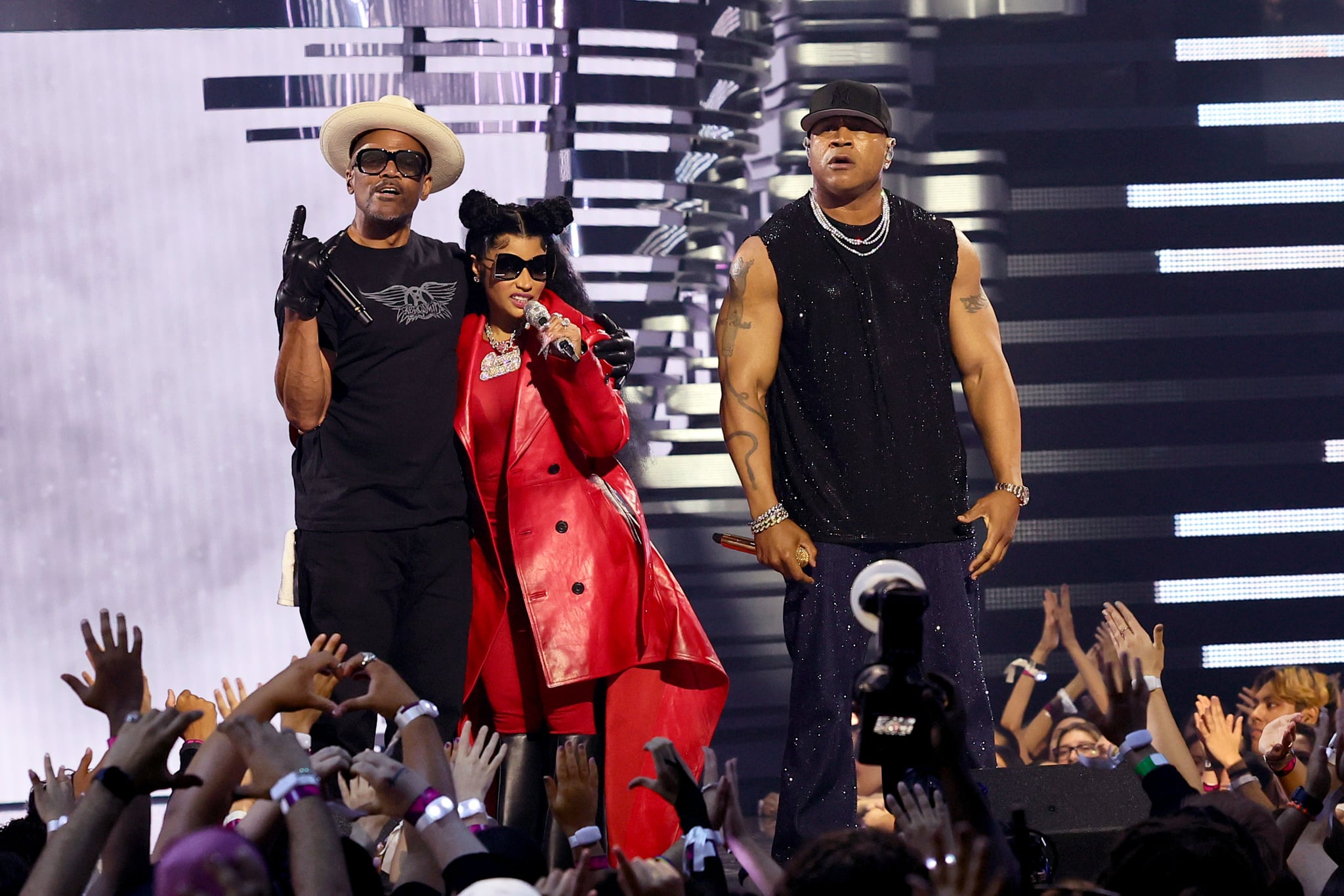 OK, let's be honest — did we really expect the MTV VMAs, of all award shows, to deliver the best hip-hop 50 tribute of the year? The "all-star finale performance" MTV touted ahead of the Sept. 12 event included Nicki Minaj, Lil Wayne, LL Cool J, DMC (of Run-D.M.C.), Doug E. Fresh, and Grandmaster Flash and the Furious Five as performers. The 10-minute tribute intended to honour the culture's entire 50-year history, but with a lineup that shallow (and New York-skewed), is that even possible?
The VMAs aren't alone: it seems every award show's hip-hop 50 tribute has missed the mark this year. The Grammys kicked off the milestone celebration in February with an old school-meets-new-school performance, which featured everyone from Missy Elliott, Busta Rhymes, and De La Soul to Lil Baby, GloRilla, and Lil Uzi Vert. The BET Awards followed suit in June with a "non-stop party" of medley performances from folks like Warren G, Trina, Chief Keef, T.I., and Master P, attempting to touch nearly every era and region of hip-hop. But the VMAs' generation-gapped performance echoed a sentiment hip-hop fans have expressed all year long — these tributes simply aren't enough.
Some social media users (including myself) took to Twitter after the VMAs to express their frustrations. One user wrote, "The Hip-Hop 50 tributes are all over the place at these award shows. They never get the balance right between decades." Another wrote, "I never expect an overload of Blackness from the #VMAs but you can tell that they are out of touch with Hip-Hop culture. This 50 Years of Hip-Hop segment seems like it was pieced together at the last minute." Meanwhile, several others pointed out the glaring absence of music from the South, which has been a constant during most hip-hop 50 tributes, televised or otherwise. Unfortunately, in the case of the VMAs, the same can be said for the Midwest, West Coast, and other East Coast cities.
It's certainly ambitious of these award shows to try and encompass 50 years of hip-hop in a matter of minutes. Lord knows it's easier said than done. But to some hip-hop fans, these disconnected performances feel more like an insult when they come up short than if there'd been no performance at all.
So, what does the ideal hip-hop 50 tribute look like? How much time is needed? Who are the must-have performers? Should New York artists take up more real estate over other regional acts to honour the culture's birthplace? What about the women? These queries and more have plagued the aftermath of just about every hip-hop 50 performance so far.
Questlove, who produced the Grammys' live offering, tried to quell concerns earlier this year when he revealed how the show's lineup was picked. In a Twitter thread, the Roots member and musician explained, in short, that there are many factors that go into creating a hip-hop tribute: honouring living acts vs. dead, who's willing and available to perform, last-minute cancellations, who's not beefing. The list goes on. For artists that fans have deemed "missing or excluded" from tributes, Questlove also explained, "Hip Hoppers (current at least) LOATHE sentimental history or talk of Legacy or anything so half the 'NO' was from the 'we aint old school.'"
Not all hip-hop tributes have left fans completely dissatisfied, however. Some have at least made an effort to acknowledge the beginning and current years of the genre. But it all makes you wonder. If these institutions did right by hip-hop every year to begin with, maybe it wouldn't feel like they're trying to play catch-up, 50 years on. Or like they're trying right a wrong that, in the end, feels too little, too late (remember when Nas got his first rap Grammy over 20 years into his career?).
Truth is, no hip-hop anniversary tribute will ever seem sufficient in highlighting 50 years of its global impact — it's impossible to include every artist, element, and notable entity. The New York Times music critic Jon Caramanica noted that hip-hop is "far too vast to be contained under one tent, or limited to one narrative." The same can be said for any assorted performance that tries to give hip-hop a proper salute. You can't please everybody.
That won't stop fans from hoping, though. Surely all eyes will be on the BET Hip-Hop Awards on Oct. 10 to see how their tribute measures up. And, trust, viewers will be waiting to fire off their critiques.