What Happened in Line of Duty Episode 2 of Series 6?
Line of Duty: Everything That Happened in Episode 2 of Series 6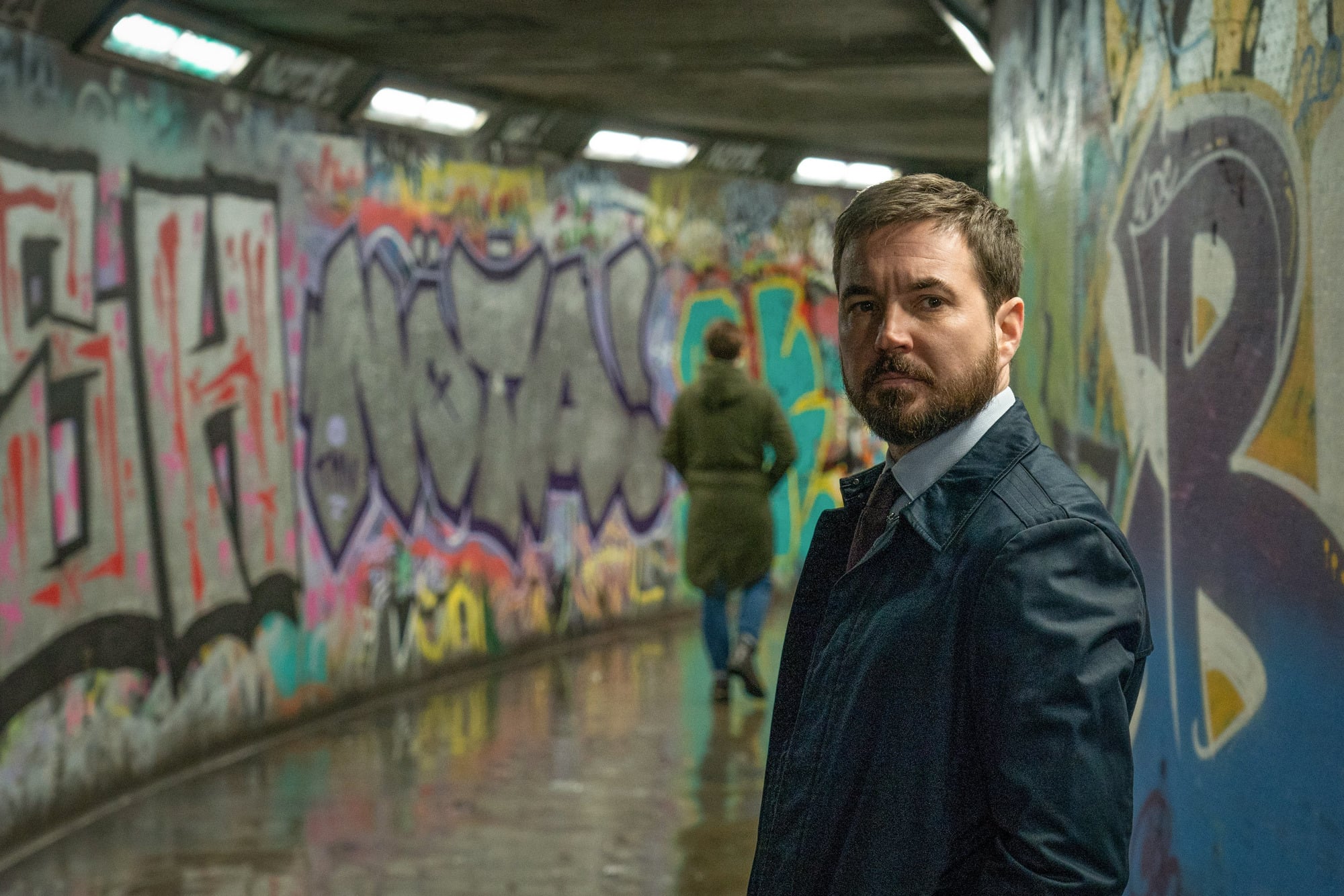 Before getting down to the nitty-gritty of the second episode of Line Of Duty series six, the BBC voiceover reminded us that we are likely to be basking in the pleasant sense of feeling more informed now that the biggest mystery of last week's episode has been solved: the meaning of the CHIS acronym (Covert Human Intelligence Officer, in case you still haven't looked it up). They also announced that 10 million of us tuned in to the opening episode of series six, making it the biggest audience drawn into the opening of a drama in seven years. (If you didn't see it, load it up on iPlayer right now or read our recap.) Episode two pulled the pace back a little from episode one, but the sweat-inducing amount of loaded hugs and meaningful looks more than made up for it — and allowed for that all important Line Of Duty character development that the show does so well. Superintendent Hastings (Adrian Dunbar) also delivered a series' worth of one-liners throughout the episode (the script writers truly knocked his linguistic lashings out of the park this week), and some old faces — both welcome and unwelcome — came back into play.
AC-12 Has a New Investigation
At the start of episode two, AC-12's investigation into Operation Lighthouse is fully underway, and it takes seven minutes for Superintendent Hastings to utter his first blaspheme. He announces that a Hillside employee is offering intel into the Lighthouse team, and this is intermingled with shots of said informant PC Farida Jatri (Anneika Rose), looking panicked and requesting a transfer out of Hillside faster than DS Arnott (Martin Compston) can make a move on his latest love interest. Arnott and DC Chloe Bishop (Shalom Brune-Franklin) watch old newsreels of Gail Vella (Andi Osho), the murdered journalist at the centre of Operation Lighthouse, where she insinuates police corruption in several old AC-12 investigation cases, which Crime Commissioner Rohan Sindwhani (Ace Bhatti) is seen strenuously denying in the reel, stating that Operation Pear Tree firmly closed the doors on any suspicion of police corruption. All lies of course, otherwise, why would we be watching?
Arnott and Bishop interview a former colleague of Gail Vella (played by Prasanna Puwanarajah), who tells them that Gail was collecting material about true crime that couldn't be broadcast and turning it into a podcast. It transpires that following her murder, all of her material had been stolen, and only one brief sound clip and one short video was left behind; the latter of which is none other than the video seen in the Easter-egg-filled series six trailer, that required Alan Turing-levels of code breaking for fans to access. Arnott is shocked to find that the initial investigating officers (DCI Joanne Davidson and the MIT) had documented that nothing had been stolen from Gail's flat, when actually, a plethora of her deeply dug intel is missing.
Before a meeting with a reluctant DI Kate Fleming (Vicky McClure) who clearly doesn't want to be involved in AC-12's investigation into Operation Lighthouse whatsoever, Arnott talks with Hastings. Hastings delivers the exciting news that Arnott is to be made a temporary DI (Detective Inspector, now that we are Line Of Duty lingo masters), and he celebrates by leaving the office with the tiniest fist bump to himself that has ever been witnessed on screen. Hastings then announces in vague terms that he has somewhere to be and hot foots it out of the office, where he is spotted from the high vantage point on the stairs, where numerous meetings, both illicit and otherwise, have been witnessed by our AC-12 friends before. Hastings meets with none other than Steph Corbett (Amy De Bhrún), John Corbett's (Stephen Graham) widow from the last series. Arnott keeps this information to himself whilst he meets with Kate in the usual dingy alley, and she leaves trying not to be metaphorically sliced in half by her divided loyalties.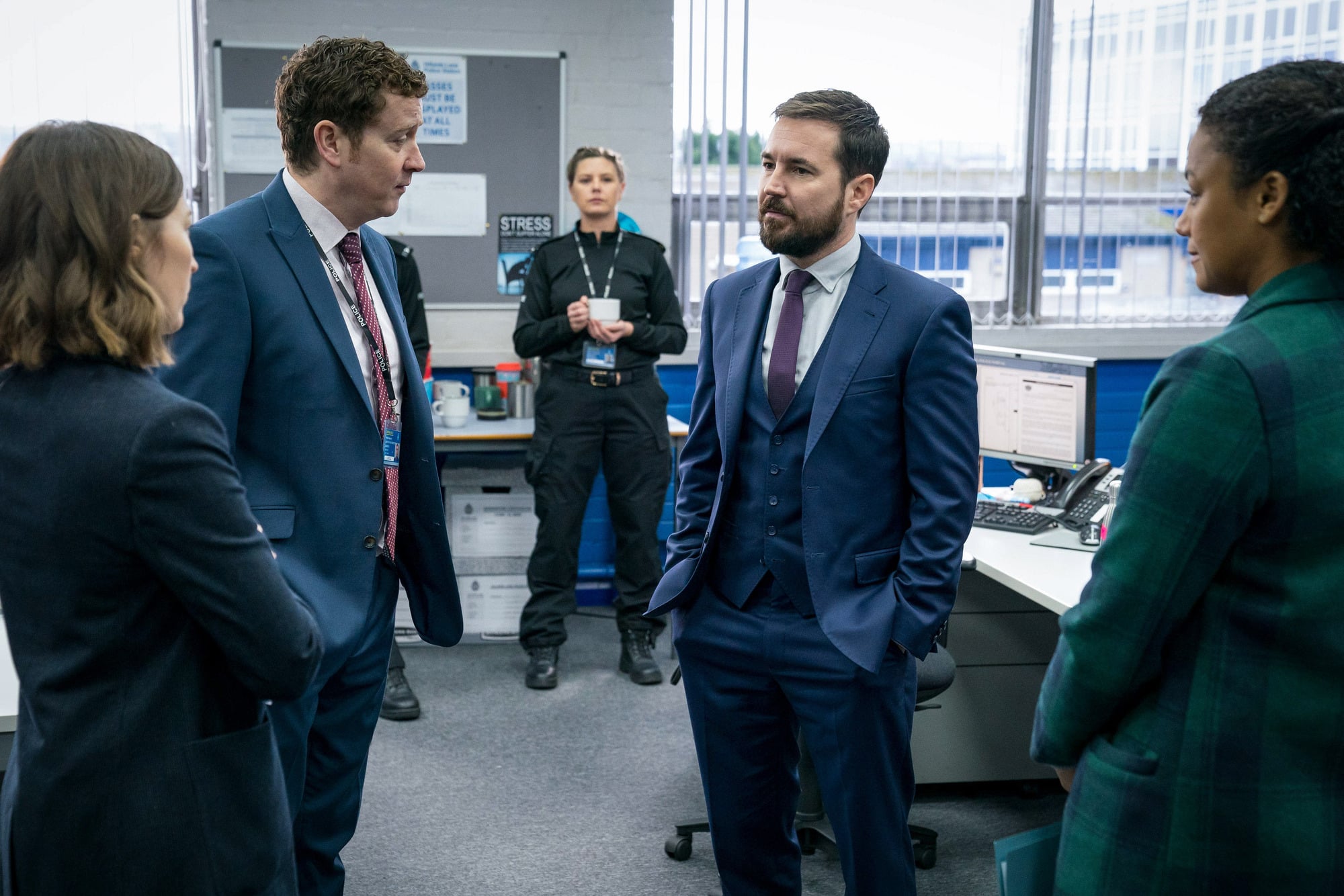 Image Source: BBC
Another Suspect Turns Up Dead
Meanwhile, on a derelict building site with zero CCTV (of course), the body of Carl Banks turns up with a slit throat, all neatly tied up with the fingerprints of the dead CHIS on a nearby murder weapon, which he made no attempt to hide at all. Are we being led to believe that Banks (calling himself Ross Turner), needed to be disposed of thanks to the CHIS snitching on him bragging about his involvement in Gail's murder with organised crime, then framing the CHIS for his murder? This would definitely implicate DCI Davidson (Kelly Macdonald) for deliberately "spotting" last week's armed robbery in order to give organised crime the opportunity to swap Banks with Terry Boyle (Tommy Jessop) and carry out this dastardly plan.
While that theory is yet to be confirmed, guess who appears on the crime scene? None other than bike riding/attempted finger slicer Ryan Pilkington, from series one, who then grew up to be part of the OCG led by undercover officer DS John Corbett in series 5. He was last seen flouncing off to a police academy, no doubt with the intention of carrying on the corruption in the police force and facilitating organised crime. Well, here he is, bold as brass at the crime scene and now a fully fledged officer at Hillside, not even bothering to change his name. He does, however, carefully deflect Kate's questions about how they know each other and subtly tries to hide his face whenever Arnott is around.
Kate Makes a Hard Decision
Now that Banks is dead, Hastings gives the order to raid Hillside police station. Except, Kate has decided where her loyalties lay and tipped off DCI Davidson that this was happening (face palm). Davidson quickly acted to get a moratorium to prevent any leakage of information relating to Operation Lighthouse, and as AC-12 leave the office with red faces, a hint of a smirk plays around Davidson's lips. It took a disappointing 24 minutes for "bent coppers" to leave Hastings's mouth, but the strong and meaningful way it was spat from his lips made up for its tardiness. He's mad and is going to immediately issue Davidson with a Reg. 15 (paperwork to notify an officer that they will be investigated following a complaint made against them), which is promptly delivered to Davidson by AC-12 newcomer DC Chloe Bishop (Shalom Brune-Franklin). Fleming and Davidson later have a commiserating drink, where Kate alludes to some nearby men as not being her type, followed by meaningfully staring into Davidson's eyes. Outside, they share a hug that goes on for a touch too long, and after last week's handholding, we are left wondering if this tension will lead anywhere, or if it's all a double bluff by Kate to gain Davidson's loyalty to later drop her in it.
Clearly perturbed by Steph Corbett meeting Hastings, Arnott drops in to see her at home. Two major things happen while he's there, in between the asking of rude questions such as where she got her large television (Hastings gave her a large sum of cash at the end of series five over guilt at John's death and Steph not receiving his pension because he didn't die in the line of duty). The first is that he has a full-on back spasm and Steph has to dash to his car to retrieve some painkillers from a stash of apparently short-term-use-only strong pills. He also gets his share of the episode's loaded body language when he leaves Steph's house, and they also share a hug that lingers a little more than you'd expect after a professional visit.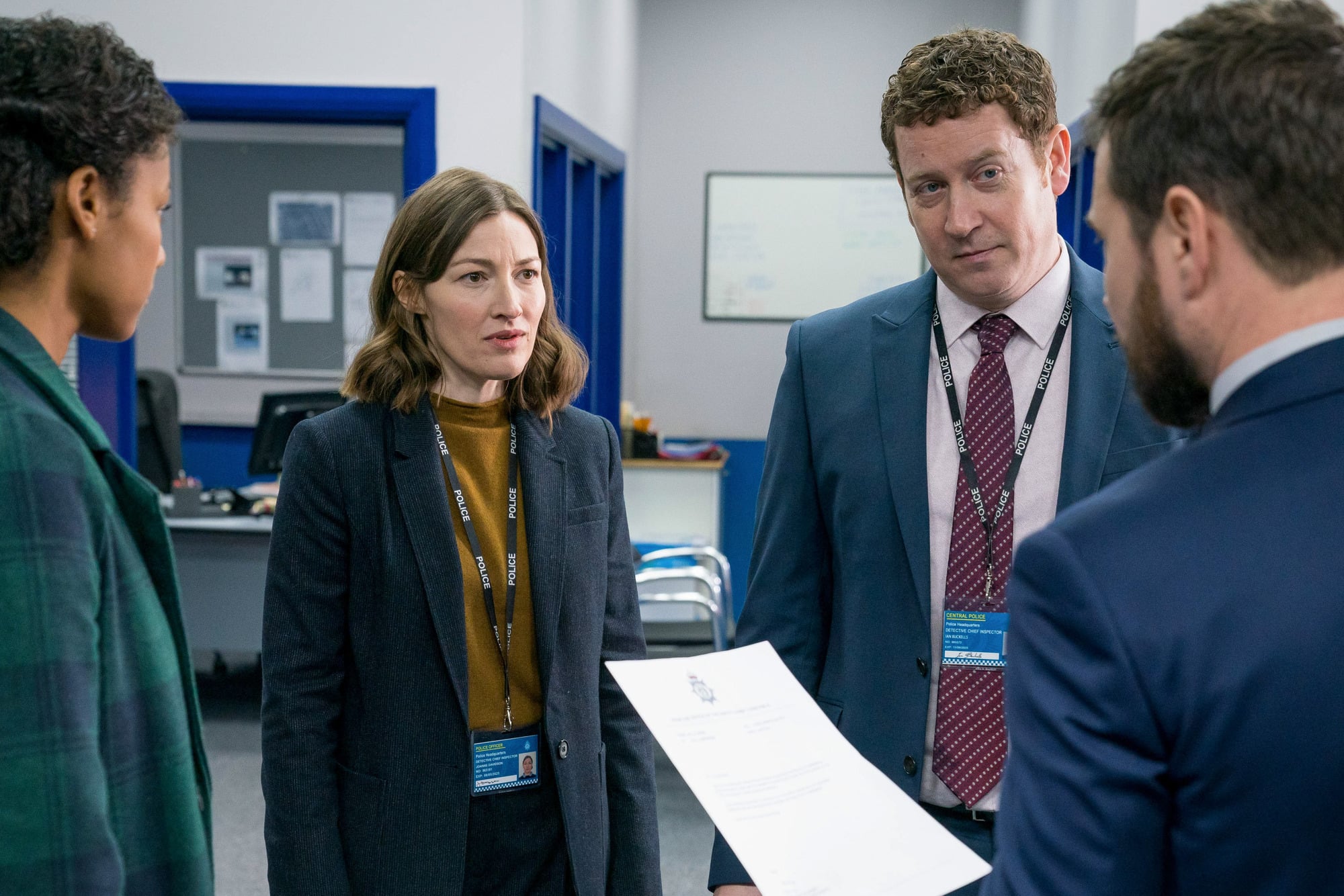 Image Source: BBC
A Stand Off Between DCI Davidson and AC-12
Here we arrive at the climax of the episode: Davidson is brought into AC-12 headquarters for a stand off (sorry, interview), with Hastings, Arnott, and Bishop. She keeps the same relatively cool exterior that her character established last week, and this is what causes her to stand out from previous suspects who have been in her place. Lindsay Denton (Keeley Hawes) was inimitably antagonistic, yet reeled viewers in and forced them to keep watching her. Roz Huntley (Thandie Newton was cold, measured, and devious.) Davidson's softly enigmatic and vulnerable persona makes her both likable and dangerous. Hastings delivers a sarcastic monologue to her during the interview and has clearly saved his best one-liners for this very moment. After a brief silence and the knowledge that her story about the armed robbery is as thin as tissue paper, she agrees that there must be corruption within Operation Lighthouse and wastes no time in throwing several members of the team under the bus, one of them being her ex-partner Farida Jatri.
Jatri's house, the one she shared with Davidson until recently, and which Davidson retained a key to, is subsequently raided. Oh dear, a burner phone is found on the premises, leading to Jatri's arrest and Davidson being released. A stupendously panicked Jatri attempts to tell anyone who will listen that Davidson is a compulsive liar, but to no avail. Meanwhile, Davidson is seen leaving the station in the car with Ryan Pilkington, acknowledging the arrest of Farida and announcing "that's what happens to a rat" and then picking up a burner phone from a mystery man. When left alone in the car, her calm exterior melts for the first time, and she has a screaming fit of rage to herself, indicating that she is not happy about either having the phone forced upon her or what she's done to Jatri. Only time will tell what organised crime have on her and other burning questions mounting as we get to know DCI Jo better.