What Happened in Line of Duty Episode 5 of Series 6?
Line of Duty: From Marcus Thurwell to Steph Corbett's Cash, Episode 5 Is Full of Big Revelations
Watch out! This post contains spoilers.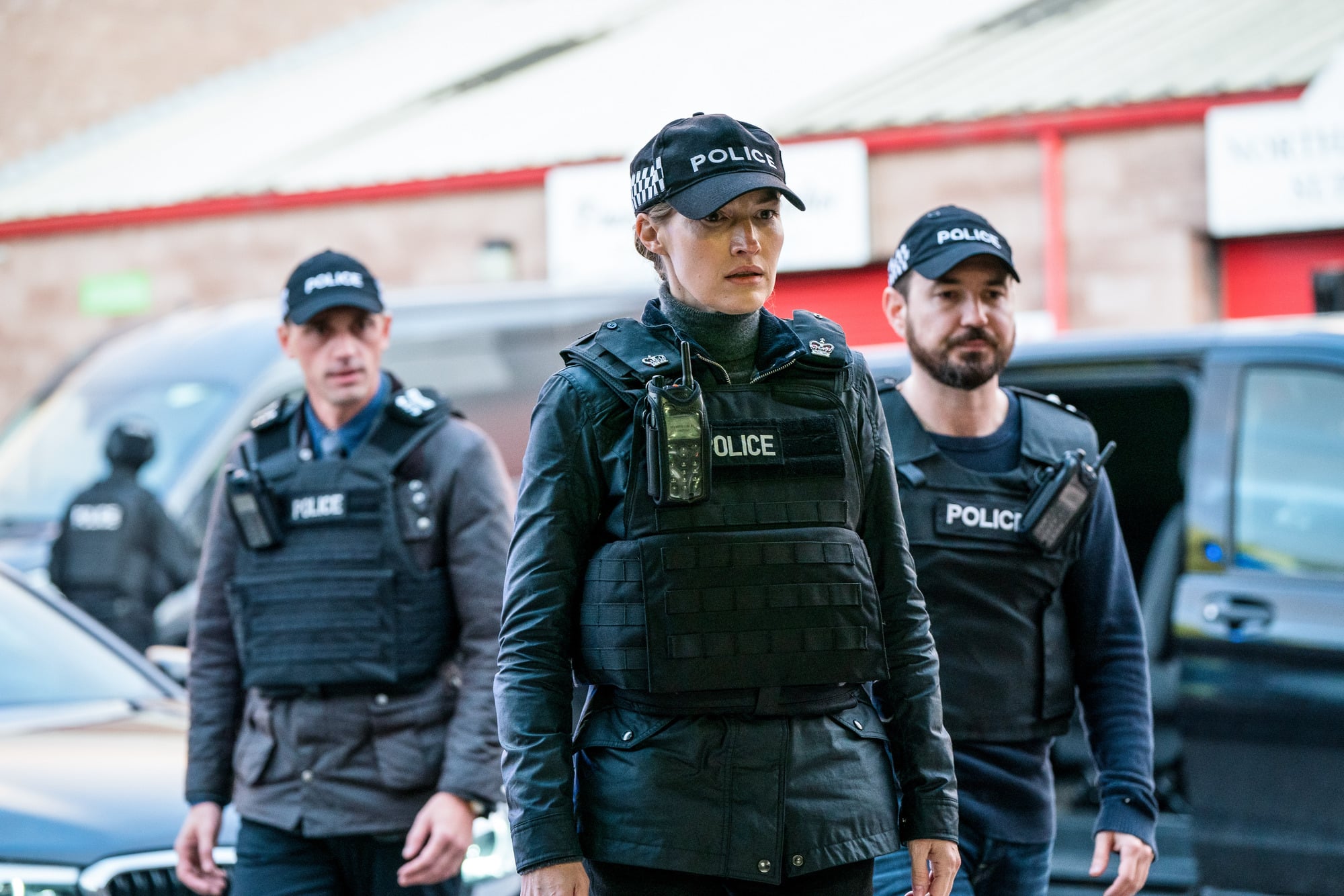 After last week's action-packed episode, it's been a nail-biting week for Line of Duty fans thanks to what was quite possibly television's biggest cliffhanger since "who shot J.R.?" Intense speculation and conspiracy theories were swirling all over social media in anticipation of episode five, with super sleuths trying to figure out what it would reveal not only about DCI Jo Davidsons's familial ties but also about the future of AC-12 and who murdered Gail Vella.
Shockingly (although, since this is Line of Duty, not surprisingly), the biggest event in episode five is not the reveal of DCI Jo Davidson's blood relative, which we learn five minutes into the start of the show and is barely mentioned again. DI Steve Arnott actor Martin Compston was keen to tell the media that therapy will be required after this week's episode, and while that was obviously hyperbolic, episode five does throw us for a loop — leaving us with yet another cliff-hanger (we'll liken this one to the Game of Thrones heart-stopper of "is Jon Snow really dead"?) and the potential disbandment of AC-12. Will DCI Davidson even make it to episode six, or will she die from the killer looks being thrown at her by PC Ryan Pilkington (Gregory Piper)? Hold tight; here are the biggest revelations from Line of Duty episode five.
And DCI Davidson's Blood Relative Is . . .
No, it's not John Corbett (Stephen Graham). There was a lot of speculation around who DCI Jo Davidson (Kelly Macdonald) is related to, but the most popular theory amongst fans of the show was that she was the love child of Corbett's mother, Anne-Marie McGillis, and Superintendent Hastings (Adrian Dunbar) from his days as a PC in Ulster when Anne-Marie was a police informant, making Corbett and Davidson half-siblings. A lesser-discussed theory was that the person Davidson had over a 99 percent chance of being related to was Tommy Hunter (Brian McCardie), and this is the theory confirmed in episode five, although it isn't ascertained yet in which capacity they are actually related; speculation currently stands at her being his daughter.
The biggest clue to a familial relationship between Hunter and Davidson could have been in the accents, as they are both Scottish, but the Anne-Marie/Hastings forbidden love was a lot more appealing to fans. If you are struggling to remember back to series one, Hunter was the Organised Crime Group (OCG) boss who had groomed Matthew "Dot" Cottan (Craig Parkinson) from an early age, planting him in the police force as a bent go-between between the OCG and the police. Hunter was later killed at the start of series two, on Cottan's orders, after he collaborated with the police and went into witness protection.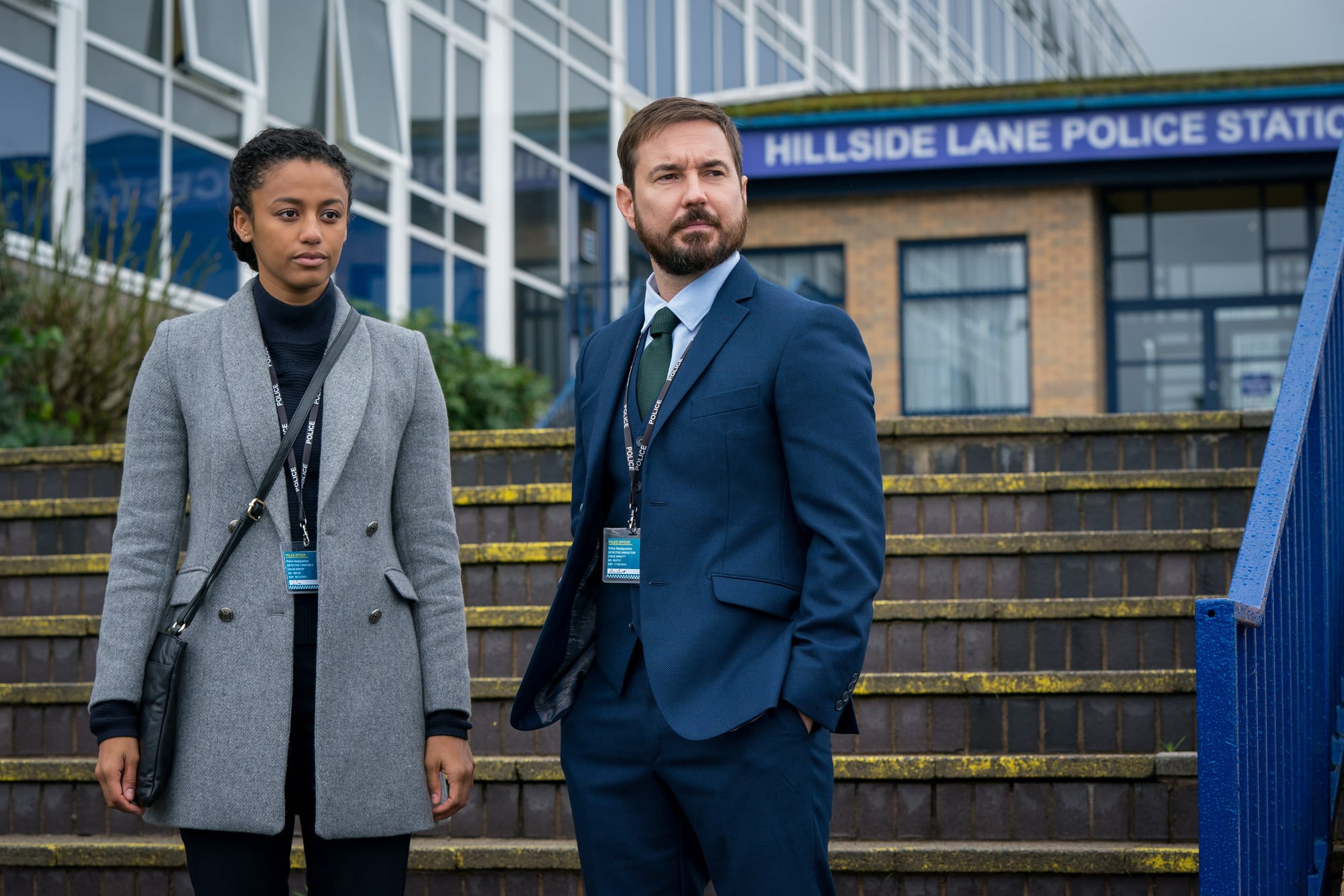 The Motive For Gail Vella's Murder Is Slowly Revealing Itself
Line of Duty certainly packs a lot into each episode, but viewers have been reminded weekly that everyone remains pretty stumped when it comes to a motive for the central murder case, that of Gail Vella (Andi Osho). At this point, Arnott and DC Chloe Bishop's (Shalom Brune-Franklin) detective work has found that Vella was investigating the death of Black architect Lawrence Christopher, who died in police custody in 2003. Christopher had entered custody with a head injury after being attacked by a white youth gang, and the police failed to act on his injuries, instead making racist taunts and mocking him as he lay dying in front of them. DC Bishop painfully and poignantly recounts the shocking procedural failings and apparent cover-ups that led to not only the perpetrators of Christopher's death never facing charges but also the policemen involved never being reprimanded or charged themselves.
One of the gang members responsible for the attack on Christopher also happened to be Tommy Hunter's son, Darren Hunter, immediately creating a potential link between Tommy Hunter and the fact that no one involved faced any charges. The nods to real-life cases of institutionalised racism and high-ranking cover-ups appear evident here, apparently alluding to evidence found in the cases of Stephen Lawrence and Christopher Alder and further highlighting how LOD interweaves real people and cases into its storylines. Gail Vella was about to reveal the relationship between organised crime and police corruption in her podcast and name drop those involved. Those named would have a lot to gain from her death, if Arnott and Bishop can work out precisely who they are, that is.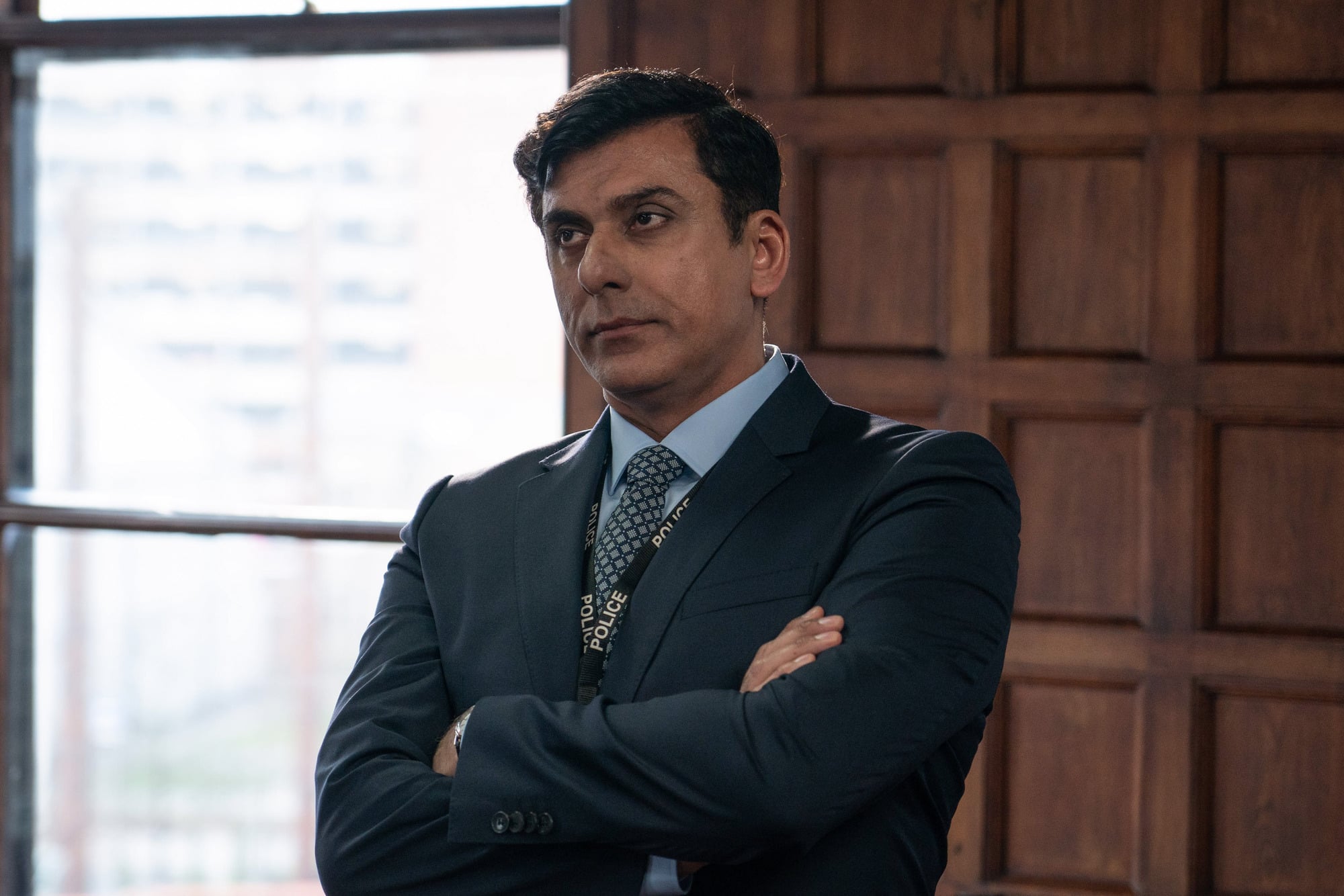 Marcus Thurwell Has Something to Do With All of This
It looks like we are being set up to receive the next series's baddie. The name "Marcus Thurwell" comes up a lot during episode five, and it seems like he could be one of the officers Vella was going to name in her podcast.
So who was Marcus Thurwell, exactly? A new character on the show, Thurwell was the senior investigating officer on the Lawrence Christopher case (shown in a file pulled up by Arnott to be played by the excellent James Nesbitt), who it is believed was the person responsible for ensuring everyone involved in the case evaded justice — potentially at the word of Tommy Hunter, whose son was involved in the potential manslaughter of Christopher. Those officers on Thurwell's team at the time included none other than DS Ian Buckells (Nigel Boyle) and CC Philip Osborne (Owen Teale), both of whom have risen quickly through the ranks, the latter of whom is now Chief Constable.
More digging found that Thurwell was also involved in the Sands View boys home case from series three, a police investigation that was found to have been riddled with corruption, ultimately allowing child exploitation and abuse to continue unchecked. Consider your number up, Thurwell. Now we are really sucking diesel, as he could quite possibly be the final piece of the "H" — if AC-12 can track him down in Spain, where he is currently hiding out.
Turns Out, PCC Rohan Sindwhani Might Be One of the Good Guys
What a surprise it was to see Hastings enter PCC Rohan Sindwhani's (Ace Bhatti) office alone, without all of his posturing and the presence of DCC Andrea Wise (Elizabeth Rider). Turns out that behind closed doors, PCC Sindwhani has been actively trying to fight back against the Chief Constable and save AC-12 (or so he says), which has ultimately led to him resigning as police and crime commissioner. In their brief conversation, Sindwhani tells Hastings that it's up to him to reveal police corruption and a continued connection with OCG on the force, to which Hastings replies with one of his signature one-liners: "If I see a bent copper, I know only one way, and that's full throttle."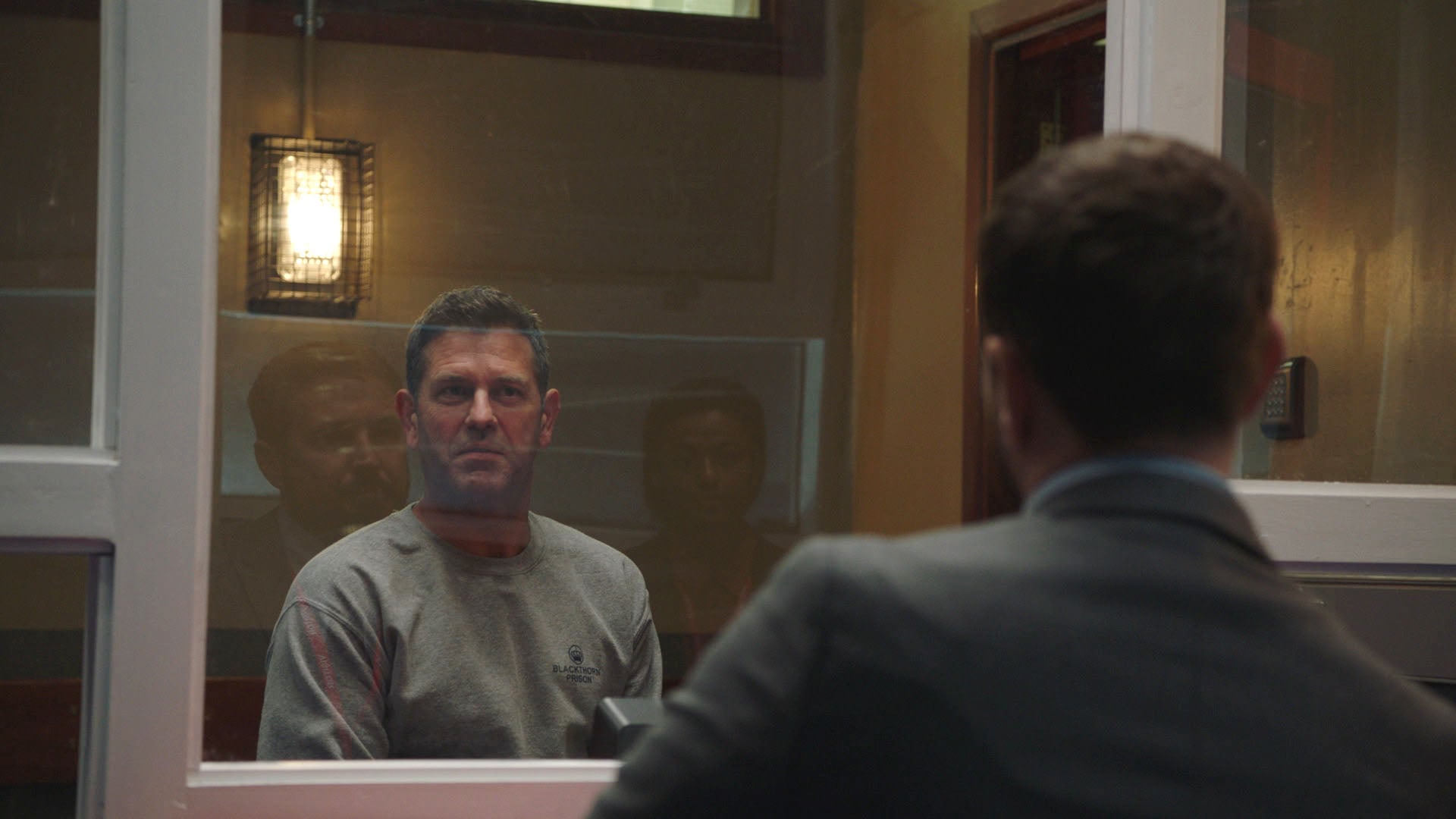 Superintendent Hastings Is Under Suspicion Again
Not this again. We thought that maybe, just maybe, the notion that Hastings is the fourth OCG/police link, or "H", was finally put to bed, but tonight's episode raises that doubt yet again — and it's Arnott doing the doubting. After rifling through Steph Corbett's (Amy De Bhrún) belongings while she is on the school run, Arnott finds an envelop of cash in the attic. Snatching a couple of bills, he promptly has them forensically tested.
Arnott begins to put the pieces together after he visits Lee Banks (Alastair Natkiel) in prison to talk about Gail Vella. In typical Line of Duty fashion, however, their conversation reveals something else entirely, namely that Hastings was responsible for John Corbett's death by suggesting to the OCG that they had a rat in their ranks, ultimately leading the criminals to suspect that Corbett was undercover. When the cash in Steph Corbett's attic matches the "missing" OCG bribe money that disappeared in series five, Arnott immediately jumps to all kinds of conclusions about Hastings and needs telephone counselling from DI Kate Fleming (Vicky McClure).
Not only that, but in what looks to be a definite red herring, Hastings strongly puts his foot down against having Ryan Pilkington being arrested pronto, despite Arnott and Fleming arguing strongly for it. This level of suspicion at him seemingly needing Pilkington to remain at his post just seems a little too obvious. As an aside, Hastings is trying to keep the potential disbanding of AC-12 quiet from the team throughout the episode, hindered by the return of the loathsome Detective Chief Superintendent Patricia Carmichael (Anna Maxwell Martin), who stormed the office like Cruella De Vil, halting surveillance left, right, and centre and pompously throwing her weight around while getting up in everyone's business. Fingers crossed Hastings can see her off quickly, with his best withering one-liners escorting her to the door.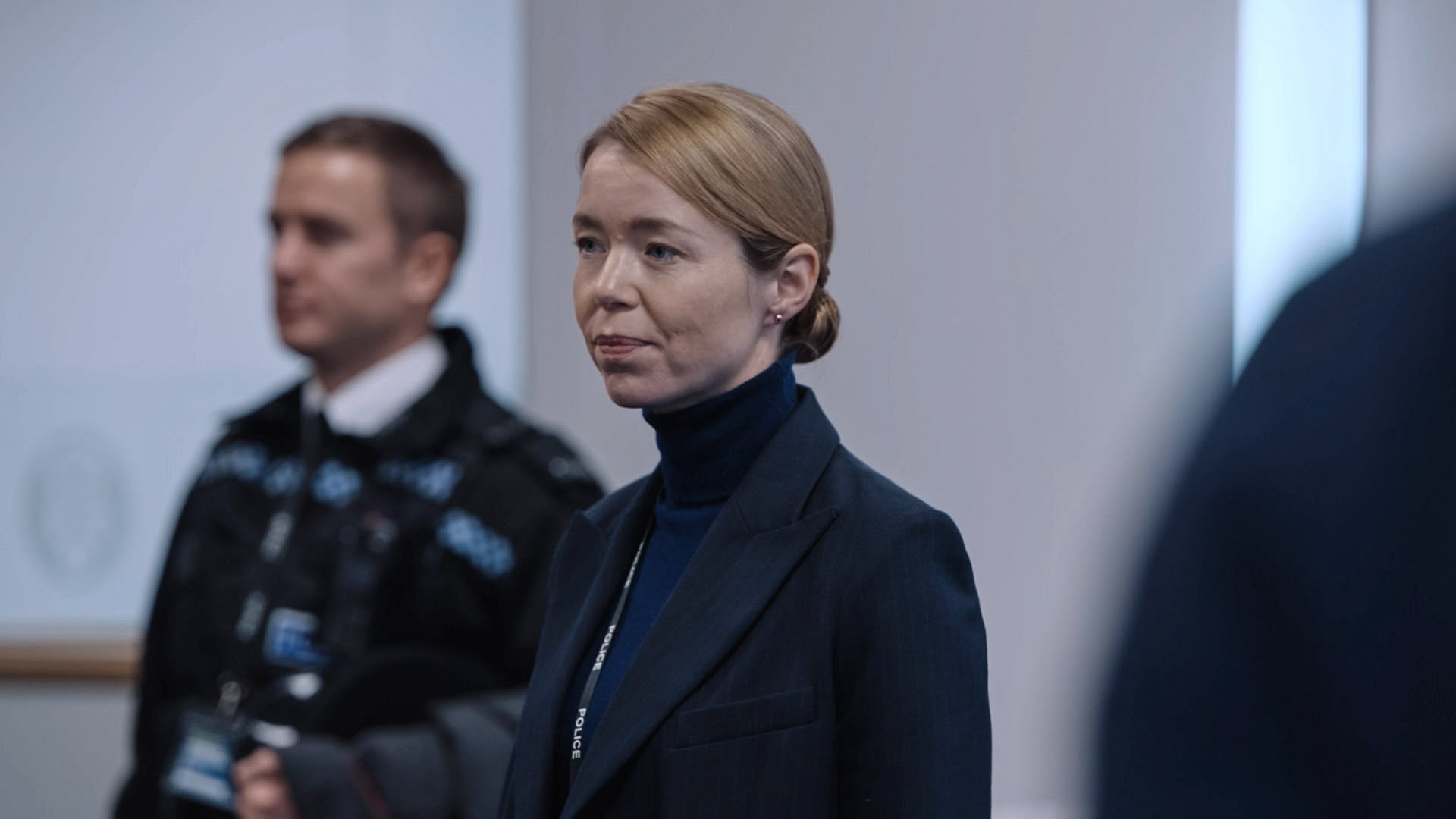 One Way or Another, DCI Jo Davidson is "Definately" Bent
Proving elusive and slippery, we know the OCG has something on Davidson, and now that it's been revealed that she has family ties to Hunter, it's unknown if she is bent out of choice or whether someone is using her past or something else against her. She certainly has Fleming convinced she's squeaky clean when Kate reveals three different locations to Davidson for the possible spot of the OCG workshop about to be raided in the episode, in a bid to see if she will attempt to derail the raid in the same way she appeared to derail the Carl Banks arrest back in episode one. Davidson proves that it wasn't her doing any of the hindering — it was actually crafty Pilkington, who produced a burner phone from his sock to try to tip the OCG off instead, letting Jo's bent status waver a little.
But her bent status is confirmed when, upon returning to her nightly instant-message session with an anonymous OCG handler, the person she is talking to uses the word "definitely", spelling it "definately". Not an uncommon error, however, on the show, this spelling mistake has been noted before — when John Corbett used the same way to message the anonymous crime boss when he was trying to set up the Eastfield Depot in season five. Conspiracy theorists are now working overtime to try to make a link to the misspelling and who could be behind it, theorising that just the spelling alone will one day reveal the person behind it, with little else in the way of sleuthing required. Meanwhile, the anonymous person tells her that if she kills Fleming, it will be her final job before the OCG will release her from doing anything further for them.
DI Kate Fleming Might Be Gravely Injured . . . or Dead
There must have been a collective sigh of disappointment in Fleming when she is about to meet Davidson at a bar and Davidson suddenly decides she wants to meet somewhere quiet. Kate does the right thing by sending the new address for the meeting (a car park in the back end of nowhere) to Arnott, but instead of running in the opposite direction, she actually turns up alone at the new venue.
Davidson and Pilkington are there, and although Davidson is visibly upset at having to kill off Fleming to get herself free of OCG clutches, she apparently has no qualms about actually going through with it. Following an emotional apology to a baffled Fleming, Pilkington appears from the shadows brandishing a gun. A verbal standoff ensues, with Kate trying to talk him down from murdering her before pulling her own gun. A final shout from Fleming and a double bang, and the closing credits start to roll. Is our favourite woman detective actually dead? It's going to be another long wait until next week to find out.
Image Source: BBC