Christina Aguilera's 2021 People's Choice Awards Speech
In True Form, Christina Aguilera's People's Choice Awards Speech Is All About the Fighting Spirit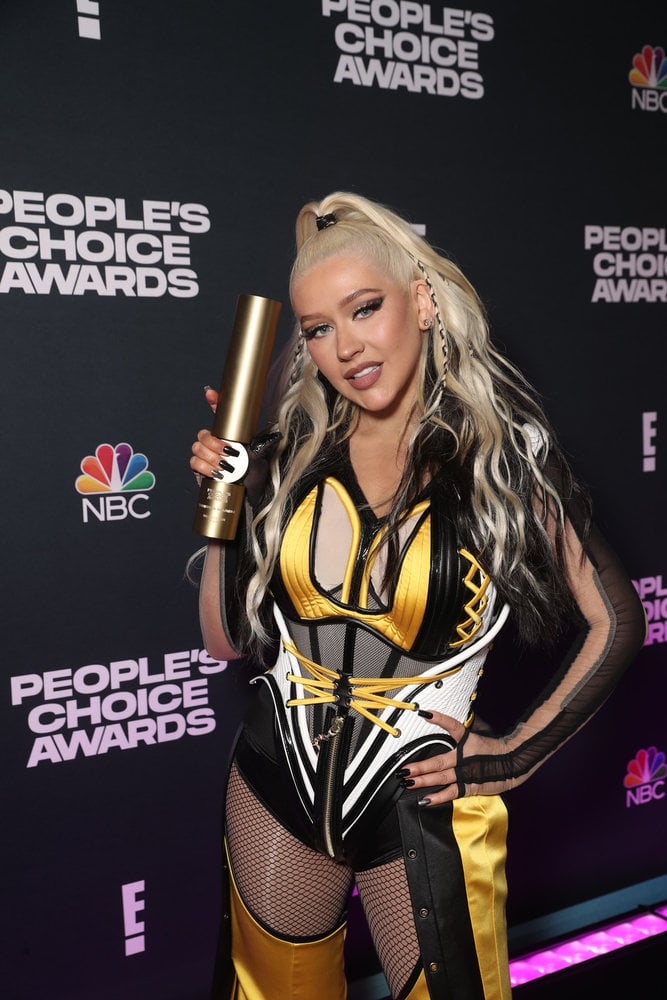 Image Source: Todd Williamson / E! Entertainment / NBC
Christina Aguilera is reflecting — and receiving the appropriate praise — on her two decades in the industry. The veteran triple-threat appeared at the 2021 People's Choice Awards on 7 Dec. to accept the show's first-ever music icon award. Becky G, who recently collaborated with Aguilera on "Pa Mis Muchachas," presented the inaugural award.
"What an exceptional honour. To be standing here receiving an award with the word 'icon' is truly surreal," Aguilera said in her speech, which followed her powerhouse performance of greatest hits like "Genie in a Bottle" and "Beautiful," as well as a song from her forthcoming Spanish-language album — her first since Mi Reflejo in 2000. Aguilera added, "My music has always been for the fighters in this world . . . Thank you for your stories, thank you for listening, and thank you for fighting."
Our hobbies:
🔹 listening to @xtina songs on repeat 🎧
🔹 attempting (and failing) to riff like her 🎤
🔹 celebrating her as #TheMusicIcon at the 2021 #PCAs ⭐️ pic.twitter.com/zDqSlGp6A7

— People's Choice (@peopleschoice) December 8, 2021
Aguilera has reemerged with full force following the six-year hiatus that took place between 2012's Lotus and Liberation in 2018. (During that time she also welcomed her two children, Max and Summer.) Liberation was well-received critically, boding well for her upcoming ninth studio album, and two singles received Grammy nominations. More recently, Aguilera made her return to the Latin Grammys with a sexy, girl-power performance of "Pa Mis Muchachas."