Da'Vinchi, La La Anthony Discuss BMF Season 2
Da'Vinchi, La La Anthony Say Terry and Markisha's Relationship Gets "Complicated" in "BMF" Season 2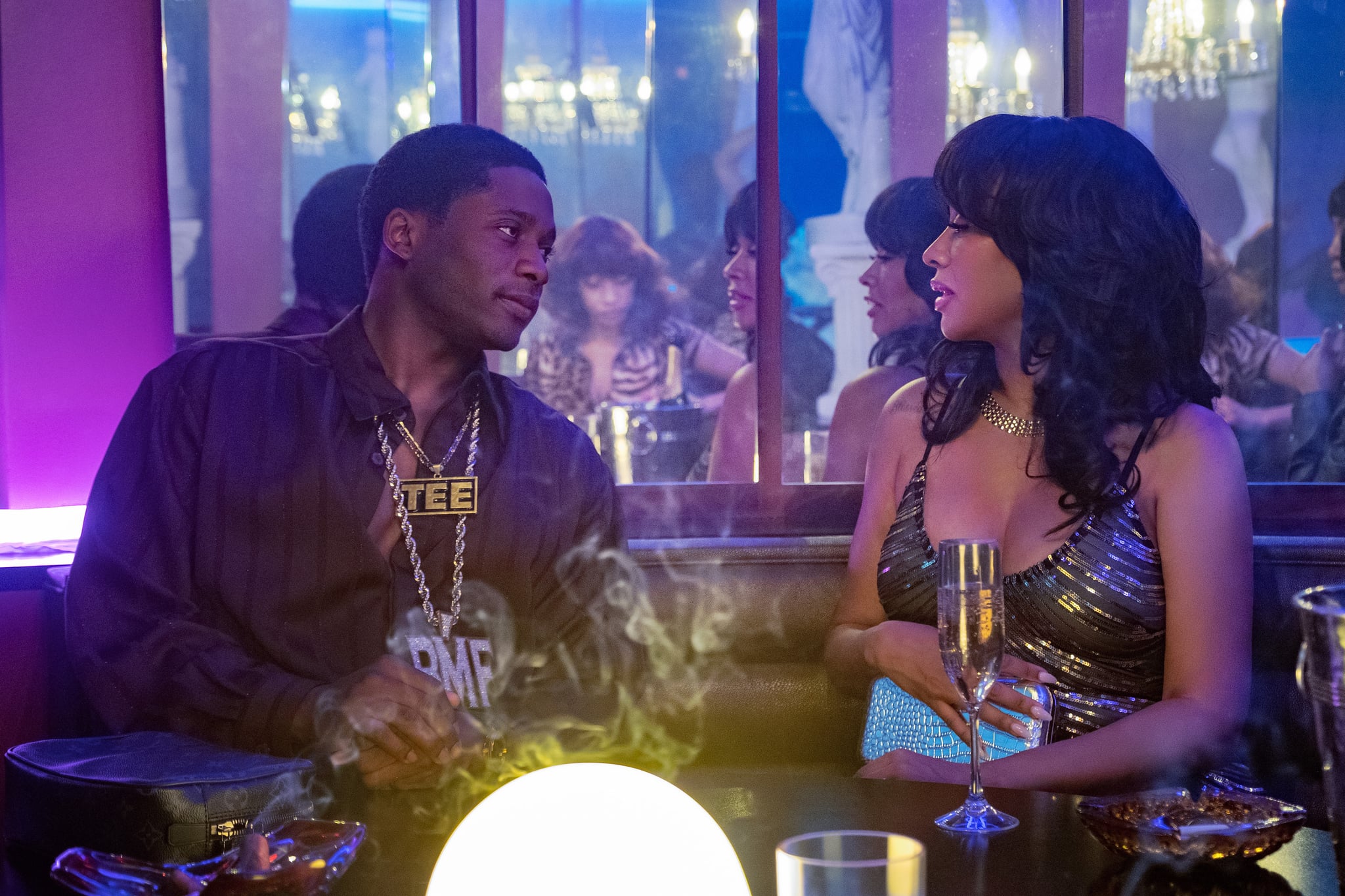 When Curtis "50 Cent" Jackson said "BMF" was going to be "an incredible ride," he wasn't kidding. The series — which is based on the real-life story of Detroit brothers Demetrius "Big Meech" and Terry "Southwest T" Flenory — has had us on the edge of our seats since it first hit Starz in September 2021 and, according to Da'Vinchi (Terry "Southwest T" Flenory), the drama is just getting started.
"Wow, season two is going to be a journey. The fans are going to be in for a treat," Da'Vinchi tells POPSUGAR ahead of the show's return on Jan. 6, 2023. "You're going to see Terry Flenory just boss up. He's just like, 'Yo, I'm not this little kid no more. I got this grown-ass lady, and I'm the man now. And she's helping me become a man.' He got a little different pep in his step, and it's going to be interesting to watch."
The "lady" in question is none other than La La Anthony's character, Markisha Taylor — yes, fellow drug dealer Boom's wife. In the season two trailer, which dropped on Nov. 25, we get a small glimpse of Terry and Markisha's blossoming romance as the latter battles between making an honest living in his new car service business with his father or returning to the streets with his brother, Meech (Demetrius "Lil Meech" Flenory Jr.). "This season, you really get to see the dynamics of Markisha and Terry's relationship and how it starts off as just a fun, little flirty thing, and then it becomes a lot more," Anthony explains. "Now, they're both faced with dealing with their real relationships and what that means for their relationship. And it gets complicated, but at the core of it all is love, care, and respect."
As Terry and Markisha "start falling in love," Da'Vinchi says that Markisha helps his character mature and teaches him how to "become a kingpin in a way." He explains, "She puts him on the path to becoming independent and gaining that autonomy that he always wanted." From changing his hair to showing him how to walk and talk, Markisha "elevates him in a different way."
"A lot of people could be hurt in the decisions that these two people make."
At the same time, Terry also helps Markisha, who feels trapped in her marriage to Boom. "She's stagnant in her marriage. She's also in an abusive marriage, which is incredibly sad. And it just makes her feel seen and alive again," Anthony says. "Even though, at first, she's resisting it, it's great new energy and maybe an escape from her day-to-day life. And then it just becomes something so much more. But in it becoming more, it also becomes more complicated. So it's interesting to see which way it goes because it could go a million different ways. A lot of people could be hurt in the decisions that these two people make."
And one of those people could be Meech. "Meech has this thing with Markisha. Meech does not like Markisha at all," Da'Vinchi explains. "And I think that starts making the brothers build a certain tension again, which some could argue and say that that could be part of the brothers' demise."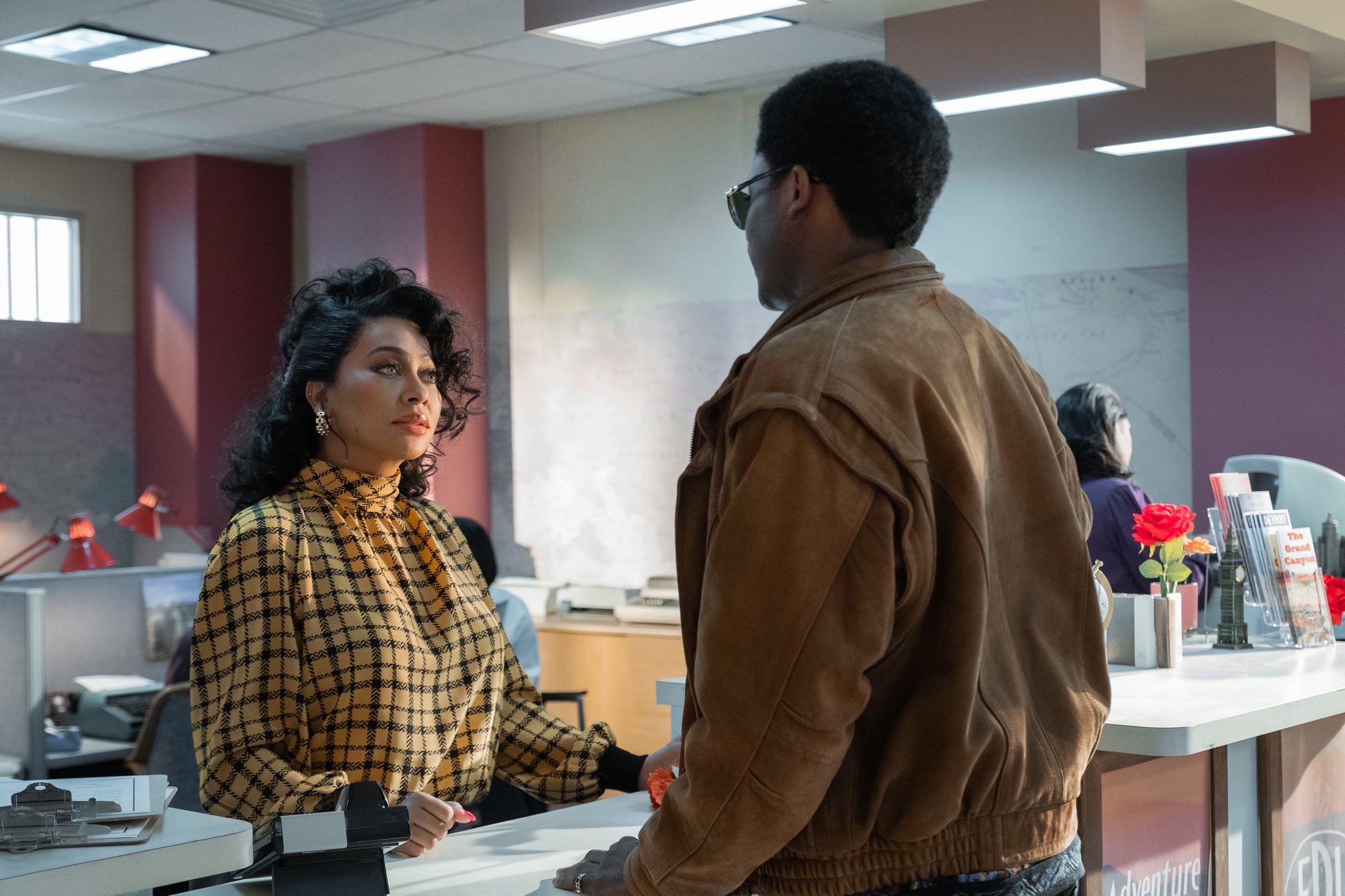 In addition to all the twists and turns season two has in store, the forthcoming instalment also features a handful of new faces, including Leslie Jones, Kelly Hu, Caresha "Yung Miami" Brownlee, and of course, Mo'Nique. The 55-year-old Oscar winner makes her long-awaited return to the small screen as Goldie, a sophisticated Atlanta strip club owner who allies with the Flenory brothers. Other than that, not much else is known about her character and how big of a role she'll play in Terry and Meech's story, but Da'Vinchi promises people are "going to definitely love her character." "They're going to laugh their asses off. They're going to be glued to the screen when they see her, for sure," he says. "It was just an amazing experience having her on board."
While Anthony didn't get to personally work alongside Mo'Nique in "BMF," the actor says they've known each other for years. Anthony adds, "To be on a show with such an incredible talent and someone that just brings so much is just great. Who doesn't want to work with Mo'Nique and have her be a part of the show? We're very honoured and excited about it. And it's going to bring even more eyes to 'BMF' and get more people excited about our show."
"BMF" has yet to be renewed for a third season, but given the success of the first, we have no doubt it will. And if and when it does, both Da'Vinchi and Anthony would love to continue telling the Flenory brothers' story. "I love this cast. I love this story," Anthony raves. "I would just love to continue to see these relationships expand. And like I said, anything can go a different way at any second. So just to see where we all end up is going to be really interesting."
Meanwhile, Da'Vinchi just has one wish for season three: "I would love to see Terry find a world where Markisha and LaWanda (Sydney Mitchell) could just coexist." Hmm, does that mean Markisha and LaWanda are also at odds this season? Guess we'll just have to wait and see when "BMF" returns.