Diddy's 2023 VMAs Global Icon Award Speech and Performance
Diddy Celebrates His VMAs Global Icon Award by Performing With 3 of His Kids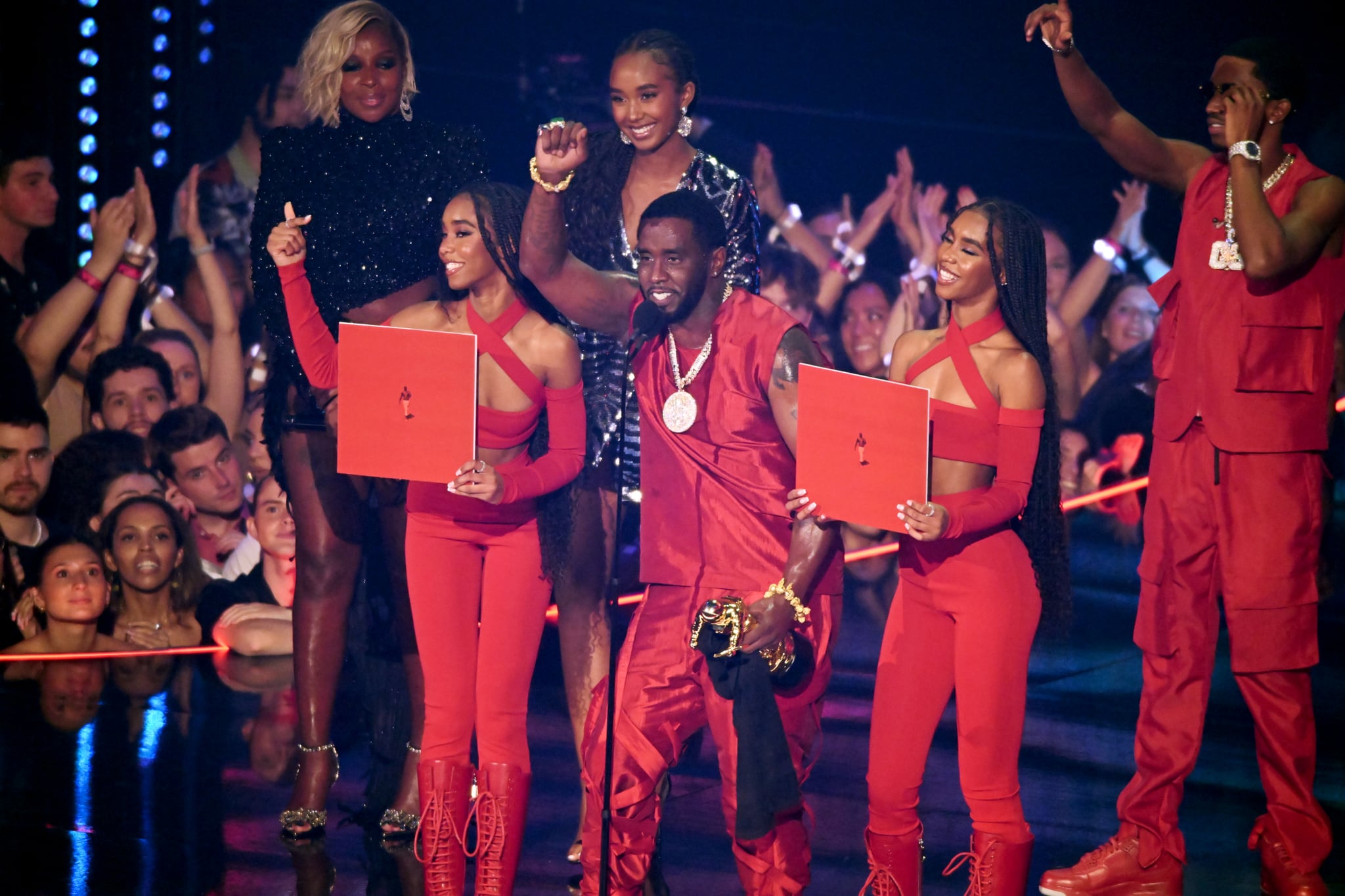 Diddy celebrated his legendary career at the 2023 MTV VMAs on Sept. 12 — and he did it with his family by his side. The music icon received the show's Global Icon Award and hit the stage, marking his first performance at the event since way back in 2005. During his performance, Diddy was joined on stage by his son King Combs, 25, and his twin daughters, Jessie and D'Lila Combs, 16. The pair danced with their dad during his greatest-hits medley, while King popped up throughout the performance.
Diddy performed classics like "I'll Be Missing You," "It's All About the Benjamins," "Bad Boy For Life," "I Need a Girl (Part Two)," and "Mo Money Mo Problems." Yung Miami also joined him for his track "Gotta Move On," while Keyshia Cole took the stage to perform "Last Night."
Mary J. Blige introduced Diddy before he took the stage, and she and his oldest daughter, Chance Combs, presented the mogul with his award afterward. "This is a dream come true for me," he noted during his acceptance speech. "I grew up watching MTV. I started as a paperboy at 12, and then I was going to be an NFL football player for the Pittsburgh Steelers." But then Diddy shared that he broke his leg, crushing his dreams, until he got scouted as a dancer and realised he wanted to work in music.
"I want to thank every executive, every producer, every songwriter," Diddy added in his remarks. "I gotta thank the Bad Boy family because without them, I wouldn't be up here."
He urged the audience, "You just gotta keep dreaming. I know sometimes you get hit with those hard things. Like I said, I thought I'd be playing for the Pittsburgh Steelers, but God made another choice." Diddy added, "I pray to God y'all get to do something that you love for 30 years consistently."
Last, he said, "Before we go, in true Diddy fashion, I'm a hustler. I've got an album coming out this Friday." Diddy had Jessie and D'Lila lift up copies of the album, titled "The Love Album: Off the Grid," his first solo album since 2006.
At the award show, Diddy was also nominated for four other awards. His song "Gotta Move On (Queens Remix)" was nominated for best collaboration and best hip-hop, while Metro Boomin's song "Creepin' (Remix)," which he features on, was also nominated for best collaboration and best R&B.
Though only four of Diddy's kids attended the award show, the hip-hop icon is a proud dad of seven total. His youngest daughter, baby Love, was born in October 2022. Diddy is the third recipient of the MTV Global Icon Award after the Red Hot Chili Peppers in 2022 and the Foo Fighters in 2021.
Diddy and His Kids Performing at the 2023 MTV VMAs