Doja Cat's First of All Album: Attention Single, Music Video
Doja Cat Says Her New Music Finally Allows Her to "Express" the Way She Feels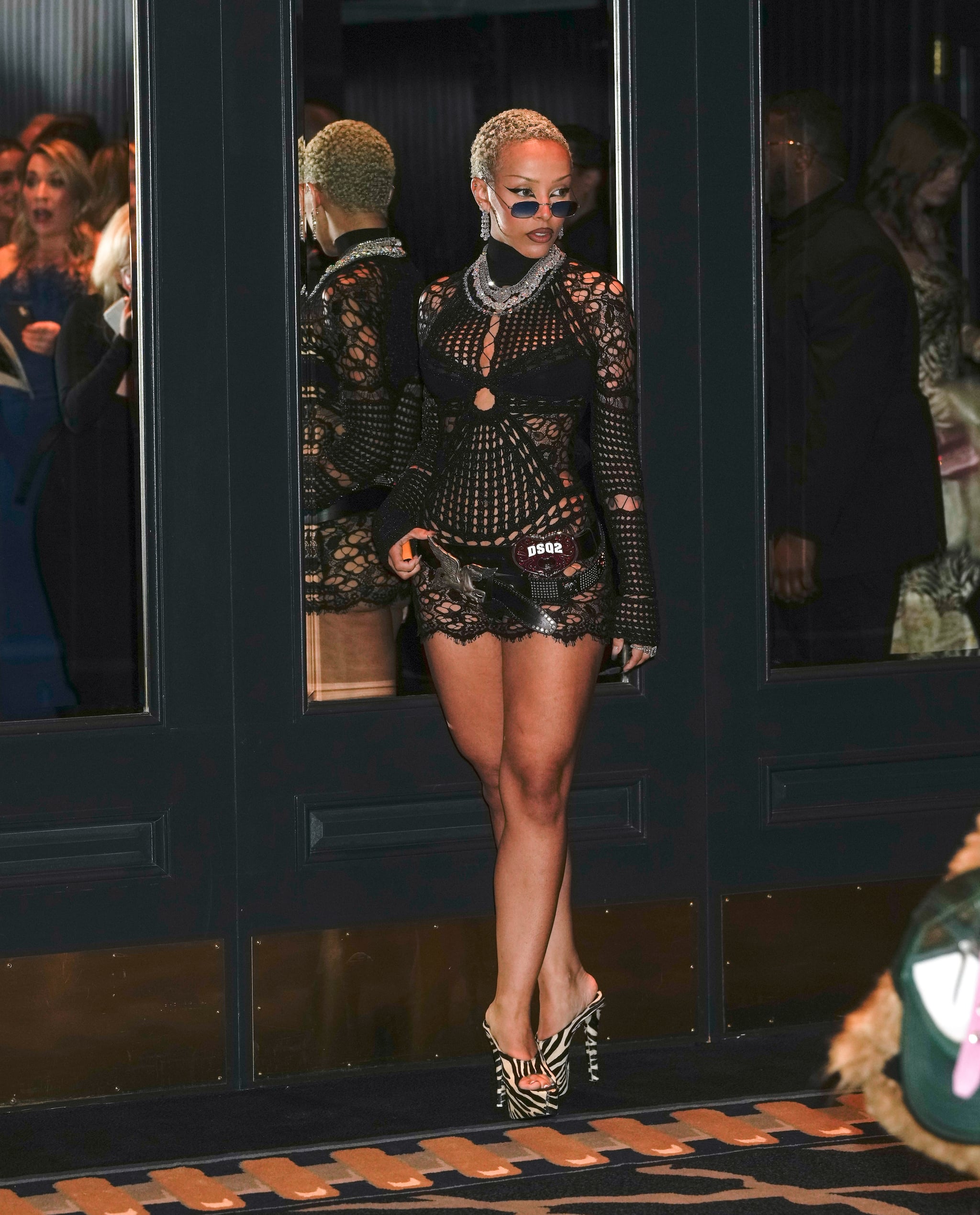 Image Source: Getty / Gotham
Doja Cat has everyone's attention, and she knows it. The multitalented rapper and singer released the first single off her upcoming album, "First of All," back in June. The song is fittingly called "Attention," and it demands just that.
"It don't need your lovin', it just needs attention," Doja sings in the track's opening lines, previewing the song's overall message: she doesn't need the world's approval if she has everyone's attention. As the song continues into her rap verses, it sees her put haters on blast for commenting on her weight and style choices, and even namedrops Nicki Minaj at one point. Check out the song and its music video below.
Doja has been steadily revealing more and more about her new album in recent weeks — and ruffling a few feathers in the process. After debuting her life-imitates-art, literal cat look at this year's Met Gala on 1 May, the 27-year-old "Say So" artist triggered some strong feelings on Twitter over her music — which has long since been the centre of arguments over which genre it belongs to (many argue either hip-hop, pop, or that no label is needed).
On 9 May, Doja tweeted that she tricked fans into investing in her last two albums released in 2019 and 2021, writing, "'Planet her' and 'hot pink' were cash-grabs and yall fell for it. now i can go disappear somewhere and touch grass with my loved ones on an island while yall weep for mediocre pop."
After her controversial tweet set social media ablaze, Doja then followed up with another to reveal the name of her next album and wrote, "Its not called hEllMoUth either its called 'First of All' and yes I'm announcing the album title right now."
Doja's revelations about her music may not shock those who caught her other tweets in May, in which she revealed what she thought about her previous pop releases. On 7 May, when a Twitter user asked, "At what point do you feel like you moved away from the mentality of doing what others wanted?" Doja wrote back, "After coachella when I felt so tired of doing a bunch of sh*t i didn't believe in and not telling my side or my story with my music." She added, "When I realized I hadn't done anything personal and that i was cranking out digestible pop hits for children on twitter to get into fights about." On 8 April, Doja also tweeted that "pop isnt exciting to me anymore. I dont wanna make it."
In a new interview with V Magazine published 17 July, Doja opened up again about some of her past comments and her new direction for her upcoming music. "I have thrown fits my whole career because I have been making music that didn't allow me to have a mental release," she explained. "I have been making music that is palatable, marketable, and sellable, that has allowed me to be where I am. Now I am making music that allows me to express the way I feel about the world around me."
She added, "These upcoming projects are going to be very different compared to everything I've done and I am excited about that. I do not care if people are not." She also said that the music she has made is "pop music," but she's "currently making rap, soul, and R&B music with jazz elements." She also told the outlet she's "very inspired by hatred and outrage culture."
It's not the first time Doja has been vocal about wanting to move away from the sound that's earned her several pop Grammy nominations, as well as her first win with SZA in 2022 for their "Kiss Me More" collaboration — which took home best pop duo/group performance. She tweeted a fan on 8 April to share that her next project would be "rap only," but she also told CR Fashion Book in September 2022 that she was "very into this '90s German rave kind of vibe" at the time, adding, "That's kind of a hint to the album."
Not much else is known about Doja's "First of All" album. Whenever the next update comes, though, we're sure she'll share it on social media first.