Ella Eyre Google Nest Christmas Interview 2020
Ella Eyre Chose a Pretty Surprising Tune For Her 2020 Christmas Single; Here's Why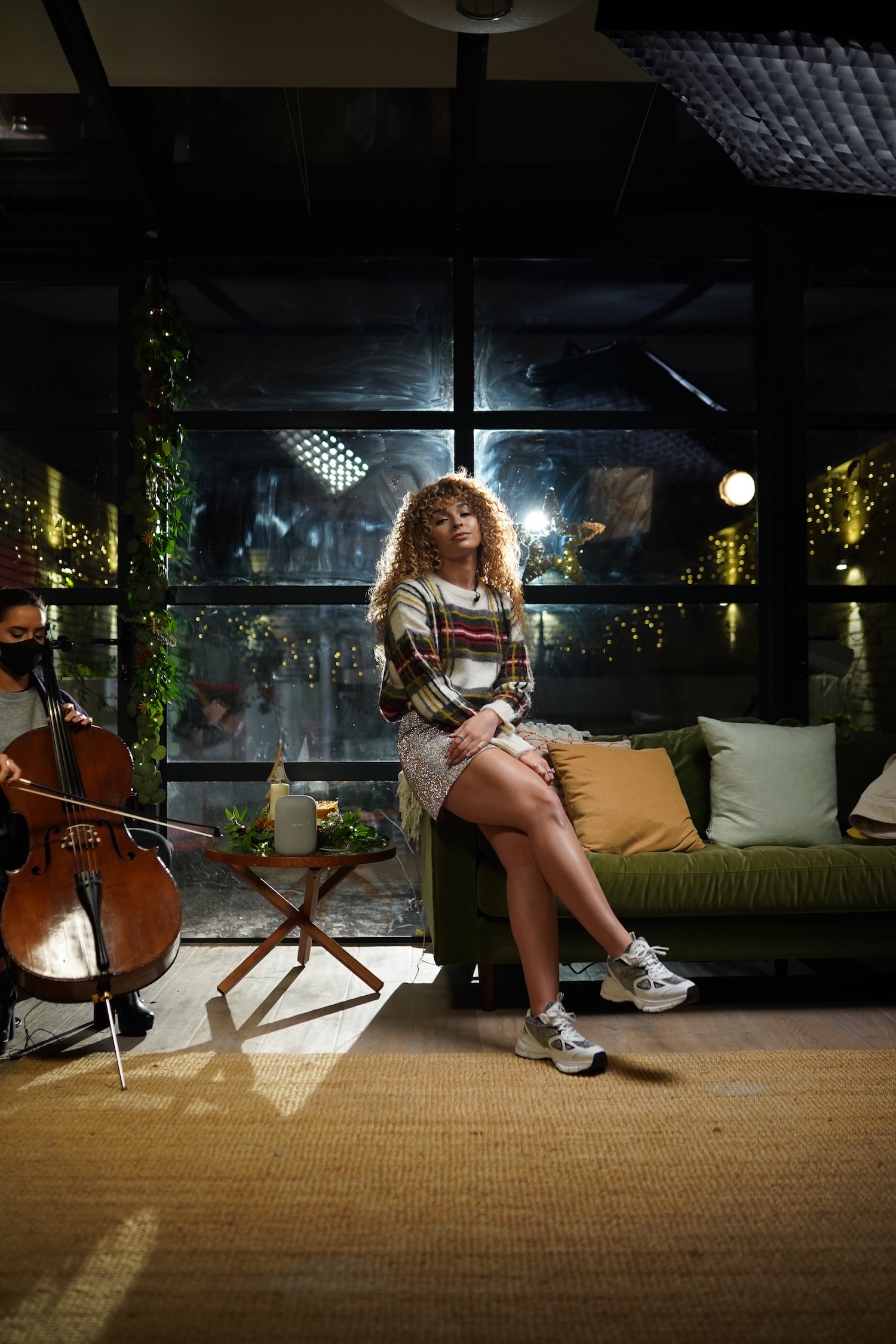 A whole three years after we first met her, singer-songwriter Ella Eyre has gone on to release a studio album and three EPs, win a BRIT Award, and win two MOBO Music Awards. Most recently, however, Eyre has partnered with Google Nest, recording the song "Don't You Want Me" by The Human League that can be played on the device as part of the company's new Christmas campaign. To celebrate the collab, we caught up with Eyre to discuss the resurgence of the Black Lives Matter movement, digital performances during lockdown, and what she's got up her sleeve for this year's Christmas dinner. (It's worth it for her secret recipe alone.) Read the full interview below.
POPSUGAR: It's safe to say that 2020 has been a bit of a whirlwind. There's been lockdowns, Black Lives Matter protests, and loads of festivals being canceled. What's that been like for you?
Ella Eyre: 2020 has brought on so many unexpected twists and turns. I think everybody was at home thinking, "I need more space" and "I need to move," and people have really been reevaluating their own situations. I definitely think that's what 2020 has ended up being for me, because we've all had to improvise, learn how to be productive and positive, and keep things rolling. I've actually learned how to produce my own vocals! I say "learn" very loosely. It's not an easy task, and there's a lot to learn, but that's something I taught myself to do over lockdown.
I'm moving house, and I got a puppy. There's a lot of things I didn't expect to happen when I started this year in January. Though I knew the puppy was coming because my boyfriend's been nagging for the last four years, and it was his 30th birthday and I was like, "I really don't know how I'm going to get anything better than a dog, and I kind of want one myself."
PS: It's all go! A puppy is definitely a great addition to your life during lockdown. In terms of the protests, you've attended those in London this year. How was that for you?
EE: It was incredible to be able to attend things like that. I think a lot of people felt restricted because of COVID, but I think it was a really important thing to do. And it's a real statement to make, showing up to a protest, given the pandemic and what we're going through in the world right now.
This year has called for a lot of change, and I think it's ended with a light at the end of the tunnel. With Black Lives Matter, it really struck me in a way I really wasn't expecting, to be honest, because I'm mixed. My dad's Black, my mum's white. I think it really forced me to look at my identity and my experience with racism and things like that, because I think I have always been fortunate enough that people assume that I'm white. So I've never really dealt with discrimination as directly as a lot of my Black friends have, because a lot of people assume that I'm white, and I have a posh accent. There are a lot of subliminal things that I didn't realise affected me over the years. And I had to come to terms with them, like my hair, and my conversations around my hair. I didn't realise I had such an intense pressure built up in my body about that. And I think it's just really helped me understand how to communicate with people and to be able to spread the word. And I think it's been a positive, but also quite scary, as well.
PS: Definitely; sometimes you don't realise a lot of the things that have happened until you get older, and you relive those experiences and feel like, "Oh, OK. That actually wasn't OK. And that didn't sit right with me." It seems like, when you're younger, you almost don't know why?
EE: Exactly. When you're younger, you fear rocking the boat where your friendship circles are concerned, and I think that things like these protests happening are a massive message to young people to not stand for it, and to not just put up with it, and to not worry about what people think. Because actually, the majority of the room agree with you.
I personally have really enjoyed having people help me communicate with other people, because I don't like confrontation, and I'm terrible at it. I'm really bad at putting my words together, but where this topic is concerned, it's so important.
PS: Definitely. Aside from that, what has kept you busy during this last lockdown? A lot of people have picked up very strange new hobbies. Have you been one of those people?
EE: I think my hobbies have really broadened. I've always been into interiors, and so I've repainted a lot of rooms in the house, and I learned how to rewire a light socket. I also learned how to wallpaper, but I didn't finish the job. I really enjoyed working in the house, and then I realised I wanted a bigger one, so I could have more rooms to play with. Then I worked on vocal production and shot a video in my living room. I had the whole team on Zoom, and they were talking me through how to use the cameras, how to change the Coloramas, how to stick stickers on my face, for trackers. It was all very intricate. And there's actually a really good BTS video explaining how that happened. Because it was just such a massive operation. And I was just a one-man band. It was crazy.
I've definitely had weeks where I felt a lot less busy, but I think when I look back at 2020 and everything that's happened, I feel really good about what I've managed to do. Even if that time just means lying down and not doing very much, and reevaluating a few things, I think that's productive in its own right.
PS: Absolutely. After the first lockdown, a lot of people felt pressure to be productive and do loads of different things. Did you feel like the second was harder than the first?
EE: I would agree with that, but I also would say that lockdown two was a hell of a lot easier for me, because the advice on working was very different. I use the same studio every day, so I was able to go and record vocals and write songs there. And then anything else I was able to do, because it came onto the line of work. So I actually probably spent more time out the house this lockdown than I did in the house. I probably shouldn't admit that, but . . .
PS: On the topic of work, you've just recorded a performance with Google. What's that been like for you? As an artist in general, having to adapt the way you perform and record, has there been a lot of change in that process?
EE: It was really fun, actually. I'm a big fan of Google Nest. My house is properly kitted out with them. That's not even a plug, that's actually just how it is. I was intrigued anyway, but then I loved the idea of doing a Christmas cover. I've never done one before, and they just said, "Look, we want you to record it in your house, film it in your house, and it'll be your own little project."
I really enjoyed it, because I picked a song that isn't actually a Christmas song; even though it was a Christmas number one, it's not about Christmas. And I enjoyed the challenge of giving it a twist, slowing it down. And we didn't sling sleigh bells in it or anything, but we just gave it a little bit more of a Christmas twist.
Anyone that recognises which song it is will be like, "Oh, sh*t. That's a very different song," which is what we want. I'm not trying to copy the original. I'm trying to make it something else. I haven't heard the other performances yet, but I'm really good friends with Bastille, and they're doing it, too, so I'm looking forward to hearing that. It was just a nice time to get creative and festive, quite early on in the year.
PS: It sounds it! Do you have any favourite Christmas songs?
EE: A lot of my favourite Christmas songs aren't Christmas songs. That's exactly why I picked this song. I'd say my favourite, favourite Christmas song is the one that goes, [sings "Merry Christmas Everyone" by Shakin' Stevens], because I love the key change.
PS: It's a classic! Do you think you'd ever consider recording an alternative Christmas album?
EE: Maybe! I love the idea of writing my own Christmas song. I don't know if I could stomach a whole album.
PS: Speaking of Christmas, do you have any plans for this year?
EE: Hopefully, I'll be spending it with my boyfriend's parents and my mum. We combine our families at Christmas, and it's just quite a nice countryside, with country air, lovely big walks, and a big spread of food. I'll be head chef in the kitchen, taking over, stressing out, and causing everybody to sprout grey hairs! I actually really enjoy the pressure of Christmas cooking.
PS: Good luck! Do you have any special Christmas meals that you love to make?
EE: I'm going to do the turkey, but I'm also going to do a lamb. I'm going to do an anchovy, garlic, rosemary paste, and I'm going to marinate it overnight and then it's going to go in the oven. I did it the other day, and it was unbelievable. Even if you don't like anchovies, the saltiness going into the lamb is . . . I'm getting very foodie on you. I'm sorry!
PS: That is what this season is all about! We love food. Finally, what's on the cards for you musically next year? Do you have any dream collaborations or things that you're really excited about?
EE: There's a lot I'm really excited about. I think because 2020 has been so unpredictable, we're trying to prepare as much as possible for a similar year, not that I think it's going to be like that. Musically, I couldn't possibly tell you which one it's going to be, because there's actually four or five records that we are finishing this side of the year to decide on the other side of the year. There's a few collabs and there's a few solo numbers in the works, but I'm excited about all of them. Two of them I only wrote last week actually!
I really didn't want to be that person writing songs about lockdown. I don't mention the word "lockdown," but the whole point is that they could be heard or listened to at any point in the future. Essentially, they're both about just feeling a bit trapped and ending up with a big night out. They've both been spurred on by that, but hopefully a nice change from such a depressing topic.
To find out which song Ella chose, just say "Hey Google, play Nest Christmas Number Ones" into your Google speaker, or check out the Spotify playlist here.

Image Source: Google