Halle Bailey on Playing Ariel in "The Little Mermaid"
Halle Bailey Is "Proud" of Her Ariel Performance: "We Deserve to Have Images That Look Like Us"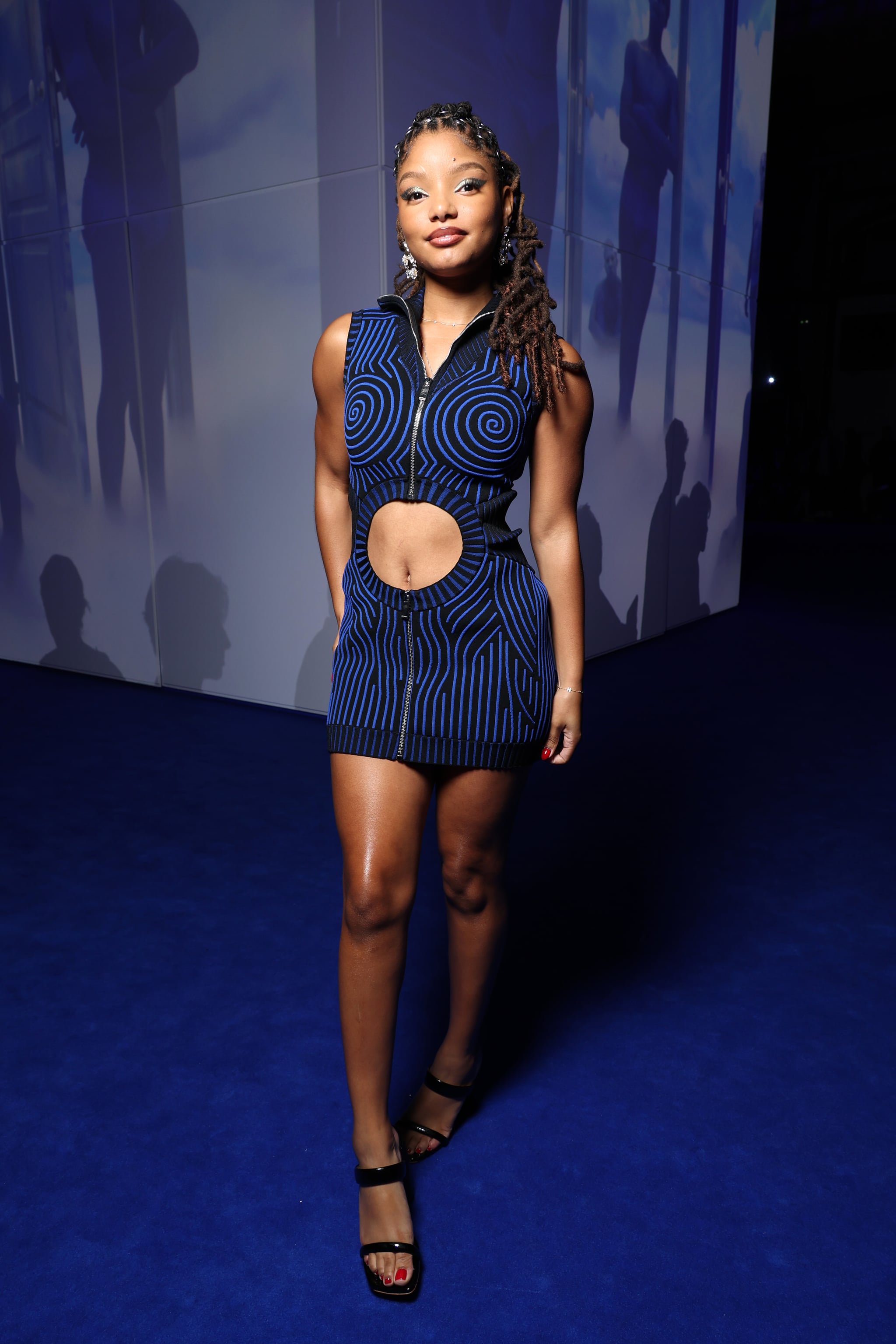 Image Source: Getty / Pascal Le Segretain
For Halle Bailey, starring as Ariel in "The Little Mermaid" isn't just another box to tick off on her list of accomplishments — it's much bigger than that. The 22-year-old is making history as the first Black actor to play Ariel and the second to be crowned a Disney princess (Anika Noni Rose, who voiced Tiana in 2009's "The Princess and the Frog," was the first) with her role in the forthcoming live-action film. She's well aware of the responsibility that comes with that.
"It's about time that a role like this is played by a Black woman, by somebody who is just a part of this beautiful community. We deserve to have images that look like us and to see ourselves in the media on big screens and everything," Bailey tells POPSUGAR. "So I'm just grateful that we're getting to see ourselves finally on such big projects."
"It's about time that a role like this is played by Black woman, by somebody who is just a part of this beautiful community."
Bailey was first introduced to the world as one-half of the four-time Grammy-nominated duo Chloe x Halle alongside her older sister, Chlöe. However, the two have since branched out on their own, with Chlöe focusing on her solo music career and Bailey making her mark on Hollywood.
The biggest challenge Bailey has faced as she navigates her career on her own, she says, is believing in herself. "We have to constantly encourage ourselves and remind ourselves that we are worthy, we can do it. We just sometimes need that extra push," she explains. "I think that's been the one for me that I've really just learned how to change my mindset and recognise that what I'm doing is amazing, be proud, and clap for myself." And starring in one of the biggest movies of the year is certainly worth an applause.
On 12 March, the full trailer for "The Little Mermaid" debuted during the 2023 Oscars, and in just 24 hours, it reached more than 108 million views, making it one of the most-watched trailers for any title in Disney's live-action catalogue, as per The Hollywood Reporter. Bailey recalls her initial reaction to the trailer, saying, "I was so excited. I was screaming. I was just so happy it looked the way it does. I mean, it just makes me really excited because I honestly forgot about some of those scenes that I did. I forgot how long it took, what I went through to do it, and then when I see all the footage again, I'm like, 'Wow, I really did all that by myself.' Crazy."
"The Little Mermaid" also stars British actor Jonah Hauer-King as Prince Eric and Melissa McCarthy as Ursula, both of whom Bailey says she really bonded with, as well as the rest of the cast, which includes Awkwafina as Scuttle, Jacob Tremblay as Flounder, Javier Bardem as King Triton, Daveed Diggs as Sebastian, Noma Dumezweni as Queen Selina, and Art Malik as Sir Grimsby. "We just all had really great chemistry and I was grateful to have them with me during some really, really important scenes," Bailey notes.
While being cast as Ariel is, of course, a major feat for the young star, Bailey says another one of her "pinch-me" moments happened recently at the Academy Awards. "Oscar night was a really, really big one for me," she shares. "They sat me next to Zoe Saldaña, who I've been a huge fan of for a very long time. Pedro Pascal was right next to my baby brother, like Halle Berry was in front of us. It was just all these amazing actors and actresses that we've been inspired by for a very long time."
Another person Bailey looks up to? Her mentor, Beyoncé, she says, adding, "She is kind of the legend for all of us. I think inspiration that we all need."

Image Source: Zyretec
In addition to "The Little Mermaid," Bailey is set to portray Nettie in the upcoming "The Colour Purple" adaptation, as well as Annabelle Bascom in director Ethan Berger's thriller "The Line." And as a longtime allergy sufferer, she's also partnered up with ZYRTEC to kick off spring and celebrate their multi-city Beat the Mondays Tour, which will be making stops in select cities across the country to help allergy sufferers feel their best. "You go, you get information on what to do about your allergies, some products, some coupons, some vibes. It's going to be really, really fun," Bailey explains. "It's wonderful to stand by a brand that I've known and loved for so long."
"The Little Mermaid" hits cinemas on 26 May.