Kitty Scott-Claus and River Medway Drag Race UK Interview
Kitty Scott-Claus and River Medway on Their Drag Race UK Experience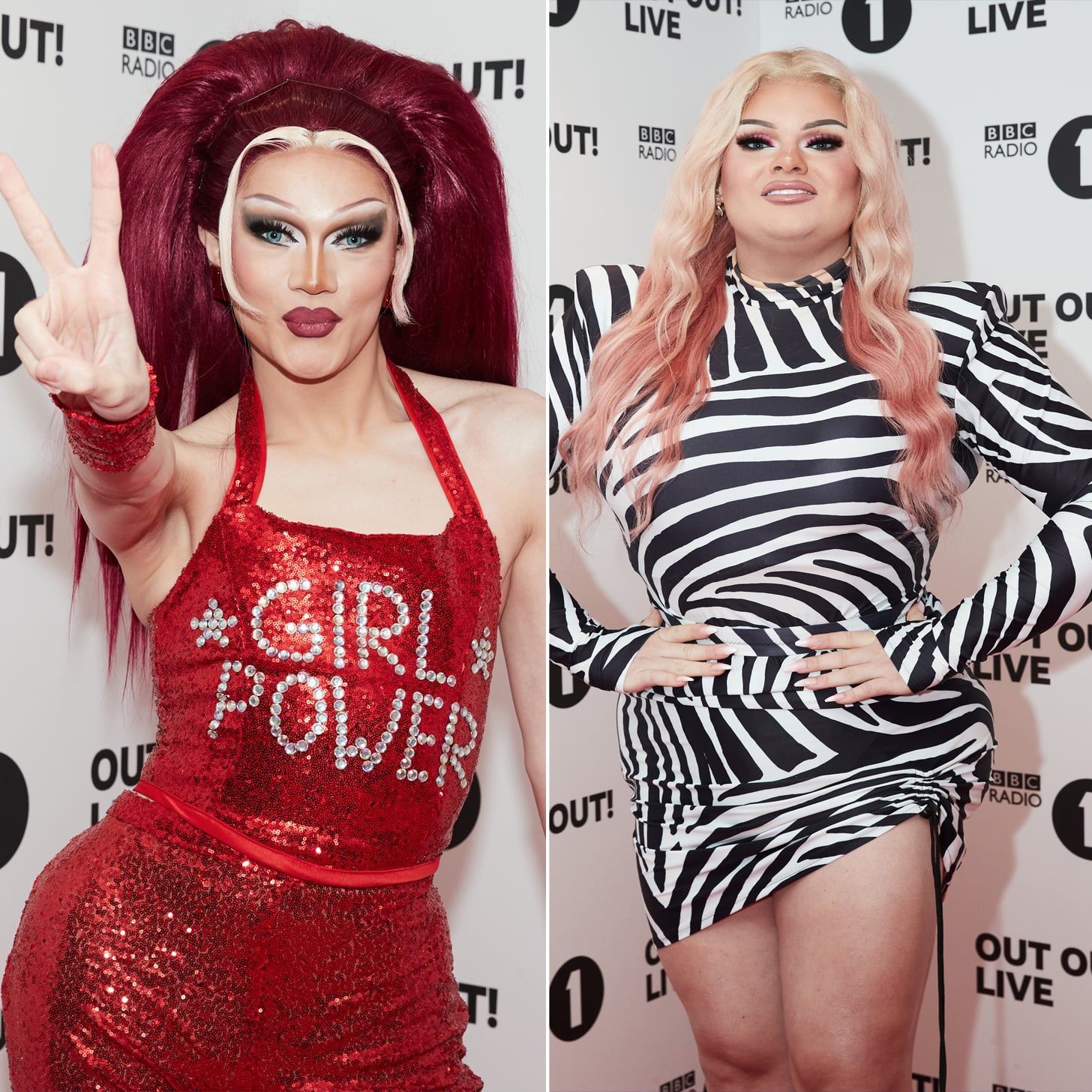 On 16 Oct., BBC Radio 1 hosted the first Out Out Live event to celebrate the return of live music, and it was a pretty star-studded affair. RuPaul's Drag Race UK stars Kitty Scott-Claus and River Medway were among those walking the glorious red carpet, along with MNEK, Sigrid, Griff, Sam Fender, Mimi Webb, and AJ Tracey. For Scott-Claus and Medway, their Drag Race UK journey is still in progress (at least on our screens, anyway), and despite filming the show a few months ago, they're watching their former selves going through the experience on TV, just like we are. We caught up with the queens to chat about their time on the show and what they've learned.
POPSUGAR: How did you find the Drag Race experience this year?
River Medway: Just madness. It's honestly just madness. There's nothing to prepare you for it. No matter who you talk to. Girls, even when they've done it before and they try and tell you things, nothing prepares you for it. Obviously, everybody's experience is different as well, so you can't compare it. It's better than I thought it would be. It's harder than I thought it would be. It's everything more than what I thought it would be. But just really grateful for it, to be honest.
Kitty Scott-Claus: Incredible. It was everything I could have wished for, plus more. It met all my expectations and then some.
PS: What do you think you've learned from being on the show?
RM: Don't care as much what other people think. Just do what makes you happy. And I thought I knew that before, but now even more it's like, just do whatever the f*ck you want. Do what makes you happy. Go with your gut instinct all the time, and you can do anything. But just stick by that.
KSC: I just think it's like the Olympics of drag. This is what everyone says. I think you think of it, and you think 'oh, it's fun' and all the challenge and stuff. But it is a race. It's a race, and it's hard work, and it's long hours. But do you know what? The payoff is all worth it. It's so much fun.
PS: There have been some pretty emotional chats taking place in the workroom this series. How has that felt to be a part of?
RM: Really comforting. I just want to say as well, whenever you've seen me on TV be quite emotional or deep and stuff, it was always handled really well, and it did happen very naturally. Everybody loves to think that Drag Race is this huge overprocessed, overproduced thing, but they were really, really great about everything, which is why I hope that I've come across really authentically. Everything you see is me just letting it all out, and that's because they gave me the opportunity to just be myself and speak my truth. The fact that I get on so well with all the girls as well really helped, and it's just the way you chat to your friends and you confide in your friends. I'm really happy with the whole experience. Before Drag Race, I was like, "I don't want to be this perfect drag queen who doesn't have any of these issues." We're all real people, so I want people to see real people on TV, and I think that's what I've shown.
KSC: I can only speak for myself — I know with the HIV chat that I had with Charity Kase, I just felt such an honour to be a part of that moment, because it's such a huge topic, and it's still such a stigma, and it shouldn't be. It should be spoken about widely that you can live a normal life, a normal life expectancy with HIV. You take your tablets, and it's undetectable and nontransmittable, and that's the most important thing to remember here. To be part of these really important conversations and getting the word out there. I've had friends, relatives call me saying like, "Thank you for bringing it to our attention," because the wider population just wouldn't be as aware.
PS: What do you think about those younger people watching this show and hoping to be in that position someday?
KSC: For me, if I grew up having really, really proud, strong, queer people on television, I'd think do you know what? You just realise you're not alone. You're not the only one. You're not different. You're just you, and that's what makes you so special and loved and important.