Line of Duty: Who is OCG Crime Boss Tommy Hunter?
Line of Duty: The Full Extent of Tommy Hunter's Criminal Activities on the Show
Watch out! This post contains spoilers.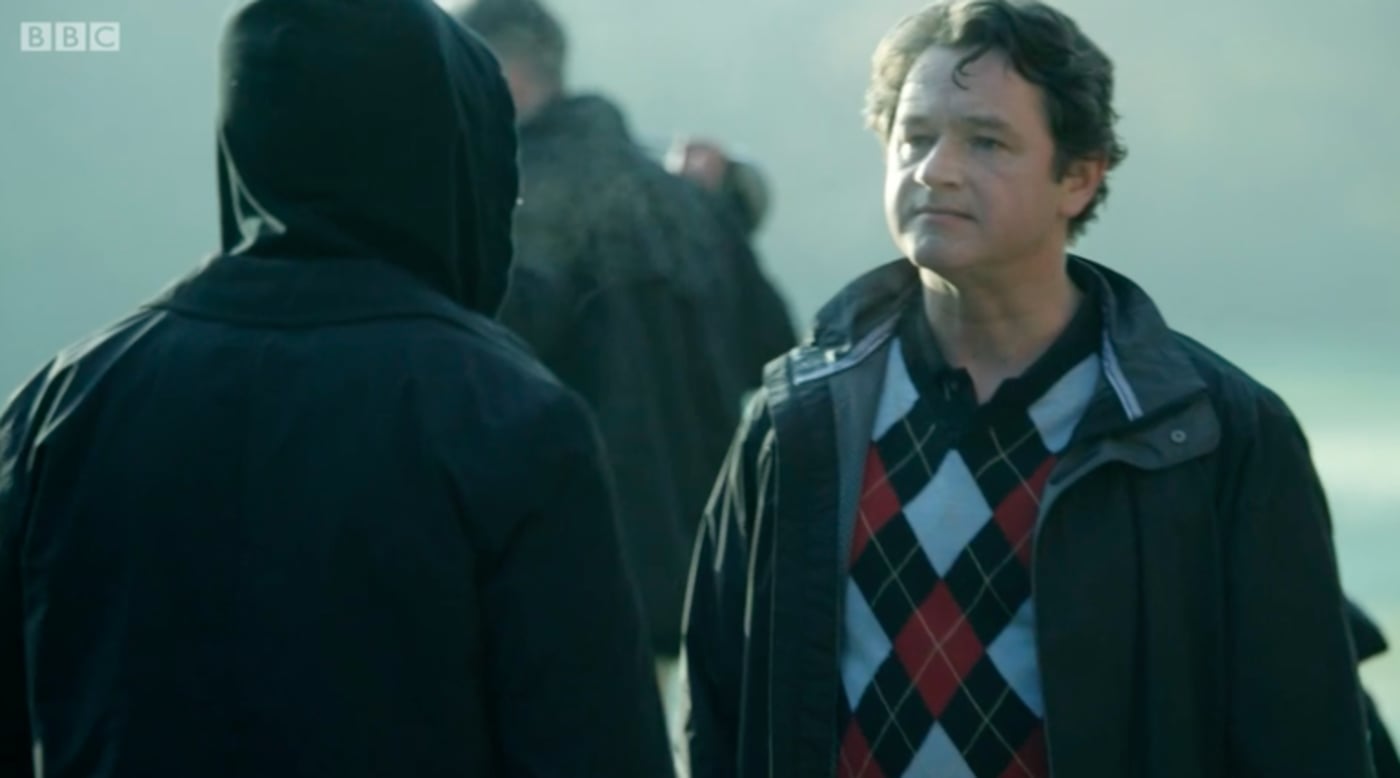 An old AC-12 adversary has resurfaced in episode 5 of series 6, and in quite dramatic circumstances. The name Tommy Hunter (Brian McCardie) was well known to Line of Duty fans during series one, when he appeared as the fearsome overlord leading organised crime. Even when he met his death early on in series 2, his name still sent shudders down AC-12's spines, and the effects of his actions were felt like the full force of earthquake aftershocks. His name continued to come up in relation to other AC-12 investigations throughout subsequent series, but despite being dead, a major revelation about him has elevated his name to the forefront of viewers' imaginations once again. If you are struggling to remember the full extent of Tommy Hunter's criminal activities, and what his reappearance — if only in name — means for the future of the series, here is a full recap of who he is.
John Thomas Hunter was originally from Glasgow, before residing in the made-up city where Line of Duty takes place. A known paedophile, his other criminal endeavours included armed robbery and drug dealing. He is largely known by name for the first part of series 1 and is a mystery voice on the end of a telephone to DCI Tony Gates (Lennie James). Various burner phones used for communicating with Hunter were delivered by a small child on a bike by the name of Ryan Pilkington (Gregory Piper), who is now a bent police constable at Hillside on the Murder Investigation Team (MIT). DCI Gates unwittingly became involved with Hunter and the OCG when attempting to cover for his mistress Jackie Laverty (Gina McKee), who acted as their money launderer, using her property development business as a front. When Hunter ordered Laverty's death, he brought DCI Gates under his command by threatening to implicate him in her murder if he refused to do his bidding. So far, this had all taken place via telephone conversations, and Hunter was yet to appear in the flesh.
Hunter finally appears on screen in the final episode of series one, when a determined DCI Gates takes him down to Edge Park Golf Club, where DS Steve Arnott (Martin Compston) and DC Kate Fleming (Vicky McClure) were supposed to arrest him. Before they arrive, a desperate Gates, who is determined to clear his name, drove away with Hunter to covertly record a conversation with him that is being streamed to Arnott and Fleming. After a long and frustrating conversation where it appeared Hunter would never implicate himself, he finally lost his temper and shouted out a line that revealed his role in murder and organised crime.
Once arrested, Hunter was questioned by DS Matthew "Dot" Cottan (Craig Parkinson), who was a close and longtime colleague of DCI Gates. Unfortunately, he was also a close and longtime colleague of Tommy Hunter. During the interview, we find out that Cottan, who used to work as a caddy for Hunter when he was a kid, had actually been groomed by him from a young age, so that he could eventually be placed within the police force to continue organised crime corruption and cover-ups from within. Known as "The Caddy" by AC-12, Dot Cottan would elude the anticorruption team as well as his fellow police offers for a while yet. At the end of series one, he manages to arrange immunity for Hunter and gets him placed under witness protection.
Cut to series 2, and OCG members remain scared of Hunter and what he could reveal about them to the police from his safe hiding place. They order him to be killed, which Dot Cottan is happy to oblige and organise. Series 3 saw the ghost of Hunter's evil rise again, when his name appeared on Sargent Danny Waldron's (Daniel Mays) revenge list. It turns out that Hunter and members of the police force — including long retired CS Patrick Fairbank (George Costigan), who also makes a reappearance in series 6 — had participated in sexual abuse and exploitation of boys at Sands View Children's Home, where Waldron had been a resident.
Sprinting all the way into series 6, and Hunter has arisen yet again, with potential links to murdered journalist Gail Vella (Andi Osho). It is now understood after the series' explosive episode 5 that Vella was working hard to expose police corruption and especially institutionalised racism in relation to the death of a young Black architect Lawrence Christopher, back in 2003.
After being attacked by a white youth gang, Christopher entered custody with a head injury, and the police failed to act on his injuries. In fact, they accused him of gang ties, locked him up, and made racist taunts and mocked him as he lay dying in front of them in a cell. Christopher died in police custody, following neglect and abuse from both the gang who beat him, and the police responsible for his care. Following his death, every single person involved in the case evaded justice, including Hunter's very own son Darren, who was one of the gang members involved.
Hunter's son's involvement in the Christopher case wasn't the biggest revelation of the episode, however. That honour goes to the revelation that Hunter is a blood relative of series 6 antagonist DCI Jo Davidson, which was discovered when AC-12 collected DNA from Davidson's former girlfriend's home and ran those samples through the police database. Even more shockingly, the DNA result pointed to "runs of homozygosity", which indicates that her biological parents were related, and that she was born of an incestuous relationship between Hunter and his sister, Samantha Davidson. Jo only becomes aware of this knowledge in the second to last episode of series 6, when AC-12 reveals the information to her during their interrogation after the death of Ryan Pilkington. She is shocked and visibly distraught at learning the news at the fact that her uncle was also her father, and there are now questions surrounding who she thought was her actual father all this time, who Jo described as a "bent police offer" to DI Kate Fleming.
What is also revealed in that interview with AC-12 is that, like Dot Cottan, Tommy Hunter groomed DCI Davidson and forced her to join the police force to become a fixer for the OCG. It's these actions that actually led to Davidson's mother to die by suicide, unable to bear the idea that Tommy would be controlling her daughter's life. Will Jo continue to protect her family and the OCG even at the cost of her own freedom? We'll just have to wait and see in next week's season finale.
Image Source: BBC