Line of Duty: Who Was Jackie Laverty and How Did She Die?
Line of Duty: A Refresher on Who Jackie Laverty Was and How She Died in Series One
Watch out! This post contains spoilers.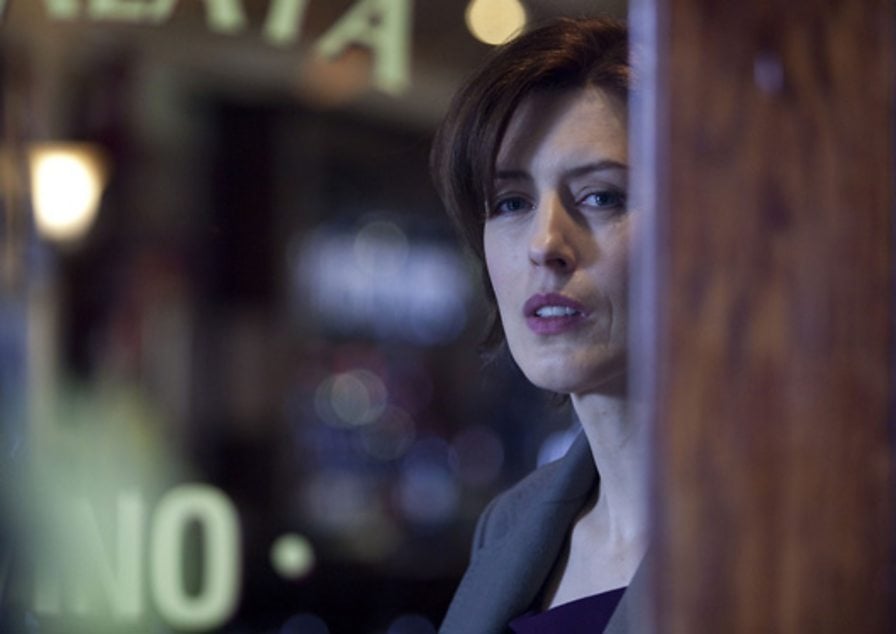 During the latest episode of Line of Duty, both AC-12 — and the fans of AC-12 — were shocked to uncover a revelation relating to a character who has been missing since series one. Jackie Laverty was last seen as a frozen corpse, stuffed unceremoniously into a freezer. Viewers knew her to be dead, however, to AC-12, she was missing and presumed dead, with no significant leads regarding her whereabouts.
Line of Duty is known for skillfully weaving previous characters and plot lines in and out of new series, and after such a long absence, it was startling to finally witness a firm lead that could potentially bring Jackie Laverty's story arc to a close. Her character was hugely significant during the very first series of Line of Duty — after the show's explosive propulsion into our lives in 2012 — and if you are scratching your heads to remember where Jackie fits into the often complicated plots of the show, here is your full recap of who Jackie Laverty was, and her relevance to the current storyline.
Who Was Jackie Laverty?
Jackie Laverty (Gina McKee) was a successful property developer and businesswoman, who was having an affair with the main character of the series, DCI Tony Gates (Lennie James). She ran Laverty Holdings, a company that developed commercial and residential properties, and also managed several small businesses, market stalls, and pubs. Several of the small businesses she managed (including a hairdressers in Moss Heath that featured several times during series one), were being used as a front for drug money laundering by organised crime boss Tommy Hunter and his team.
When questioned about their relationship after it was uncovered, Gates admitted that years ago, Jackie had been his first love. He had fallen completely in love with her and proposed after six months, only to be left heartbroken when she ended the engagement and left him for another man, whom she quickly married. Having been a faithful family man with two daughters, Gates had run into Jackie years later and the two rekindled their relationship, with both finding it difficult to end it despite knowing it was wrong.
What Was Jackie's Role in the Storyline of Series One?
Jackie's accountant, Gurjit Patel, finds out that Jackie has been laundering money for the OCG (Organised Crime Group), and she runs him over with her car to keep him quiet. Things took a messy and downhill turn, when she reports her car stolen in a panic, and tells Gates that she hit a dog while driving home drunk.
Gates became inevitably suspicious when it became clear that Jackie had actually killed a person, and drew attention to himself by personally taking on the investigation into the hit and run, which led to him deleting evidence against her. Eventually he uncovered the truth: that she was acting as a money launderer to the OCG.
How Did Jackie Laverty Die?
Laverty and Gates were having a night in together, when the doorbell rang. Masked men entered Jackie's property, and slit her throat on the doorstep, before ferociously banging Gates on the head. He regained consciousness to find an attempt had been made to set him up for her murder, with his prints put on the murder weapon while he was laying unconscious, in order to be used to blackmail him. Later kidnapped by the OCG himself, Gates is shown Jackie's body in a freezer in a disused building. He later tries to retrieve her, only to find that the OCG have already moved it.
In a process that we now know to be called "cuckooing", thanks to series 6, the OCG are using the flat of Terry Boyle (played by Elliott Rosen in series one, and Tommy Jessop thereafter) as their base, hiding Jackie's body in his freezer. Terry's learning difficulties make him an easy target to be manipulated by the OCG, and for them to use his home for their illegal wrongdoings.
What Happened to Jackie's Body After Series One?
Series one concludes with Jackie's case remaining open, and her disappearance unsolved. Her body made a brief appearance during series 5, when Ryan Pilkington (Gregory Piper), Lisa McQueen (Rochenda Sandall), and Miroslav Minkowicz (Tomi May), pay Terry a visit. While rooting around for food, Minkowicz opens the freezer to reveal Jackie's body still inside; and in an incredibly dark moment, laughs out loud as he points to her body and asks "is she still in there?" suggesting that she has lain there forgotten for many years. Her body then turns up in McDade and Company Breakers Yard, alongside that of murdered undercover officer John Corbett (Stephen Graham), at the end of series 5.
Fast forward to series 6, and Terry Boyle has been arrested under suspicion of murdering journalist Gail Vella (Andi Osho), the main focus of this series' investigation, and his flat has been searched. Always one step ahead, the OCG had the flat thoroughly cleaned (only leaving evidence to incriminate Terry in Gail's murder), and have disposed of the freezer that housed Jackie's body for so many years.
By episode 3 of series 6, the freezer has turned up at a scrap yard, and forensics uncover a match for DNA found inside it, to Jackie. Cue exclamations and leaping into action by Superintendent Hastings (Adrian Dunbar) and his team at this news.
What Does the Discovery of Jackie Laverty's Body Mean For the Future of the Show?
To quote Superintendent Hastings, "this is everything", (although, no doubt there will be many barriers to it actually becoming everything to finally nail the OCG and find the elusive H). In Hastings eyes, AC-12 can now interview Terry Boyle, and build evidence of the cuckooing and manipulation, and get him to identify and lead them to crucial members of the OCG and bring them down. This could also lead to Ryan Pilkington being uncovered — if Terry feels it's safe to now tell the truth about his treatment at the hands of the OCG, Ryan being a key member and also trying to drown him during the last episode would be evidence he might be keen to impart.
Uncovering evidence of where Jackie Laverty's body has been stored, is certainly an exciting plot development and catalyst to move the story forward. Surmising how it might impact the storyline with its gasp-inducing twists and turns, is not quite so easy.
Image Source: BBC