Meet the Choreographers Behind Rauw Alejandro's Dance Moves
Meet FeFe Burgos and Denise Yuri-Disla, The Brilliant Choreographers Behind Rauw Alejandro's Acrobatic Dance Moves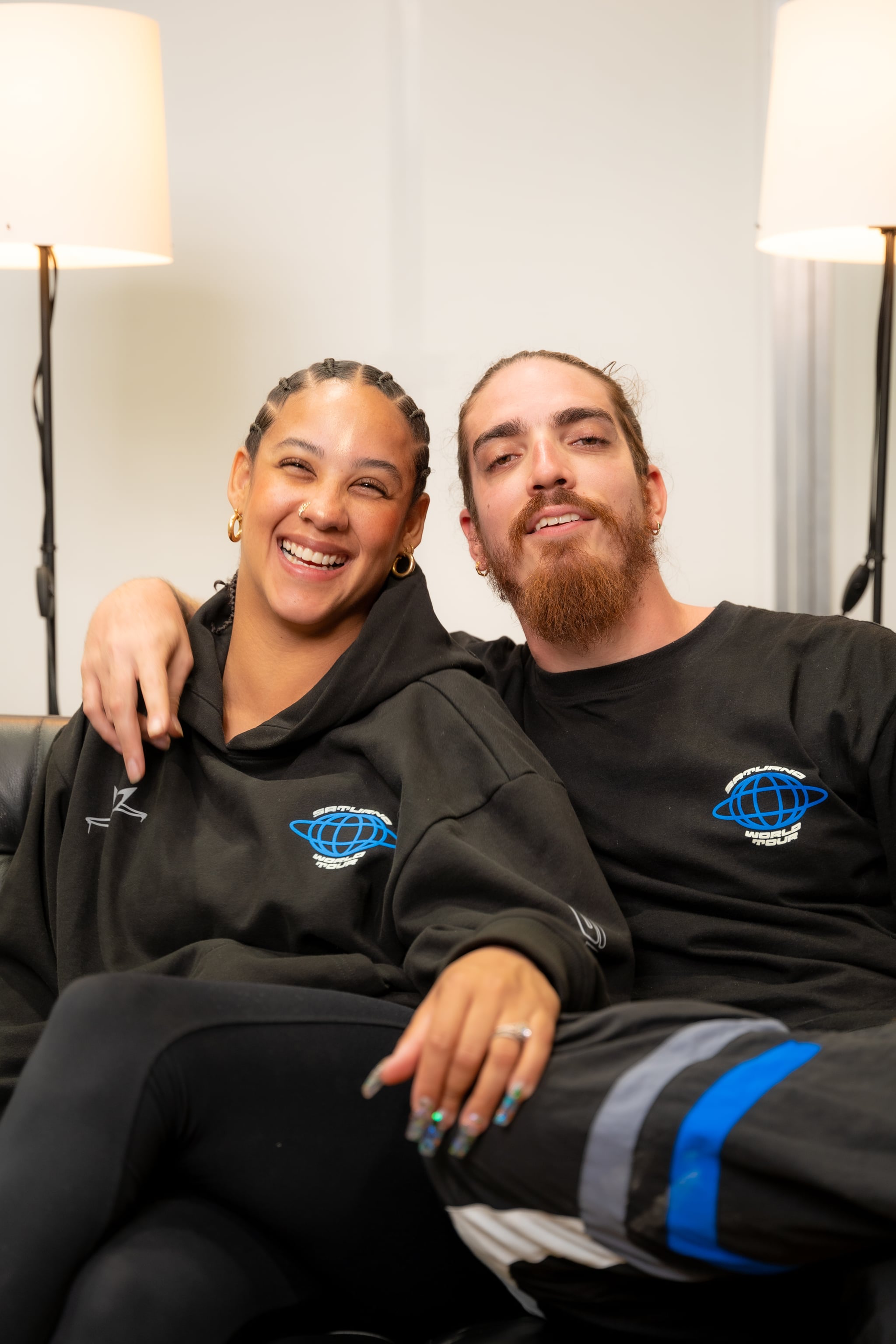 When it comes to live performances, Rauw Alejandro sure knows how to deliver. He goes well beyond what's generally expected of a music artist, featuring special guests and running through both recent songs and past hit-makers for nearly three hours.
But perhaps more than anything else, the Puerto Rican reggaeton and Latin trap artist puts on a show like no other because he can dance — like, really dance. Think: b-boy moves and freestyle formations. But it's not just of his own accord; like others, he has a team of creative geniuses who have helped make his star shine bright.
While Alejandro, 30, has always had a natural talent for dancing, he began honing his craft after working with the founders of the dance company FEDE Enterprises, choreographers Felix "FeFe" Burgos and Denise Yuri-Disla. The married couple travel the world teaching classes and choreographing for artists, and they've undeniably helped Alejandro take his skills from good to extremely impressive. He's now one of the only artists in his genre known for acrobatic choreography.
Burgos and Disla are both Puerto Ricans, from the island. Burgos hails from Bayámon and later moved to St. Augustine, FL, at the age of 9; he then, eventually moved to Los Angeles to pursue a career in dance. Disla is a Puerto Rian of Dominican parents from San Puerto. At the time Disla was in the Latin music dance scene, working with Puerto Rican artists like Arcangel, Don Omar, Wisin y Yandel, and Jennifer Lopez. Meanwhile, Burgos was working with hip-hop and R&B artists like Chris Brown and Timbaland. The two eventually crossed paths through the professional dance scene in LA.
"I remember a friend that I have — she said — 'You know who is FeFe Burgos?' And I'm like, 'Who is FeFe Burgos?' And she said, 'The Puerto Rican that dances with Chris Brown.' And I'm like, 'Who is that guy?'" Disla tells POPSUGAR backstage at Alejandro's Mar. 31 performance at the Hiram Bithorn Stadium in his hometown of San Juan, PR.
Things started moving fast for Burgos and Disla after they began dating. Before they knew it, they were creating FEDE Enterprises.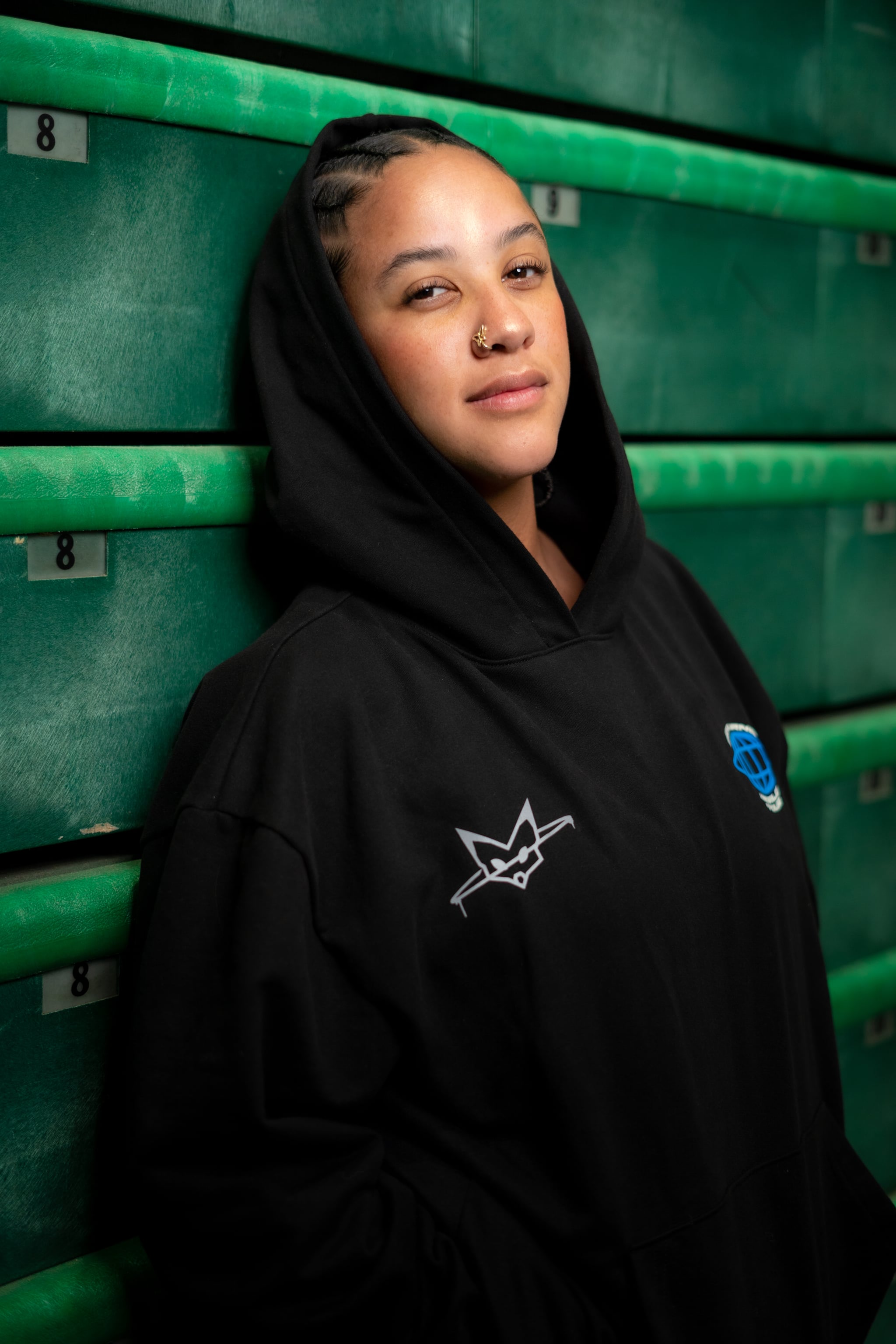 "Everything happened super-fast and everything kind of happened naturally," Burgos explains. "I'm just clingy, so I don't deal with separation very well . . . We were together almost every day. So, whenever I started booking stuff, I made sure she was always with me."
Disla adds that it was "impressive" to be travelling with Burgos in those days: "I was learning [from him] and he was learning through me." But despite the big names they'd both worked with, the two both remember the exact date they started working with Alejandro: Sept. 30, 2018. "He was here in Puerto Rico, and we were having one of our workshops [from] our company FEDE Enterprise," Disla recalls.
A friend of Burgos went on to let him know that one of the students in his class was a rising music artist looking to refine his dance skills. At the time, Burgos wasn't familiar with Alejandro at all and had been so immersed in the hip-hop scene that he was no longer up to speed with some of the rising Latin music artists.
"I just knew who the artist was because a lot of artists that I feel have potential, you can spot them in the room."
"I didn't know who he was," Burgos remembers. "I just knew who the artist was because a lot of artists that I feel have potential, you can spot them in the room."
No other reggaetoneros at the time were dancing, and today this is still very much the case, particularly with male artists. And while Alejandro's choreographers say he did need a lot of training, he was hungry, disciplined, and persistent. Burgos shares that Alejandro would constantly work on a move until he got it right. He even had a signature move at the time, which was what Burgos refers to as the 540 kick.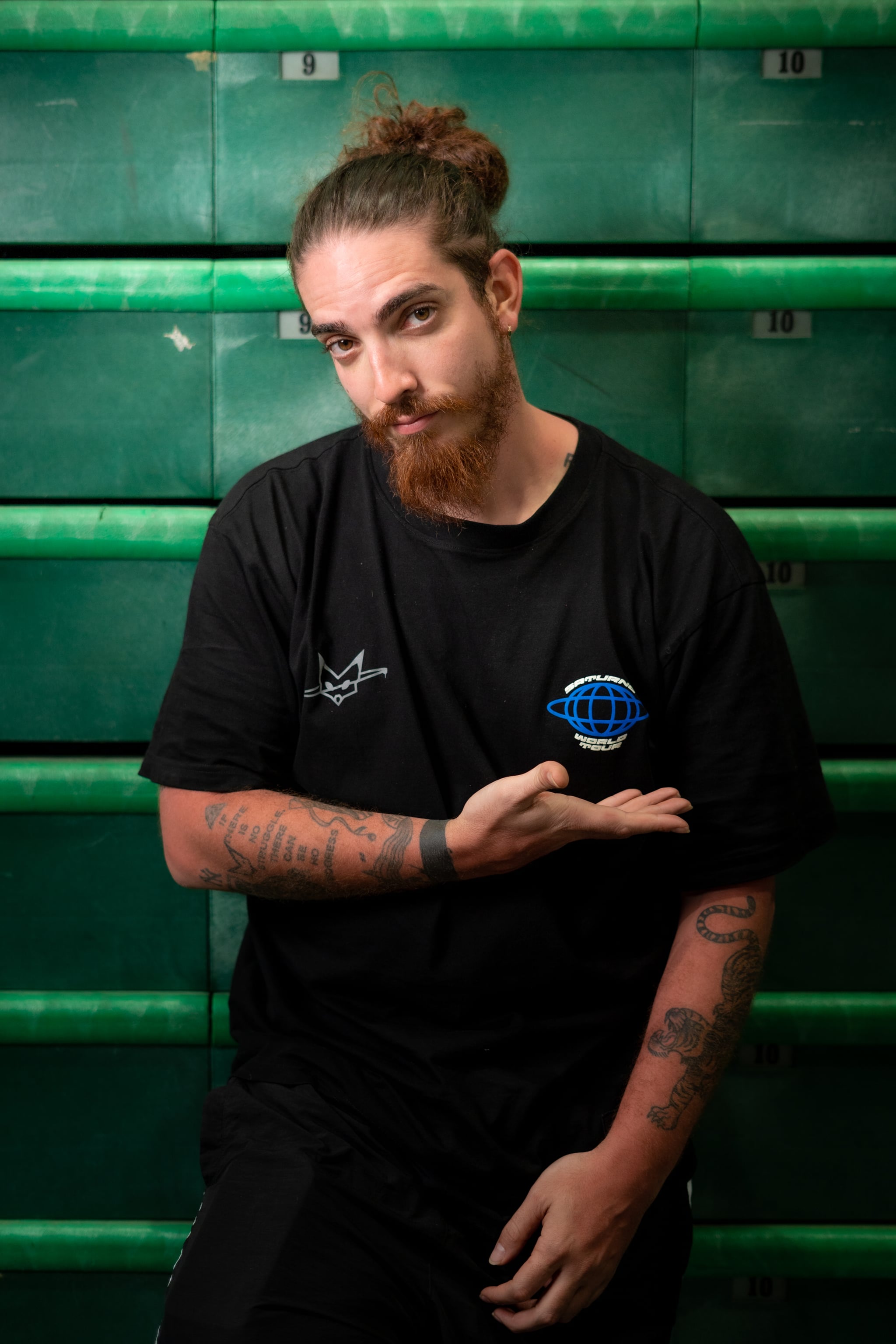 These days, Alejandro has a number of signature moves — and maintains the goal, always, of getting better. During his shows, not only can you expect to see him busting out all his signature dance moves, but he also has a team of talented choreographers, hand-selected by Burgos and Disla, who join him on stage.
Alejandro even has the famous Las Vegas-based hip-hop dance crew Jabbawockeez joining him on his current "Saturno World Tour." Last year, the group joined the reggaeton and Latin trap artist on stage during his performance at the Latin Grammys. Once Alejandro had finished his "Saturno" album, he wanted a round stage that reflected the planet. Always wanting to take things up a notch, Alejandro requested a 360 stage set up for his Mar. 24 performance at the Barclays Centre in Brooklyn, which Burgos shares was a true challenge.
"The 360 stage is dope. To look at a show in a 360 [view] is beautiful . . . but to work it is the hardest thing ever."
"I had already told him I don't like working a 360 stage," Burgos says. "The 360 stage is dope. To look at a show in a 360 [view] is beautiful . . . but to work it is the hardest thing ever . . . So, even though I knew that the process was going to be draining, I knew that we had to do it because it only fits the vibe."
Alejandro's back-to-back sold-out shows at Hiram Bithorn Stadium in Puerto Rico came with their fair of challenges, too. For starters, the stage wasn't round. It was a flat and larger stage that required Burgos and Disla to hire additional dancers. The Barclays show consisted of 12 dancers, while the shows in Puerto Rico required 20 to fill a stage that stretched almost 300 feet across. Disla ran auditions to select the additional dancers.
"Now Instagram has taken over. Now it's like, if you wanna know the resume of somebody in the industry, you go through [their] Instagram," she says. "But for me, it's not the same [as live auditions]." In addition to becoming otherworldly during his "Saturno World Tour," Alejandro has shown off some new moves, which include a spin and a sexy floor-humping movement that riles up his fans every time.
"I didn't teach him that," Burgos says, laughing, before reenacting the move backstage.
Tonight, the duo can relax a little and take in the show. As they pose for photos backstage with their two adorable 5-year-old daughters, one thing is clear: Alejandro understands the importance of building not just a team, but a family. And it's a family filled with folks who are masters of their crafts, who operate with the same goal — go big or go home. What else could explain the magic that is Rauw Alejandro?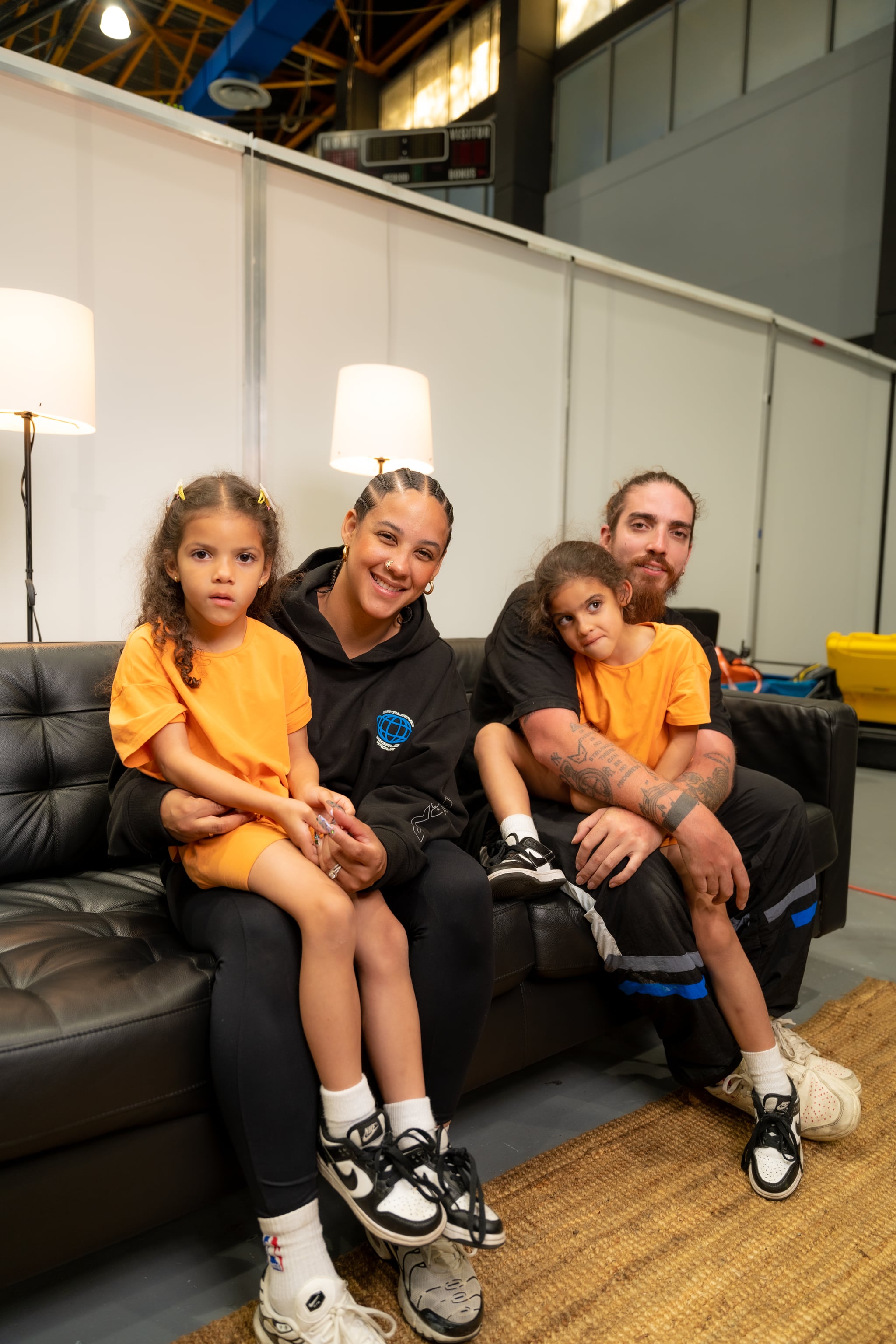 Image Source: Francisco Pizarro/Duars Entertainment