Will There Be a Season 6 of Peaky Blinders?
By Order of the Peaky Blinders, Filming Has Finally Commenced For Season 6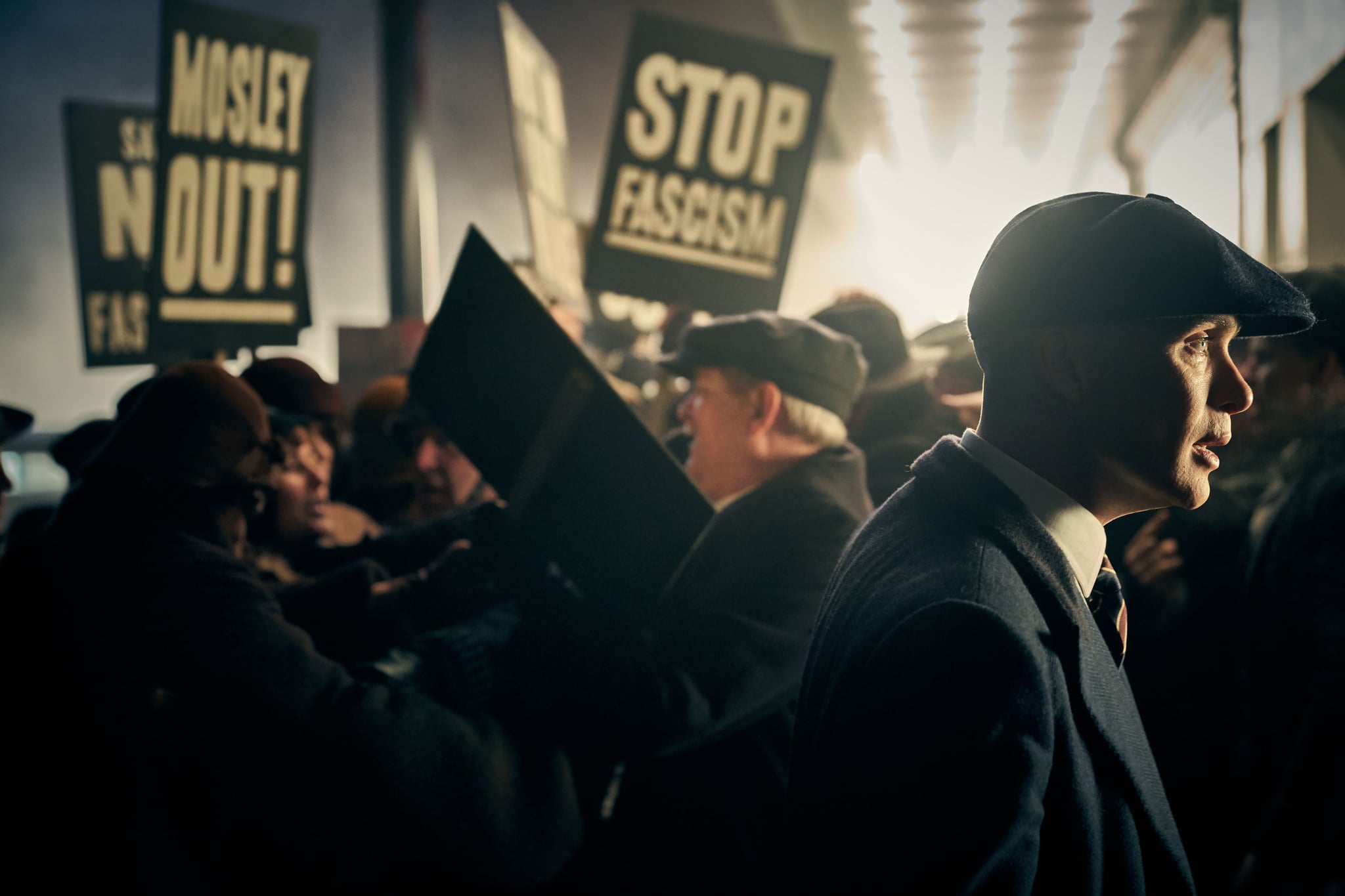 It's safe to say that season five of Peaky Blinders was a wild ride, and the good news for fans is that season six of the show is definitely happening. The show's creator, Steven Knight, confirmed that at least one, if not two new seasons are on their way, and scripts for season six have already been written. Speaking to the Birmingham Press Club, he said, "We are definitely doing six, and we will probably do seven. After series four, it went mad." So what can we expect from the Shelby family in the future?
Who's In the Cast for Peaky Blinders Season 6?
Don't worry, Tommy Shelby's going nowhere. According to Knight, "We've talked to Cillian Murphy, and he's all for it, and the rest of the principal cast are in for it." That means we can fairly safely expect the return of Paul Anderson as Arthur Shelby, Helen McCrory as Polly Gray, Natasha O'Keeffe as Lizzie Shelby, Kate Phillips as Linda Shelby, Harry Kirton as Finn Shelby, Finn Cole as Michael Gray, and Anya Taylor-Joy as Gina Gray. As Tommy continues to battle his inner demons, more flashbacks and visions starring Annabelle Wallis as Grace Shelby are also a possibility.
Which Actors Will Join the Cast of Peaky Blinders Season 6?
Each season of Peaky Blinders tends to welcome a big name in a new guest role: previously we've enjoyed Sam Neill as Major Campbell, Tom Hardy as Alfie Solomons, Adrien Brody as Luca Changretta, and Aidan Gillen as Aberama Gold. Season five welcomed Sam Claflin as Oswald Mosley, and given the events at the end of season five (not to mention the fact Mosley is a real historical figure with a much bigger story to tell), it's no surprise that he will return — something that was confirmed by director Anthony Byrne and Sam Claflin on a podcast for BBC Sounds. Byrne also stated that Gina Gray's family will play a part in future plots, which could open the doors for more American actors to make an appearance on the show.
"What can you tell me about Series 6?"@samclaflin and director Anthony Byrne join @Laurence_Moza for Obsessed With #PeakyBlinders, on BBC Sounds 🎧👉 https://t.co/eNACmYkRCk pic.twitter.com/8KIBswy3cW

— BBC Sounds (@BBCSounds) September 24, 2019
Where Will Season 6 of Peaky Blinders Be Set?
There's been a lot of talk about Peaky Blinders moving to America, with mentions of Al Capone, and Michael's secondment to the USA, where he meets and marries the scheming Gina. The confirmation that Gina's family will appear in season six suggests there will continue to be an American influence in the show, but it does seem like Knight, who is from Birmingham himself, prefers to keep at least some of the action in the Midlands. This not only keeps the Shelby family in familiar (and safe) surroundings but also allows the cast and crew to continue to use reliable and memorable locations, like the Black Country Living Museum, which featured more than ever in season five.
When Will Peaky Blinders Season 6 Air?
As with season five, the BBC remains very tight-lipped about the exact details surrounding new episodes of Peaky Blinders, but they will definitely air on UK TV screens first. Whilst Anthony Byrne speculated that we could expect the new season in "early 2021", the coronavirus pandemic delayed filming, which was supposed to begin in 2020.
On 18 Jan.2021, however, it was confirmed that filming on the 6th season had finally begun. "Peaky is back and with a bang," creator and writer Steven Knight said in statement. "After the enforced production delay due to the COVID pandemic, we find the family in extreme jeopardy and the stakes have never been higher. We believe this will be the best series of all and are sure that our amazing fans will love it. While the TV series will be coming to an end, the story will continue in another form."
It's likely we won't get much advance notice of a premiere date, although fingers crossed it's going to make it to our screens before the end of 2021. Season five was teased for months, but the date of episode one wasn't confirmed until a few weeks before it aired on BBC One.
Image Source: BBC