Priscilla Movie: Trailer, Cast, Poster, Release Date
The Latest "Priscilla" Trailer Highlights the Ups and Downs of Her Relationship With Elvis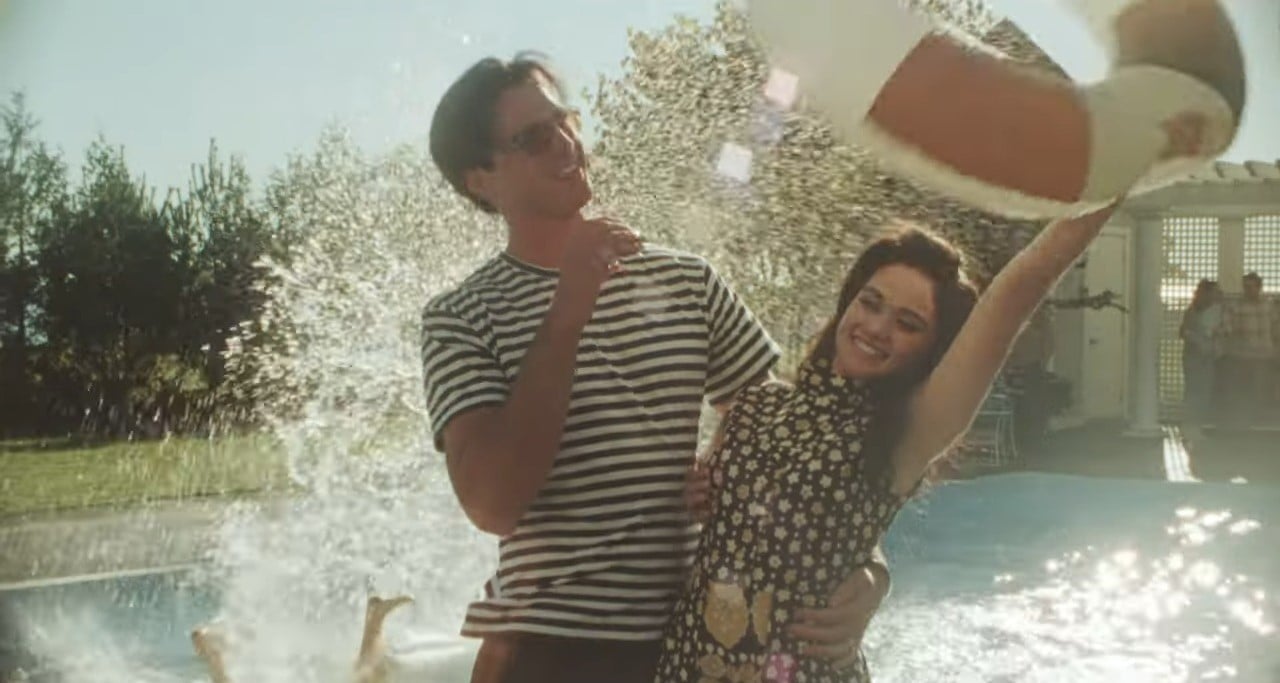 Cailee Spaeny and Jacob Elordi are stepping into some iconic shoes as Priscilla and Elvis Presley in Sofia Coppola's adaptation of Priscilla's 1985 memoir, "Elvis and Me." The film, "Priscilla," which Coppola wrote and directed, premiered at the Venice Film Festival on 4 Sept., and Priscilla, who serves as an executive producer on the movie, was in attendance as well.
Coppola is also known for "The Virgin Suicides" and "Marie Antoinette," and previously worked with A24 on "On the Rocks" and "The Bling Ring." "Priscilla" comes on the heels of Baz Luhrmann's 2022 film "Elvis," which featured Austin Butler as the titular star and Olivia DeJonge as his wife. Butler was nominated for an Oscar for his role.
Priscilla first met Elvis Presley in 1959 when she was 14 years old, and he was 24 and serving in the army in Germany. Priscilla moved to the United States to be with him in 1963, and the pair were married from 1967 until 1973. "Elvis and Me" describes her relationship with the icon, spanning their meeting, their marriage and daughter, his infidelity, their eventual divorce, and his death.
The film's first trailer dropped on 21 June, giving us a taste of what's to come through countless blink-and-you'll-miss-it snippets of scenes from the film. They include Priscilla applying her '60s-style winged liner and aerosol hairspray, watching Elvis play the piano in awe, visiting Graceland, getting married, and more. The only bit of dialogue comes at the very end of the 45-second clip, with Priscilla's mother asking her, "What about the boys at school? There must be some handsome ones," alluding to the forbidden nature of her and Elvis's relationship in its early stages. A second trailer was released 3 on Oct. and sheds light on how Priscilla and Elvis's relationship developed and then ultimately fell apart.
Check out everything we know about "Priscilla," including the new trailer, ahead.
"Priscilla" Official Trailer
"Priscilla" Trailer
"Priscilla" Release Date
"Priscilla" will premiere at the Venice Film Festival on 4 Sept. and will hit cinemas on 27 Oct.
"Priscilla" Cast
Variety first reported Spaeny and Elordi's casting on 12 Sept., 2022. Spaeny is best known for her roles in "Mare of Easttown" and "Bad Times at the El Royale," while Elordi stars in "Euphoria" and appeared in "The Kissing Booth."
"Priscilla" Poster
Image Source: A24
What Has Priscilla Presley Said About "Priscilla"?
"Priscilla" premiered on 4 Sept. at the Venice Film Festival, and in a press conference that day, Priscilla reflected on her relationship with Elvis and discussed the experience of watching the movie. "It's very difficult to sit and watch a film about you and about your life and about your love," she said, per Insider. "Sofia did an amazing job. She did her homework."
She also reflected on watching the film, noting that the ending was challenging to sit through. "So, we built a relationship, and then our relationship went on until I left. And it wasn't because I didn't love him. He was the love of my life," she said, via Insider.
She went on to discuss her relationship with the icon, describing herself as a "listener" for Elvis, who would "pour his heart out" to her. "I was the person who really sat there to listen and to comfort him," she said. "That was really our connection. Even though I was 14, I was actually a little bit older in life, not in numbers, and that was the attraction."
She also addressed a few things about the details of their relationship, such as their much-discussed age gap. "People think, 'Oh, it was sex, it was this.' Not at all," she said. "I never had sex with him. He was very kind, very soft, very loving. But he also respected the fact I was only 14 years old. We were more in line in thought, and that was our relationship," Priscilla said. "I don't know why he put so much trust in me, but he did."
In June, Priscilla revealed that she is a fan of Coppola and said she was looking forward to the movie. "I am excited about the interpretation of my book by the masterful Sofia Coppola," she wrote on Instagram. "She has such an extraordinary perspective and I have always been such an admirer of her work. I'm certain this movie will take everyone on an emotional journey."
Then, in a 23 Aug. interview with The Hollywood Reporter, Priscilla once again threw her support behind Coppola. "I'm so nervous because it's my life," she said of the movie. "The people who are watching, they're living it with you, and you hope and pray that they get it. They get your feelings, your hurts, your sensitivity." Ultimately, though, Priscilla said she trusts Coppola with her story. ". . .I just got who she was and I felt that she could get me," she said. Citing the fact that Coppola also grew up in the orbit of a larger-than-life artist — her father, Francis Ford Coppola — Priscilla said she felt Coppola could understand some of what she went through. "I thought, we have different stories, but she could understand this better than any writer because she kind of lived it in her own way," Priscilla added.
Elvis's estate, however, hasn't been as approving. The estate slammed the biopic in June, telling Page Six that the film was "horrible" and a "money grab." Coppola also told The Hollywood Reporter that the estate did not grant her the rights to Elvis's music. "They don't like projects that they haven't originated, and they're protective of their brand," she said. "But that made us be more creative."